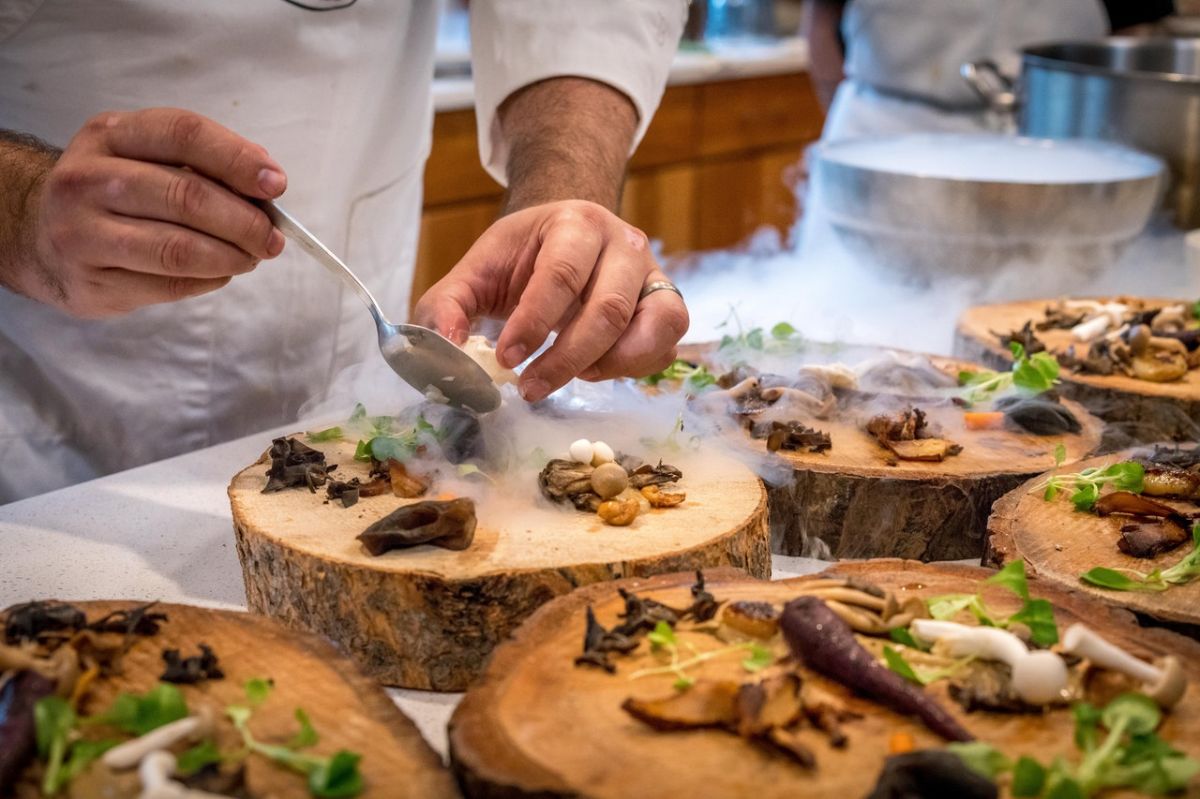 This year there are new Michelin stars for 27 California restaurants, 8 of them are in Los Angeles. Restaurants can receive zero to 3 stars for the quality of their food which is evaluated by anonymous inspectors who visit the site.
Inspectors do not look at interior décor, table layout, or quality of service when awarding stars. The quality of the food is valued by the quality of the ingredients used, mastery of flavor and cooking techniques, the personality of the chef in his kitchen as well as the value for money.
One star means that this is a restaurant with high quality cuisine that is worth a stop; Two stars indicate that there is excellent cuisine and it is worth a detour; Three stars reveal that the restaurant has exceptional cuisine, worthy of a special trip.
8 Los Angeles restaurants that received Michelin Guide stars in 2021
1. Hayato | Two stars
Hayato is a Japanese food restaurant. "Dinner here is an intimate and engaging experience with chef Brandon Hayato Go," reviews the Michelin Guide. Many of the dishes for this kaiseki meal start with ingredients that are arranged attractively, then They are finished before the eyes of the diner and the chef presents them with detailed explanations.
Location: 1320 E. 7th St., Ste. 126, Los Angeles
2. Mélisse | Two stars
Mélisse is a restaurant that is a contemporary tasting rooted in French tradition, a place to be pampered. Chef Josiah Citrin at the helm. The Michelin Guide recommends starting with fried uni cromesquis with honey and black truffle or king crab with yogurt served in chaudfroid.
Location: 1104 Wilshire Blvd., Santa Monica
3. Morihiro | A star
The Michelin Guide points out that Morihiro Japanese restaurant is a jewel where chef Morihiro Onodera's omakase is a Japanese restaurant in which produces food that includes impeccably executed elements like firefly squid with wakame seaweed and halibut sashimi with pink pepper.
Location: 3133 Glendale Blvd., Los Angeles
4. Gucci Osteria da Massimo Bottura | A star
Gucci Osteria da Massimo Bottura is located in the middle of the luxury shops of Rodeo Drive, inside the Gucci boutique, third floor.
Chef Massimo Bottura has put the talented chef Mattia Agazzi in charge of this kitchen and the results are truly impressive, according to the Michelin Guide. "Thumb-sized tortellini, stuffed with the classic mixture of mortadella, veal and prosciutto, sit very well over sauce with Parmigiano Reggiano."
Location: 347 N. Rodeo Dr., Beverly Hills
5. Phenakite | A star
Chef Minh Phan's Phenakite serves contemporary Asian food. It is located between trees, in a romantic setting. "The chef welcomes guests like long-lost friends and serve wine for anyone who seems thirsty. " Its dishes have subtle and elegant flavors and unique textures.
Location: 1370 N. St. Andrews Pl., Los Angeles
6. Pasjoli | A star
French bistro where chef Dave Beran has a menu of tempting dishes. With dishes like onion soup and beef tartare the standards are raised to their highest levels. "Those with deep pockets should pre-order the duck pressed for two, already famous for its cost and limited availability," says the Michelin Guide.
Location: 2732 Main St., Santa Monica
7. Sushi I-NABA | A star
The Michelin Guide states that at Sushi I-NABA you can enjoy some of the most exciting sushi out there. "Chef Yasuhiro Hirano is capable of mastering dishes that other more established professionals have failed to achieve., and with such a precise, creative and refined effect ".
Location: 1300 Highland Ave., Manhattan Beach
8. Pasta | Pub | A star
Pasta | Bar is contemporary American cuisine with an Italian spirit. It is a restaurant in an industrial space, with concrete floors, original lighting and an open counter. Chef Nate Tauer and owner Phillip Frankland Lee are running the place. You can enjoy dishes like cavatelli with a bright, buttery lobster sauce, topped with peas and chunks of sweet meat.
Location: 16101 Ventura Blvd., Ste. 250, Encino
It may interest you:




Source-laopinion.com