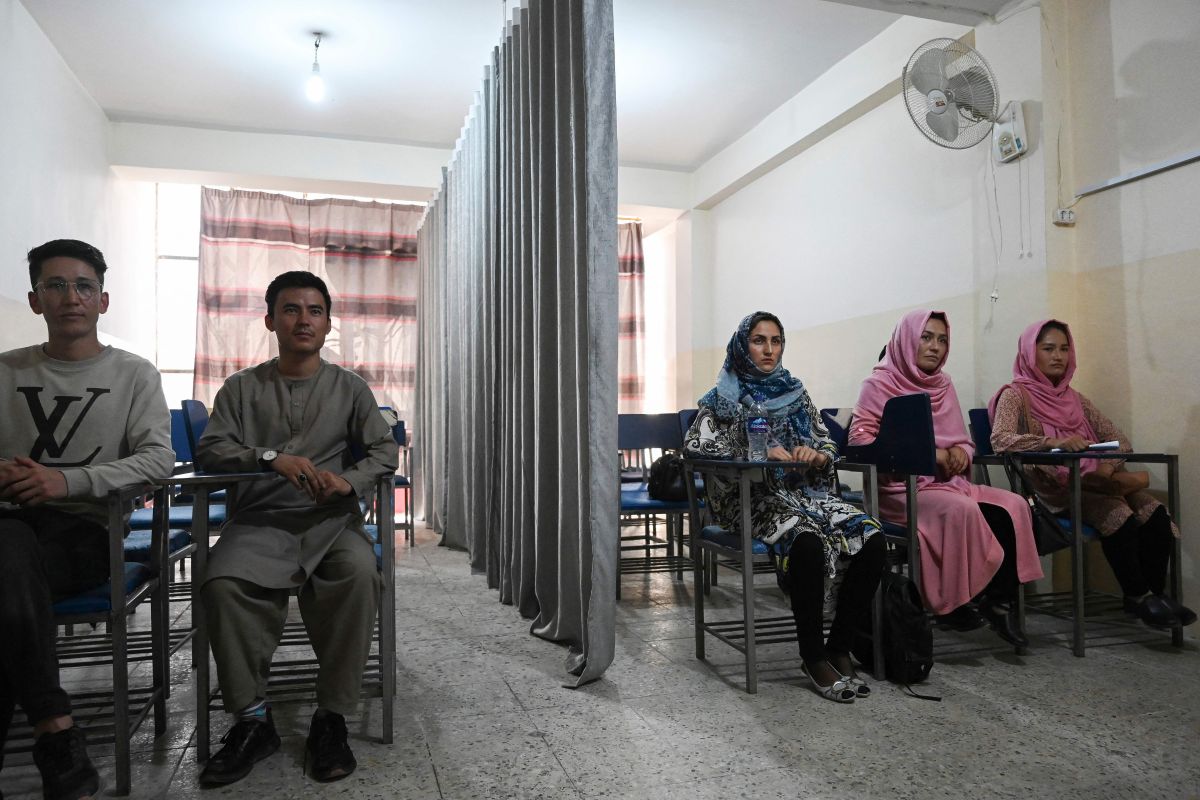 Photo: Aamir Qureshi / AFP / Getty Images
Afghanistan's new reality regarding women continues to be restrictive, especially in education. It was known that the new director of the Kabul University, who was appointed by the Taliban, reported that women will not be allowed to enroll or work outside the home until a "real Islamic environment" is provided for Afghan society.
Mohammad Ashraf Ghairat, Chancellor of the new Taliban government, tweeted that women were not going to be allowed to attend universities or work, but then tried to clarify his comment by stating that The New York Times had quoted his words "wrongly".
"I did not say that we will never allow women to go to university or go to work, what I meant is that until we create an Islamic environment, women should stay in each"Ghairat said trying to soften the criticism.
This tweet written by the foreign minister raises suspicions about the actions of the new axis of power in Afghanistan, which promised in principle to be more flexible with the rights of women than during its first government (1996-2001), a time when women and girls could not have access to education, he outlined NPR.
In addition, it contradicts the statements offered by the Minister of Higher Education, Abdul Baqi Haqqani, which ensured that women will be able to study in Afghan universities as long as the genders are divided so that the classes are taught.
Last September 12 It was learned that the Taliban high command decreed that women could study separately from men, in an attempt to distance themselves from the image they gave to the world in their first government; However, these statements were received with pessimism by the female sector in that country, and measures such as those taken in the Kabul University can endorse these doubts.
Meanwhile, the new rector of the University of Kabul has written from his Twitter that he hopes that the study house will name "More pro-Muslim academics", and facing criticism that indicates his low academic qualifications despite the position he holds.
Since the new Taliban government was established on Afghan territory, product of his rise to power after the withdrawal of US troops from the territory, the rights of women have been issues that have not gone under the table, and have generated demonstrations and protests demanding guarantees of their rights, protests that were dispersed by the Taliban with gunfire.
You may also like:
Taliban in Afghanistan deny killing 8-month-old pregnant woman in front of her husband and children
Taliban deny that they will prohibit access to education for girls and adolescents, although they are not yet allowed to enter classes
Taliban asked to participate in the UN General Assembly


Source-eldiariony.com