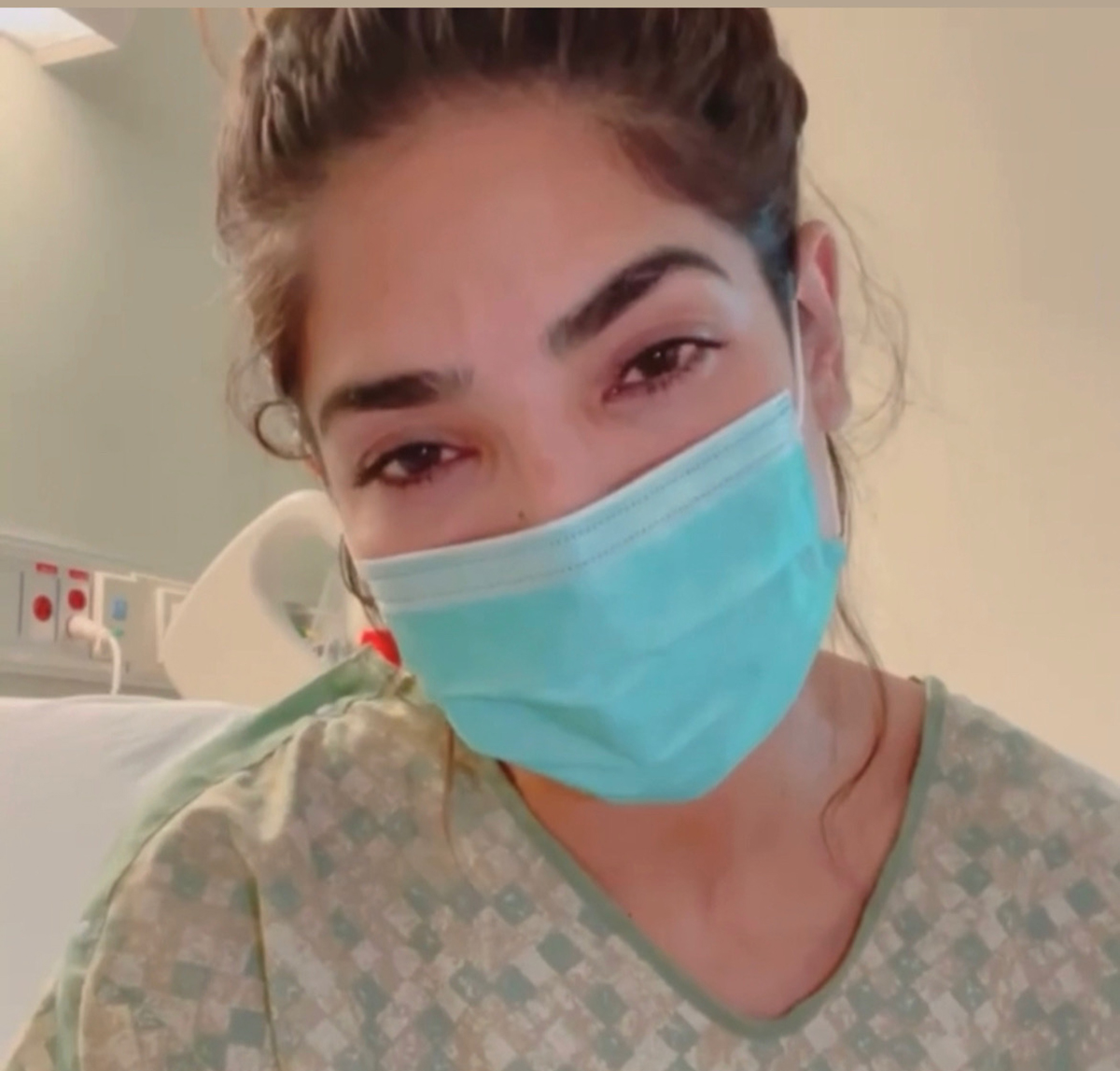 Photo: Alejandra Espinoza / Courtesy
Less than 24 hours after it was known that she was hospitalized after having experienced a picture of partial paralysis of the face and loss of vision in her right eye, Alejandra Espinoza breaks the silence from the hospital: "I feel blessed to have so many people praying for me".
From the hospital bed where she is admitted in Miami, accompanied by her husband, Aníbal Marrero, and her best friend Elizabeth López, Ale took a few minutes to upload a video to his Facebook account, and share the happy news that, after four days of nightmare, tonight or no later than Friday morning she will be discharged.
What happened? She herself confirms that his face turned sideways, he presented paralysis and partial loss of vision. That since he entered the hospital he went through different diagnoses: paralysis, stroke, even multiple sclerosis, but thank God all that was ruled out.
"Thank you because I know you have sent me a lot of messages, I thank you very much, I feel super blessed to have so many people praying for me… They have been very difficult days, with a lot of stress, a lot of uncertainty … The only reason I am making this video is because my neurologist just left and gave me very good news and I feel much calmer", Alejandra began saying in the video she recorded in order to give the good news.
Alejandra promised that once she was at home, she would make a video detailing everything she experienced. However, she shared part of the test that she had to live: "I am admitted here in the hospital as a a patient who had a stroke, first they admitted me like a patient who had a paralysis, then they ruled out paralysis … The neurologist thought I could have multiple sclerosis, my head was like they have no idea"Alejandra continued recounting.
"Suddenly my face went to the side, I arrived with a facial paralysis here at the hospital… The doctors to this day they do not find the reason why that happened to me, but thank goodness it's nothing I mentioned, it wasn't a spill, it's not, thank goodness, multiple sclerosis, which was what really worried me in recent days, because suddenly I was losing visibility in my right eye… I am recording this video because I am much better right now, the exams were perfect ", he explained.
Alejandra could not hide her joy, not only because she is better, but because she is finally going to see her son Matteo who is the one who misses the most and who is usually never separated for so long.
Let's remember that after Alejandra shared a photo where it was seen that she was in a hospital, It was 'Despierta América', more precisely Francisca Lachapel, who communicated with Aníbal Marrero, Alejandra's husband and told her the following:
"For weeks he has been feeling bad … Days ago she lost a little visibility in one eye, and part of her right face was paralyzed, she was dizzy, a severe headache and we immediately took her to the hospital. The doctors told him that had a mini stroke, they began to do a thousand scans and a thousand studies, absolutely nothing came out, everything is fine, contradicting the diagnosis… So they keep doing a thousand tests, so it is not found what it is. She is fine, her mouth is slightly twisted (crooked), she lost a bit of visibility, she is resting, and doing three more tests to rule out, we still don't know what is wrong with him".
We contacted Elizabeth López, Alejandra's best friend, who was with her at the time confirmed that the stroke was ruled out by the doctors. Today, from Alejandra's own mouth, we know the happy ending.
LOOK HERE WHAT ALEJANDRA ESPINOZA SAID:
DO NOT STOP SEE THESE OTHER STORIES:
• Our Latin Beauty: Everything that happened at the second gala
• 'Nuestra Belleza Latina': On its return it swept the rating
• Alejandra Espinoza: "All the things that I have achieved in my life, it has been because I have done a lot"


Source-laopinion.com