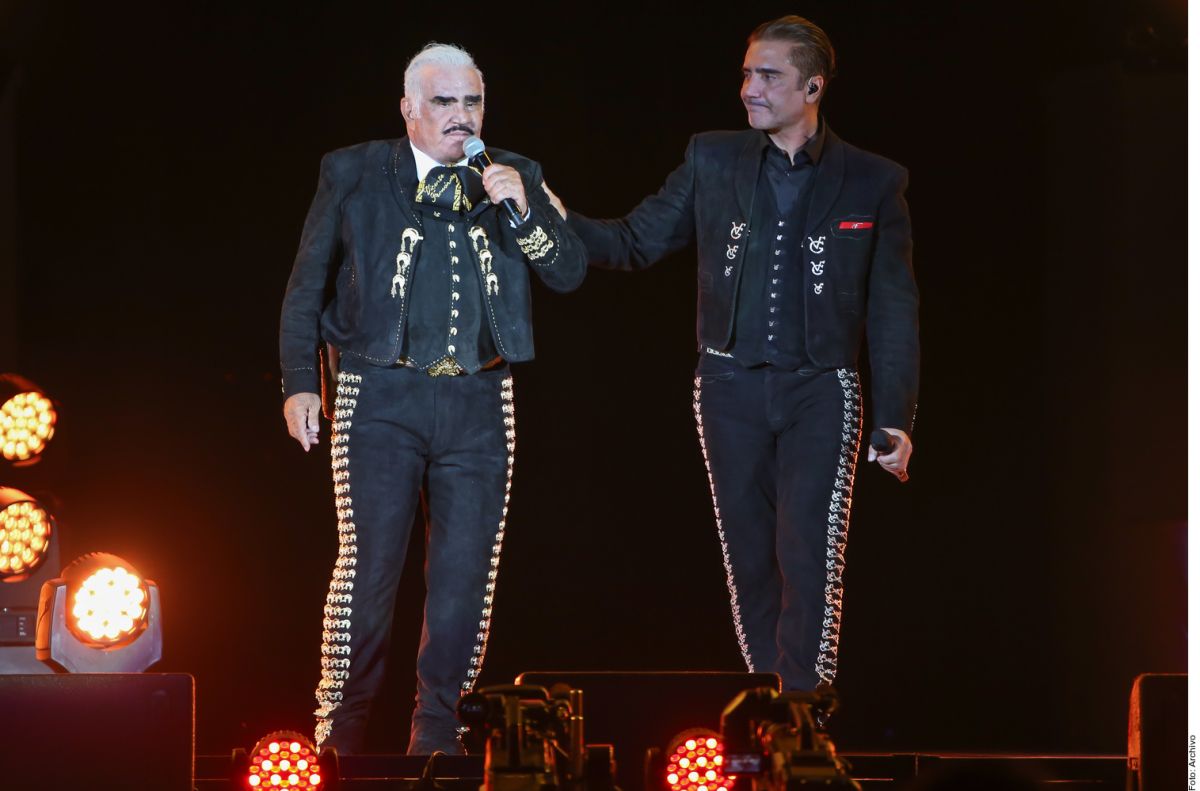 In times of Covid-19 it might seem normal to hear a serenade of Alejandro Fernandez from a balcony… but, from a room at the Four Seasons CDMX?
In order to support with all the proceeds to the reactivation of the hospitality industry, one of the hardest hit by the pandemic, the singer opened last night with "Serenade for Mexico"A concept that, more than a concert, is a new experience.
The face-to-face audience, of 120 rooms (an outlay of $ 20 thousand pesos per package: dinner, toast, show and lodging for one night), witnessed the reappearance of "El Potrillo".
The singer, excited after giving away the first songs of the evening, expressed that he missed the serenades and, without further ado, thanked his family for their support in these difficult and painful times, in which his father, the idol Vicente Fernández, remains serious in a hospital in Guadalajara.
"We have many mixed feelings, you know the situation we are going through as a family and I thank you for your prayers, with all my heart, that they have given to my father", Said the interpreter.
After dedicating this reappearance to his father and asking God for his speedy recovery, Alejandro continued his work, demonstrating his tables on stage, accompanied by a mariachi band, his musical band and choirs.
Those present, who arrived at the hotel with face masks, masks and armed with antibacterial gel and sanitizing spray, enjoyed on their euphoric balconies with glass in hand and sang everything with the musical host, from songs like "Tantita Pena" to "Hoy Tengo You desire ".
Just 10 minutes into the show, which started half an hour late, the singer became a trend on Twitter. And after half an hour, according to spokespersons for Tequila Don Julio (sponsor of the event and the initiative), its platform, which broadcast the show for free in the national territory, it already exceeded 100 thousand connections.
https://www.youtube.com/watch?v=20lD4m_7MgQ
Between ballads, ranch boleros and wild songs, the singer kindled the spirits of all the guests, who, wearing hats, performed monumental choirs on several occasions, which Alejandro thanked with his thumbs up.
The artist took the opportunity to thank the sector for its help, which, he said, like all of Mexico, knows the meaning of resilience.
A climactic moment came when "Dediqué a Perderte" sounded, which drew tears and ovations from hundreds of couples who listened to it embraced.
Another one occurred with "Like Who Lose a Star", in which the dome of the esplanade rumbled with the laments of the respectable.
At 11:17 pm he left the scene, but the shouts of "another, another" made him come back to give away "Sing, Heart."
Contaminated by the festive atmosphere and the quasi celebration of the Month of the Fatherland, he delivered four more pieces in which he looked relaxed, smiling and dancing, to leave the central stage amidst cheers.