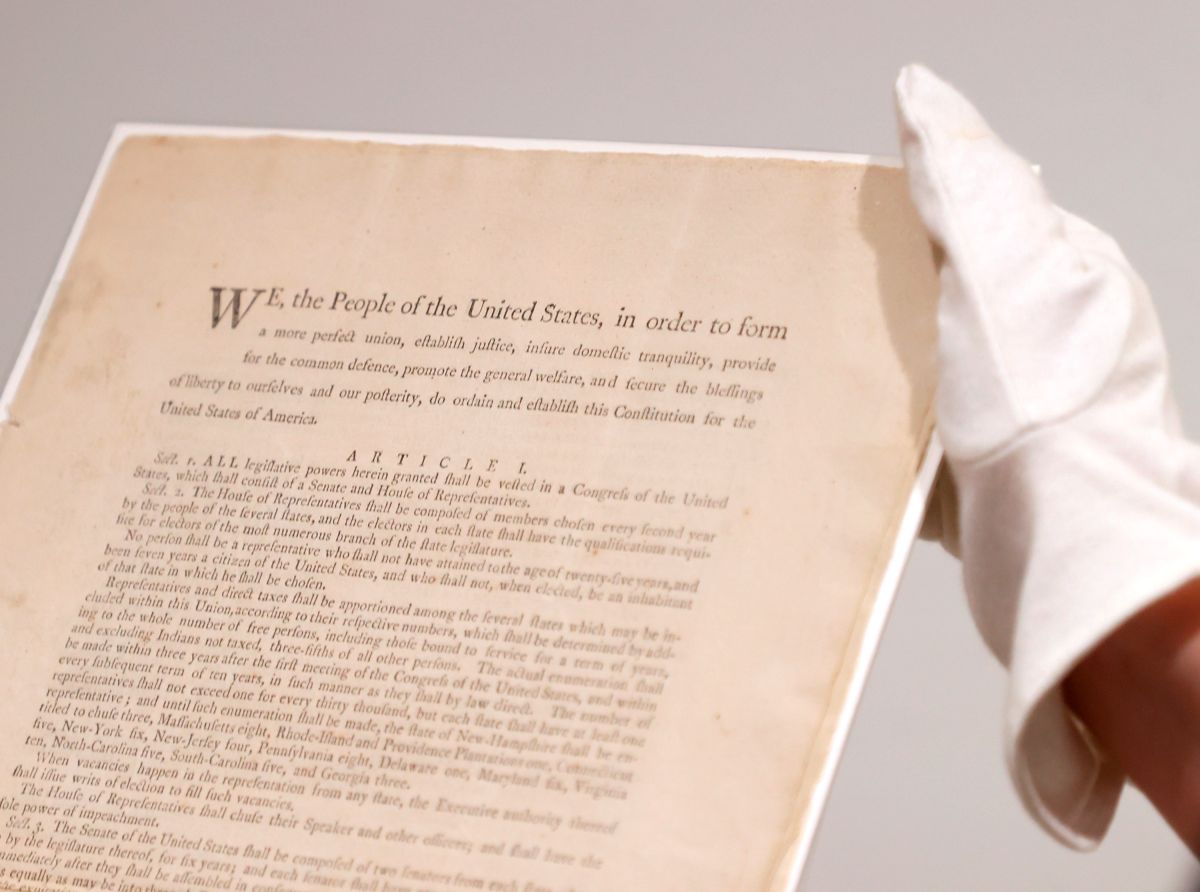 NEW YORK – Sotheby's will auction next November a copy of the first definitive text of the United States Constitution, an "extremely rare" document that has been valued between $ 15 and $ 20 million, the company announced Friday.
Is about one of only eleven known copies of the first edition of the Magna Carta American that was produced for the delegates of the Philadelphia Convention – where the details of the text were specified – and the only one that still remains in private hands.
The auction house announced on Friday the sale of this item, owned by the collector Dorothy Tapper Goldman, in coincidence with the 234th anniversary of the signing of the Constitution from United States, which occurred on September 17, 1787.
According to Selby Kiffer, Sotheby's International Book and Manuscript Department specialist, this copy "is one of the most extraordinary and coveted documents to ever reach auction."
"I managed the sale of this same document in 1988. I have been following it ever since, and it is very exciting to see it return to an auction room more than three decades later," he added.
It is "considerably" more exceptional, according to the auction house, that the first impression of the Declaration of Independence the United States, the "only document that can be compared" in terms of the influence it has had.
It is also the first time in the history of Sotheby's that a manuscript or historical document will be offered at one of their evening art auctions, one of their biggest events of the year.
"A document with the weight and meaning that the Constitution has deserves to be presented in the largest auction scene in the world," said Sotheby's head of Contemporary American Art, David Galperin.
The owner of the precious item, for her part, said that she became the owner after her husband, S. Howard Goldman, passed away, from which time she felt a "great responsibility" to take care of it, share it and promote the " constitutional principles "of the United States.
The document also prompted Goldman to collect more historical texts, including other prominent copies of the country's Constitution, which will be offered to the highest bidder in subsequent auctions.
Goldman's husband bought the item at auction in 1988 for $ 165,000 at the time after listing it for sale by a private Philadelphia collector.
All proceeds from the sale of the entire collection will go to the Dorothy Tapper Goldman Foundation, which aims to expand democracy education.
It may interest you:
– From 6 to 8 million dollars: this is what the 1959 Ferrari 410 Superamerica looks like, which will be auctioned this month
– The most expensive pigeon in the world sells for almost $ 2 million
– For $ 77 thousand dollars they sell the first football regulations in London