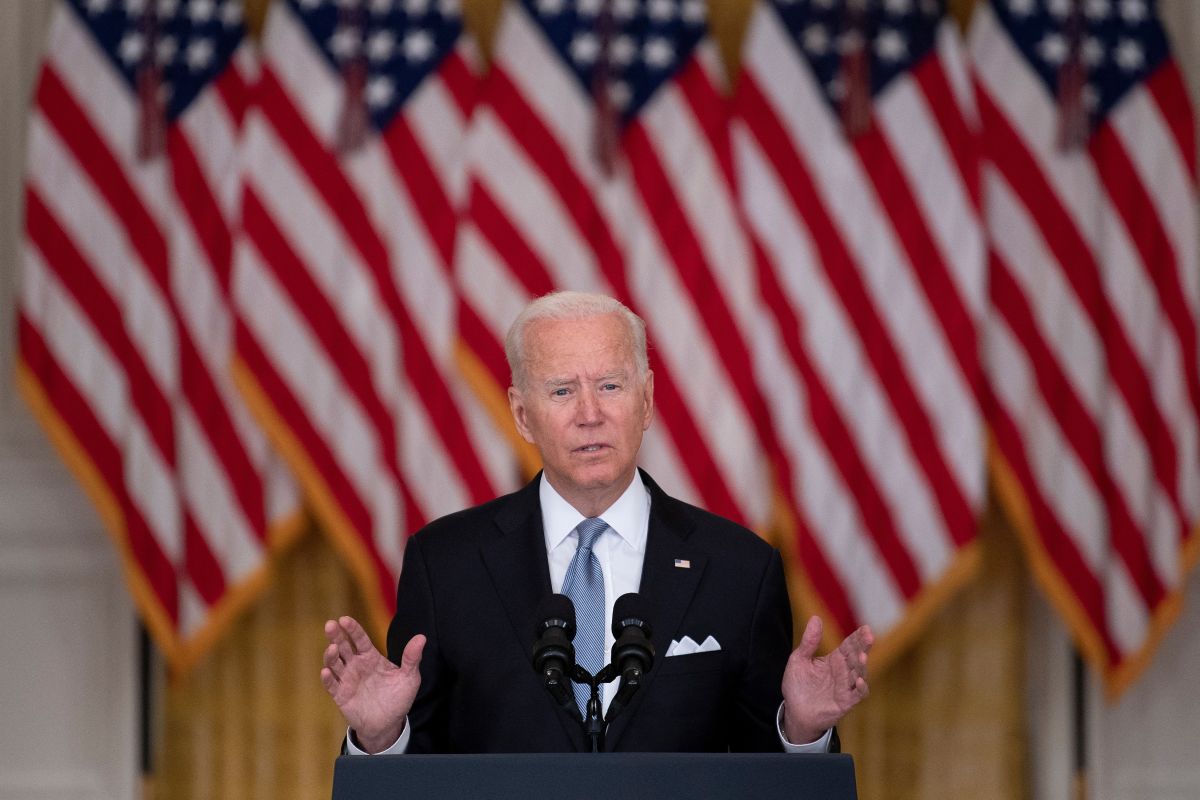 Photo: BRENDAN SMIALOWSKI / AFP / Getty Images
President Joe Biden told ABC News's George Stephanopoulos on Wednesday that US troops could remain in Afghanistan beyond August 31 to continue evacuating any US civilians who has stayed in the country and wishes to leave.
"If there are American citizens left, we will stay until we remove them all," the president said.
The Biden administration has repeatedly said that all US troops would be out of Afghanistan by the end of August.
But the rapid takeover of the Taliban this week sparked a chaotic race to evacuate foreign nationals and their Afghan allies.
Estimates put the number of Americans in Afghanistan between 11,000 and 15,000, according to The Washington Post.
When President Biden was asked if some troops could stay beyond the end of the month if necessary to evacuate the Americans and Afghan allies, Biden said: "It depends on where they are and if we can increase these numbers to five. [mil] to 7,000 a day when they come out. If that's the case, everyone will go out. "
"And are you committed to making sure the troops stay until all the Americans who want to leave are out?" Stephanopoulos asked him.
"Yes. Yes, "Biden replied.
Biden's answer on whether that applied to Afghans was that It is estimated that between 50,000 and 80,000 US Afghan allies, including people who helped in the efforts of the United States and their families, remain in the country.
"The commitment is to remove everyone who can leave and everyone who should leave," he said. And that's the goal. That is what we are doing now. That is the path we follow. And I think we'll get there. Americans must understand that we are going to try to do it before August 31, "he said.
However, if that doesn't happen, Biden made clear that the decision to keep troops in Afghanistan would depend on whether American citizens remained there.
Our current military mission will be short in time and focused on its objectives:

Get our people and our allies to safety as quickly as possible.

And once we have completed this mission, we will conclude our military withdrawal. We will end America's longest war.

– President Biden (@POTUS) August 17, 2021
Thousands of US troops have flown into Kabul to protect evacuation efforts at the airport
Washington has moved about 5,000 people from Afghanistan so far, with an additional 2,000 Afghans relocated to the United States as special immigrants.
Approximately 11,000 people in Afghanistan have identified as Americans, while more than 80,000 Afghans may need to be evacuated.