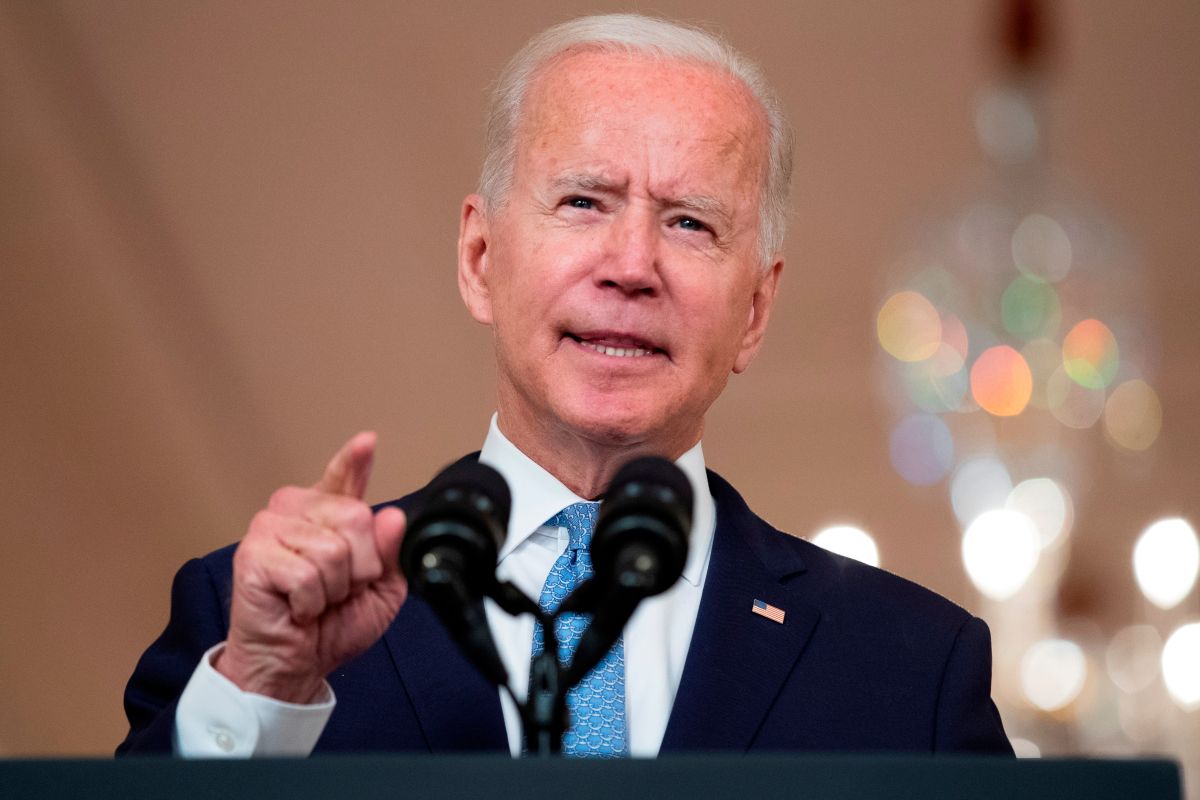 Photo: MICHAEL REYNOLDS / EFE
President Joe biden upheld his decision to withdraw all troops from Afghanistan and warned the ISIS-K terrorist group, "We are not done with you yet," in a challenging speech Tuesday on the end of the US war in Afghanistan.
Less than a week after ISIS-Khorasan (ISIS-K), the insurgent group that claimed responsibility for the attack, killed 13 US military personnel and dozens of Afghan civilians in two suicide bomb attacks in Kabul, Biden said the United States remains committed to targeting terrorist organizations "without boots on the ground."
"We will continue the fight against terrorism in Afghanistan and other countries," Biden said Tuesday, during his remarks to the country from the White House, nearly 20 years after the United States toppled the Taliban from power in the wake of the terrorist attacks in Afghanistan. September 11, and just one day after the last American troops and diplomats left the country, which is again under the rule of the Taliban.
"As Commander-in-Chief, I firmly believe that the best way to protect our safety and security lies in a tough, relentless, targeted and precise strategy that pursues terror where it is today, not where it was two decades ago," said the president. .
Biden, who described the evacuation efforts as "messy" last week, said he "respectfully" disagreed with critics who argue that US forces should have stayed in Afghanistan longer.
Biden said that it was not in the national interest of the United States to remain in Afghanistan to eradicate the terrorists. "Here's something fundamental to understand: the world is changing," Biden said.
The president referred to geopolitical threats from foreign actors such as China and Russia as increasingly pressing issues to which the United States must dedicate resources. "There is nothing that China or Russia would rather have, want more in this competition, than the United States stuck for another decade in Afghanistan," he said.
Biden noted that the United States will continue to fight terrorist organizations by using "capabilities on the horizon" to attack via aerial drones rather than using major military operations on the ground.
The president said that this change in military power will serve to "make us stronger and more effective" by relying more on technological advances than on a ground presence.
"And for anyone with the wrong idea, let me put it plainly," added Biden. "For those who wish America harm, for those who engage in terrorism against us or our allies, know this: America will never rest. We will not forgive, we will not forget. We will chase them to the end of the world and they will pay the maximum price ".