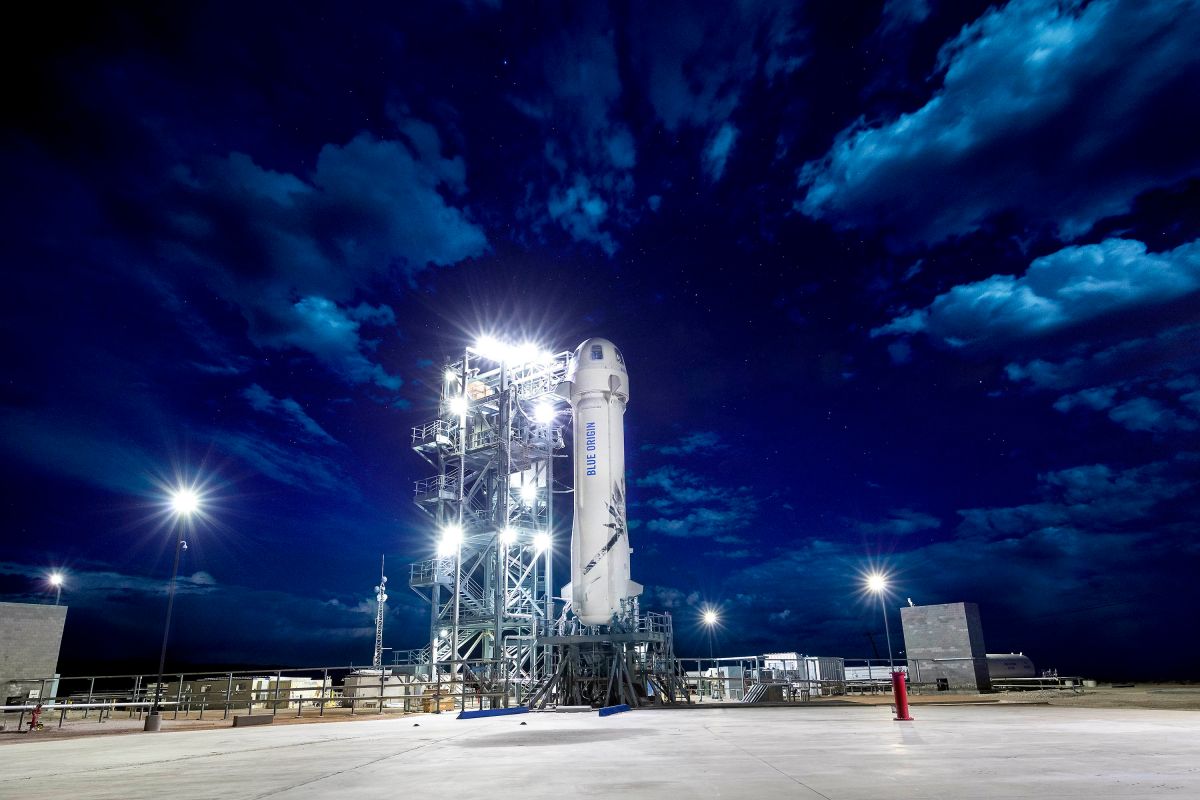 Photo: Blue Origin / Courtesy
Blue Origin, Jeff Bezos' company, announced that New Shepard's 18th mission (NS-18), will take off on Tuesday, October 12, transporting four astronauts to space and back.
The company indicated that at the moment the Dr. Chris Boshuizen, former NASA engineer and co-founder of Planet Labs. and Glen de vries, vice president of life sciences and health for Dassault Systemes and co-founder of Medidata.
About the other two astronauts, Blue Origin noted that they will unveil them in the coming days.
Live launch coverage will take place on BlueOrigin.com in T-90 minutes. Liftoff is scheduled for 8:30 a.m. CDT / 1:30 p.m. UTC from Launch Site One in West Texas.
This flight takes place after the successful experience of July 20, where Blue Origin traveled to Jeff Bezos, his brother Mark Bezos, aviation pioneer Wally Funk, and Blue Origin's first customer, Oliver Daemen.
On the cost of tickets for this trip, Blue Origin did not provide information.

Who are the confirmed passengers?
Dr. Chris Boshuizen
Boshuizen's career has been dedicated to pushing the boundaries of space and igniting the excitement of young people to pursue careers in STEM. He co-founded Planet Labs (Planet) in 2010 and served as CTO for five years.
From 2008 to 2012, he served as a space mission architect at NASA's Ames Research Center, where he co-invented NASA Phonesat, a free-flying orbital satellite built from a common smartphone. He was also Executive Director of the Spatial Generation Advisory Council.
"This is the fulfillment of my biggest childhood dream," said Dr. Chris Boshuizen.. Most importantly, however, I see this flight as an opportunity to inspire students to pursue careers in STEM and catalyze the next generation of space explorers. After all, our future of life in space is in his very capable hands. "
Glen de vries
He co-founded Medidata Solutions in 1999, the world's most widely used clinical research platform. He is the vice president of life sciences and healthcare for Dassault Systemes, which Medidata acquired in 2019. Glen serves as a Trustee of Carnegie Mellon University, is the author of "The Patient Equation," and is a qualified private pilot.
"Participate in advancing the space industry and one day make those resources and understanding available to all, it is an incredible opportunity. I've been passionate about aviation and space for as long as I can remember, so this flight is truly a dream come true, "said Glen de Vries.
You may also like:
What is the Kármán line, the limit of the space that Jeff Bezos crossed
Wally Funk, the aviator who was denied flying into space in 1961 and now fulfilled her dream
Jeff Bezos: how will the trip to space that the founder of Amazon will make with his brother


Source-eldiariony.com