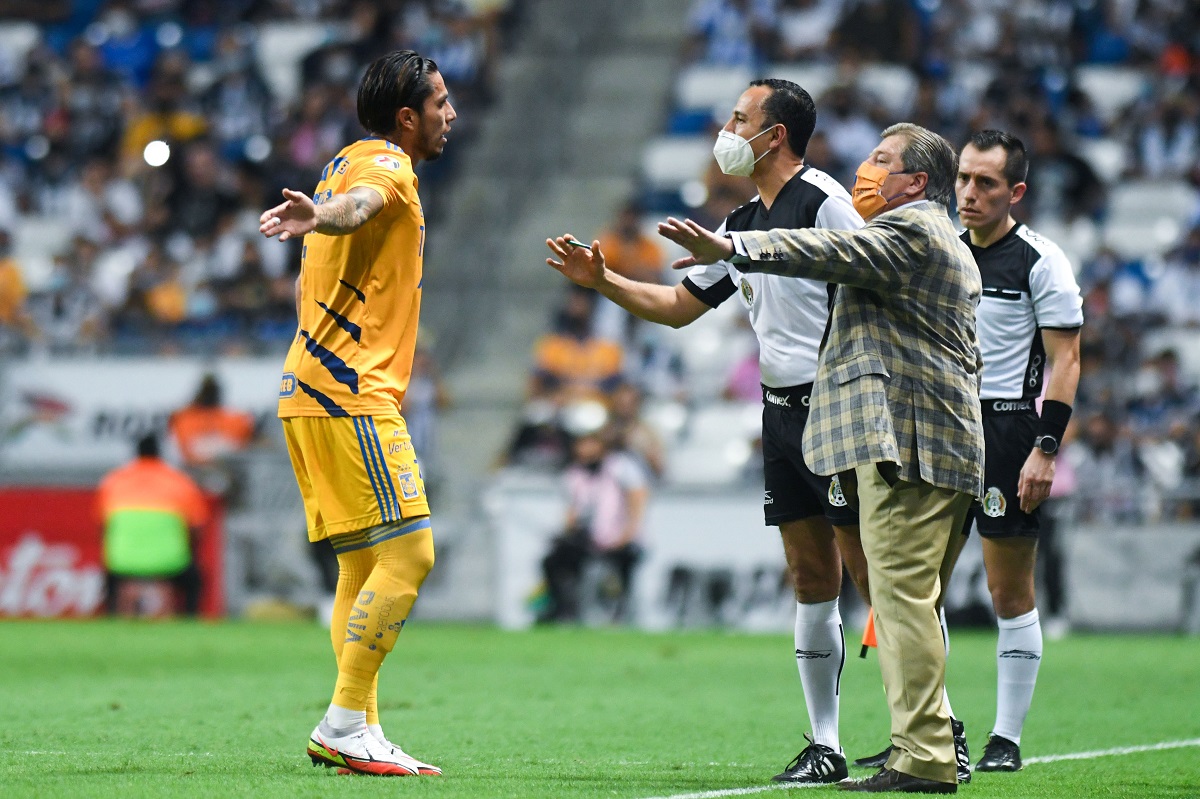 TO Carlos Salcedo after the 2021 Gold Cup he was not called back to the Mexican team of Soccer for the problems he had with the coaching staff headed by the Argentine Gerardo 'Tata' Martino. He claims that it is his fault and he is living a life lesson.
Said in Multimedia who "watered" it in the Tri and he's learning not to do it again.
"I 'screwed up' and I have learned not to do that anymore and control myself more. In the Classic I exploded, but I controlled myself. I learned from that friction that I had in selection. And when I spoke with Jorge Thieler, we spoke very calmly and he said 'it stayed there for me'. And the reprisals that I have because I take them and I do not take anything against myself because I know that I watered it, "he added.
He stressed that he is a person with criteria, that is why he does not hide in saying that he was wrong. Then he was interrogated for the Qatar 2022 World Cup and aspires to be there with the national jersey, but that does not take away his sleep either.
"I know that as long as it is inside the piece of paper, although they are not calling me right now, anything can happen. I do not know if I can be or not for the next FIFA Date, I would talk with the coaching staff. But apart from that, I also can't judge myself; It's a life lesson and my life won't end if I don't go to the World Cup. It is a life lesson, I have to learn from this situation; one year to go. I learned a lot about technical matters from the national team. The decision is up to the coach and I'm not going to get involved. Yes I'd like to; I do see myself in Qatar ", he acknowledged.
He has nothing against 'Piojo' Herrera
The Titan Salcedo clarified that he has nothing against Miguel Herrera beyond a situation that was experienced in the Classic Regio: "It was nothing against him, because the truth is that the good thing is that there are so many cameras, but my Anger at that moment was that, in a play that was not yellow and that was not even a foul.
"Also putting yourself in the place of a coach or someone who knows football, because obviously you have that risk that in a play by going 1-0 down, then if you make 1-1 or if you have to cut a play when they make you 2-0, because obviously you are conditioned, "added the 27-year-old defender.
He added that his relationship with 'El Piojo', his coach at the UANL Tigres, is good.
"You see several comments that are not relevant; that I fight with the 'Louse' when we have a very good relationship, the truth and obviously well I have always said no, as long as it is for the service of the team that is what counts ", he closed.
Read also: A secret from the 90s: Madonna turned down Michael Jordan to be with Scottie Pippen


Source-laopinion.com