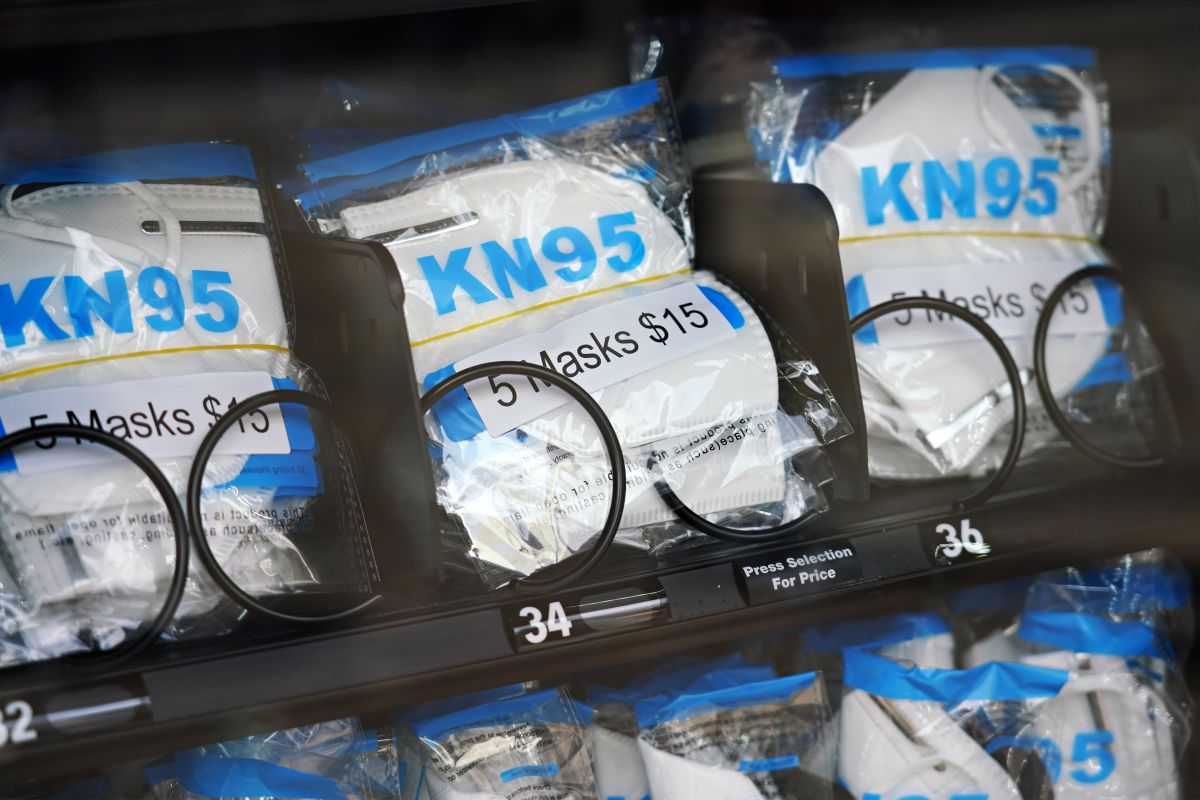 Photo: Cindy Ord / Getty Images
Face mask factories in the United States have launched a wake-up call because despite the fact that a critical situation is being experienced due to the variants of Covid-19, they are on the verge of bankruptcy, published The Hill.
Manufacturers are asking for government support because private companies and state and local governments have favored the consumption of Chinese masks, which are much cheaper than those made in the United States.
The drop in demand has forced US mask manufacturers to lay off more than 5,000 employees and they anticipate that the industry doesn't make it into next year unless they get government help.
"With the virus getting worse, we are very concerned that this industry is not there to help when it is needed most," said Brent Dillie, Premium-PPE company manager and president of the American Association of Mask Manufacturers (AMMA).
"The industry is in a situation where we are needed, there is a shortage of masks, but we are all laying off our employees and we have a significant inventory of products that we have not been able to sell," explained Luis Arguello Jr., vice president of DemeTech.
During 2020 DemeTech became the largest manufacturer of masks, before governments and private companies stopped buying American masks and favored the Chinese. For this reason, the company was in need of lay off 1,500 workers at its mask division, accumulating around 200 million masks.
Face mask manufacturers are pressuring the White House tenant to purchase hundreds of millions of stocked masks to bolster the federal government's National Strategic Reserve to keep the industry afloat.
"In general, the federal government has been consistent in buying American masks."Arguello pointed out. "It's the state and local governments that don't."
Entrepreneurs complain that states received significant resources from the stimulus package to address the health and economic emergency caused by the coronavirus, but have chosen to buy Chinese-made KN95 masks that do not meet US standards.
For its part the AMMA is requesting that Congress impose stricter standards on masks purchased by state and local governments, as well as school districts and hospitals.
In addition, he is calling for action by the World Trade Organization against the Asian country for subsidizing the cost of face masks, accusing the Chinese government of freezing foreign competitors and creating a dangerous dependence on its industry to supply personal protective equipment. vital.
Entrepreneurs emphasize that Americans need proven equipment to block the variant Delta, which spreads much more easily than previous strains of the virus.
You may also like:
The WHO describes as "incomprehensible" the increase of Pfizer and Moderna to their vaccines against Covid-19
Mattel honors women in science with creation of special edition Barbie
Mexico sues US arms manufacturers, asks for $ 10 billion to compensate damages