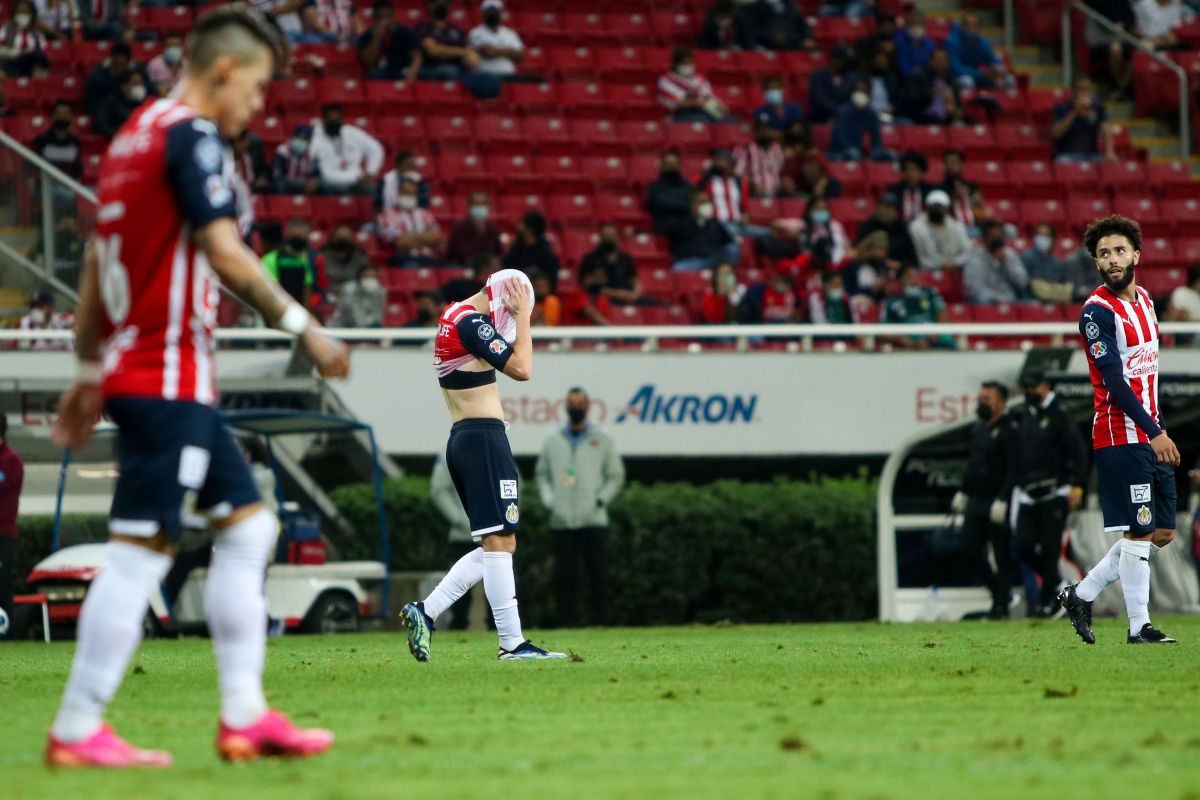 Photo: Fabian Meza / Imago7
The Chivas de Guadalajara fans are already upset with the club and the leadership. During the preseason, criticism already abounded when learning that the "Sacred Flock" would not make any contract for Grita México A2021. Now, the results have not accompanied the club and They come from being beaten 0-3 by Club León, at home. This result increases the anguish of the rojiblancos fans.
William Tesillo, Elías Hernández and Santiago Colombatto they were in charge of humiliating Chivas at the Omnilife Stadium. This result lowered the whole of Guadalajara to the twelfth position of Liga MX. Víctor Manuel Vucetich does not get the results with the team and the murmurs in the stands get louder and louder.
With this defeat, there are already two in this tournament. Five dates have been played in the Mexican tournament and Chivas de Guadalajara has only been able to win one match. The Sacred Flock shares a difficult present with Pumas.
After a year of "King Midas" at the helm of the Herd, the club has obtained 11 victories in 34 games. During that number of encounters, the team has been able to convert 41 goals and has received 43. However, far from seeing a positive outlook, Chivas could sink even more and this is due to a couple of exits that the club could suffer: Urial Antuna to Olympiacos of Greece and Alexis Vega to Porto of Portugal.
Cristian Calderón faced the Chivas fans
El "Chicote" entered the field during the second half, but his incorporation did not really influence the development of the party, much less in the final result. At the end of the match, the fans began to yell at him and reproach the "El Rebaño" players for lack of commitment, but Cristian Calderón did not tolerate it and faced the fans.
This is how Calderon responds to the fans after the terrible game they gave.👎🏼💔#Chivas #chivas #soccer #LigaMX #Chicotecalderon #ChivasVsLeon @serch_pr @Chivas pic.twitter.com/jOcQhLbGcx

– Manuel Zamora❄️🐺 (@ ManuelZ301102) August 19, 2021
The memes of Chivas' defeat that puts Vucetich on a tightrope
Throught social media, users began to make fun of the evil present that one of the most important clubs in Mexico is going through. The memes began to burn wood from the fallen tree, just as it has happened with Miguel Herrera and his irregular gait at the command of Tigres.
70/30 do not suck, better say that omnilife is sucking chivas 🤣😂😂😂 pic.twitter.com/WnadltJw3q

– jonhyrc (@ f31384c823df4fe) August 19, 2021
My Chivas Every Tournament pic.twitter.com/Z1jf1SjgpV

– Chivas (@comadrejayosoy) August 19, 2021
Chivas already sleep like dogs pic.twitter.com/Po1cNWC2Ia

– 🙂 (@ oswaldoeb97) August 19, 2021
Life as a @chivas fan. pic.twitter.com/XtkGb52rQ4

– Hec (@ Hec18) August 19, 2021
A clown, literally a clown 🤡🤡🤡🤡🤡 @Chivas pic.twitter.com/w4uDKUCYNs

– fer (@_heyitsfer_) August 19, 2021
"The guava and the toast" @Chivas @PumasMX @UnivSports @El_Universal_Mx #LigaMX # ScreamMexicoA21 #Vucetich #Lillini #Hello #Happy Thursday to everyone pic.twitter.com/jqfhXBqaHv

– MOSKABROWN (@moskabrown) August 19, 2021
You may also like:
Chivas de Guadalajara closed the doors to Alexis Vega: the Mexican team rejected a millionaire offer from Porto
Meet the five most hated teams in Liga MX
"It gives me enormous disgust how your mouth filled with the addictions of my brothers": Julio César Chávez's daughter responded to "El Travieso" Arce