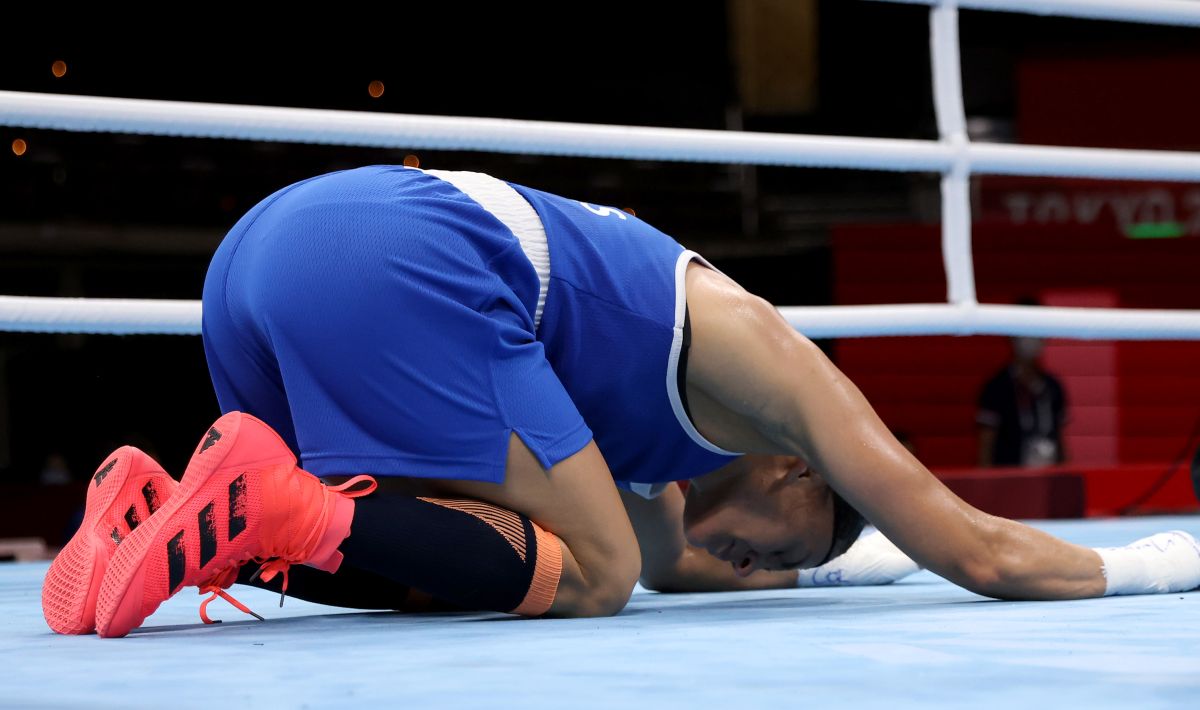 Photo: Buda Mendes / AFP / Getty Images
The great life stories are part of the Tokyo 2020 Olympics. One of them was starred by the Colombian Jenny arias, 30-year-old boxer, who was looking for get a medal and with it help his father who is in poor health.
The veteran boxer lost in the quarterfinals and was one step away from fighting for the medals. Its winner was the representative of the Philippines, Nesthy Petecio. The judges awarded him the victory by unanimous decision. This defeat devastated the Colombian, sportingly and emotionally.
"I want to apologize to my father that what he wanted most was to send him to operate"Were the heartfelt words that Arias told Caracol Sports, after the fight ended. Through tears the Colombian could hardly issue her statements after it was known that He was one step away from obtaining an Olympic medal.
"We wanted to make people happy." And even if they have not won, the mere fact of already being in the elite of world sport ALREADY MAKES THEM WINNERS! THANK YOU FOR GIVING IT ALL FOR COLOMBIA! @juanscabal @RobertFarah_ @IvanDuque @MinDeporteCol @OlimpicoCol please help #JennyArias! pic.twitter.com/G0KTu0uz7I

– @RubenOspina (@RubenOspinaS) July 28, 2021
The athlete's father is 60 years old and for some years suffers from mobility disability. One of the athlete's motivations was power pay for your operations. Arias's father uses crutches and generally complains of pain in his legs. The coffee athlete intended to begin treatment for her father.
The incentive that would help his father
The Ministry of Sports of Colombia had announced that coffee athletes who managed to get a medal at Tokyo 2020 would be rewarded. Those who had the joy of winning the gold medal, beyond sporting glory, They would carry in their pockets an amount equivalent to 240 minimum wages in their country, money that Arias wanted to help his father.
Arias' self-criticism
The Colombian boxer was also very dissatisfied with the result obtained in the Tokyo 2020 Olympic Games. Arias acknowledged that there was a lot of hope and trust placed in her, but apologized for not being able to achieve the goals.
"It was not the goal, he had a very strong preparation, he knew the rival, it did not come out like in the World Cup. I want to ask you not to apologize, because forgiveness is only for God, but I apologize to my coaches, I let them down, they had hope in me, and my teammates and my family… This does not end here and I hope to stop this defeat and give more victories to Colombia, "he said.
JENNY ARIAS IS A TESA, WE ARE ALL PROUD OF HER BECAUSE IT IS THE BEST AND IT ALWAYS PROVED IT, YOU ARE A GREAT QUEEN !! ❣️❣️❣️ # Tokyo2020 pic.twitter.com/KUBVH6IwQP

– Sandra 🇨🇴 (@ 0nlyAngelTommo) July 28, 2021
You may also like:
Tokyo: the surfer who won a medal at the Olympics 5 years after suffering a brain injury
Tokyo 2020: Spanish tennis player had to be removed in a wheelchair and taken to a medical center
Video: boxer was disqualified for trying to bite his opponent's ear at the 2020 Tokyo Olympics