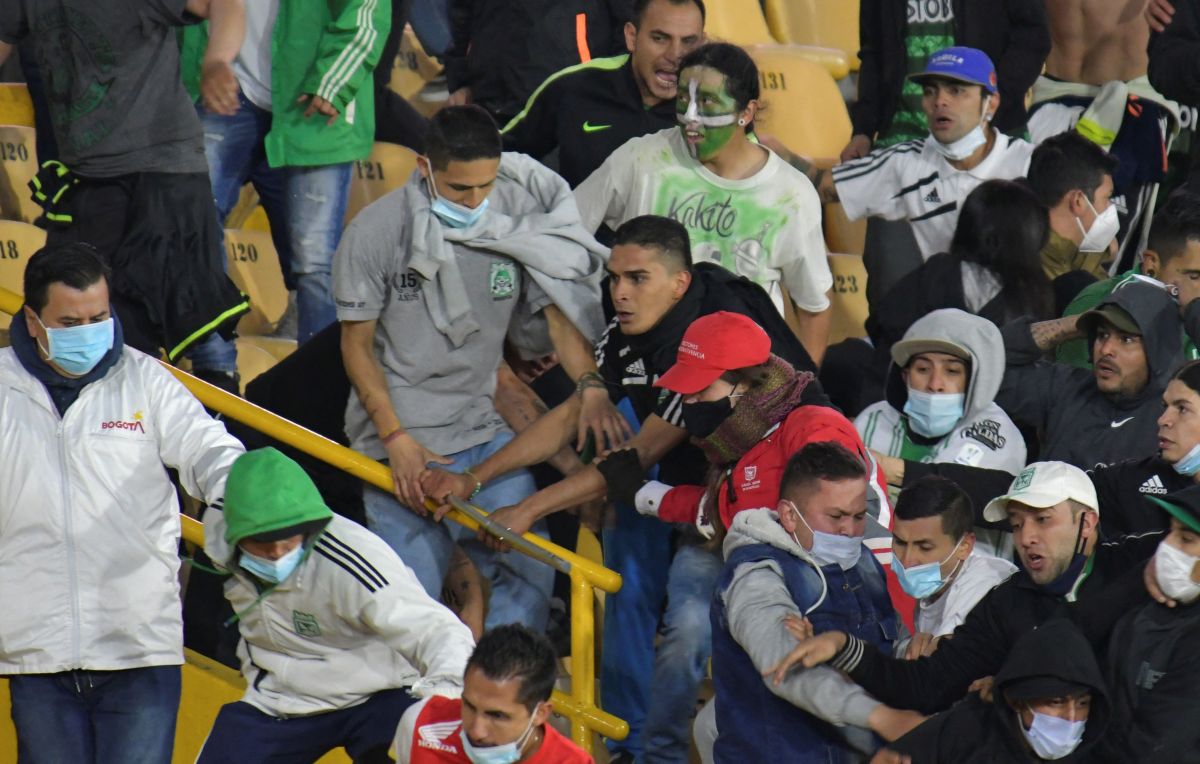 The public returned to Colombian soccer, and did it in the worst way. Fans of Atlético Nacional and Independiente Santa Fe started a camp battle that left the sport very badly. One of the fans of the "Cardenal" suffered more than the rest when he was beaten on the floor by up to four people, without mercy.
The images are regrettable: the fan is knocked out and is left unconscious on the floor, at which point many rival fans take advantage of the defenseless man, who receives kicks all over the body.
Shocking images of the Santa Fe fan. I pray 🙏 that he is alive. But what impotence, what anger, what dismay, what a desire for the criminals and murderers who went to Campin to pay and not to return to a stadium in their lives. I can't believe it … 🤬🤬pic.twitter.com/ixgmJHcNSq

– Camilo Castellanos (@CastellanosCami) August 4, 2021
Because of the way he was attacked, the ending could have been fatal. Fortunately, it was not. Claudia López, mayor of Bogotá, reported that the brutally beaten fan "is out of danger." In addition, he added that the rest of the injured are out of danger.
Three assailants were arrested until the early hours of last Wednesday.
The brutally beaten Santafe fan was taken to the hospital and we are informed that he is out of danger. In total 3 wounded were transferred to hospitals and fortunately they are out of danger and being treated.

So far, three assailants have been captured.

– Claudia López 👍 (@ClaudiaLopez) August 4, 2021
The pitched battle continued on the field. Both fans invaded the field of play and tried to attack each other with the billboards. It all happened while the teams were in the locker room after the first half. The meeting was stopped for up to an hour.
The most surprising thing is that the game continued once the situation was controlled. However, the result was the least in an unforgettable evening because of the deplorable events.
Colombian football cries.
All bad in the El Campín stadium. Outrageous! pic.twitter.com/9LU2PJmGNt

– Jose Manuel Acevedo (@JoseMAcevedo) August 4, 2021