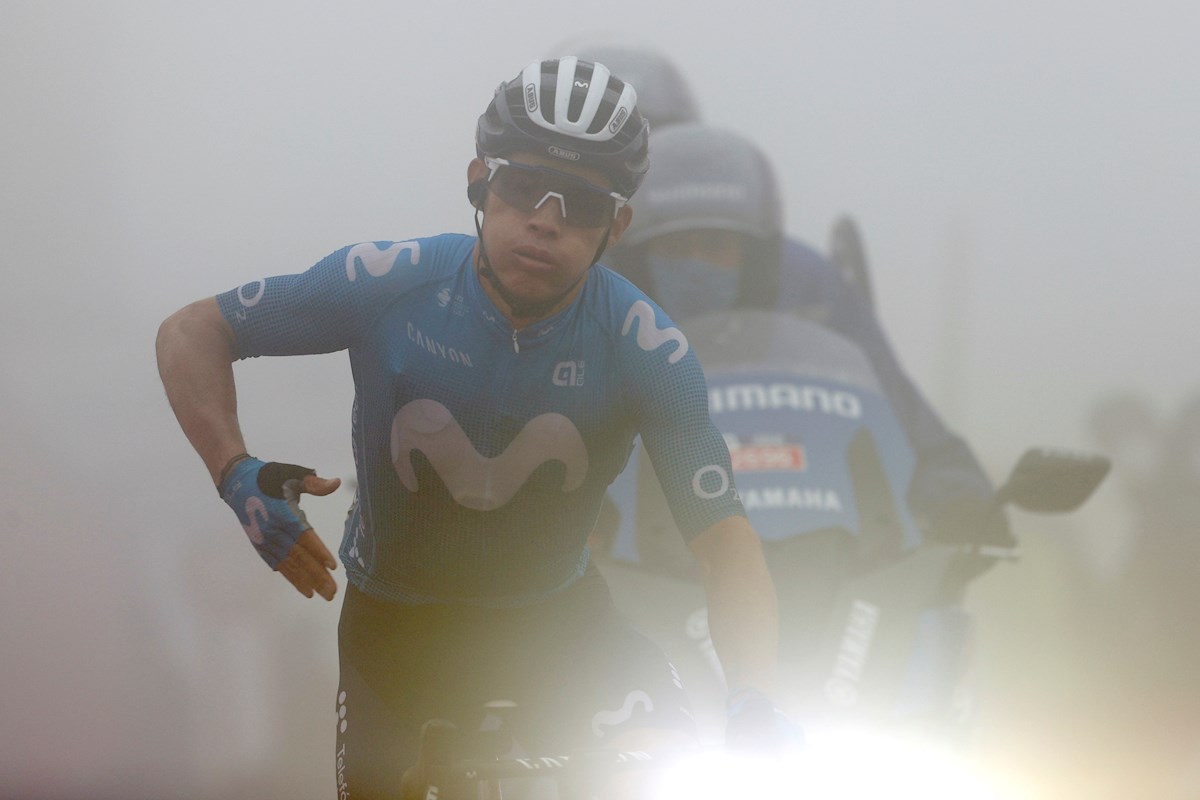 He is a specialist in winning queen stages of the great cycling tours of the world and in Spain he was no exception. Miguel Angel Lopez He aspires to be on the podium of La Vuelta a España and hit the table by winning the eighteenth stage between Salas and Altu d'El Gamoniteiru.
'Superman', file of the Movistar Team, he reached the finish line alone after traveling 162.6 kilometers with an impressive performance. He took out his breed of natural climber in the toughest pass of La Vuelta.
The leader of the race, the Slovenian Primoz Roglic, was the one that was closest to reaching him, reaching 14 seconds behind the Colombian. His Movistar teammate Enric Mas entered third at 20 seconds. Fourth came the coffee grower Egan Bernal (INEOS) at 22 seconds.
#LAVUELTAxESPN The top 10 of stage 18 with the victory of Superman López! pic.twitter.com/Lk0ZvhinI8

– ESPN Cycling (@ESPNCiclismo) September 2, 2021
López's attack began 5 kilometers from reaching the goal to hunt down Spaniard David De la Cruz (UAD) and from then on he was unstoppable. He stopped his stopwatch at 4h.41.21, with an average of 34.7 km / h. It was the first stage won by the Movistar Team in the Grand Tour cycling season.
# LaVuelta21 And so the GENERAL CLASSIFICATION remains, with Primoz Roglic as a solid leader and Movistar Enric Mas and Supermán López consolidating their podium positions. pic.twitter.com/anxPz6hDda

– Cycling in Depth (@Ciclismoafondo_) September 2, 2021
I said, Roglic is still dressed in red and is seconded by the Movistar Team cyclists. Enric Mas is second at 2:30 "and 'Supermán' López is third at 2:53". Egan Bernal is also still going strong in his youth-leading white shirt, and is fifth overall at 4:43 "behind Roglic.
Friday's stage will be the nineteenth between Tapia de Casariego and Monferte de Lemos, of 191.2 kilometers.
Read also: Canelo Álvarez surpassed Cristiano Ronaldo in the list of the most commercial athletes in the world