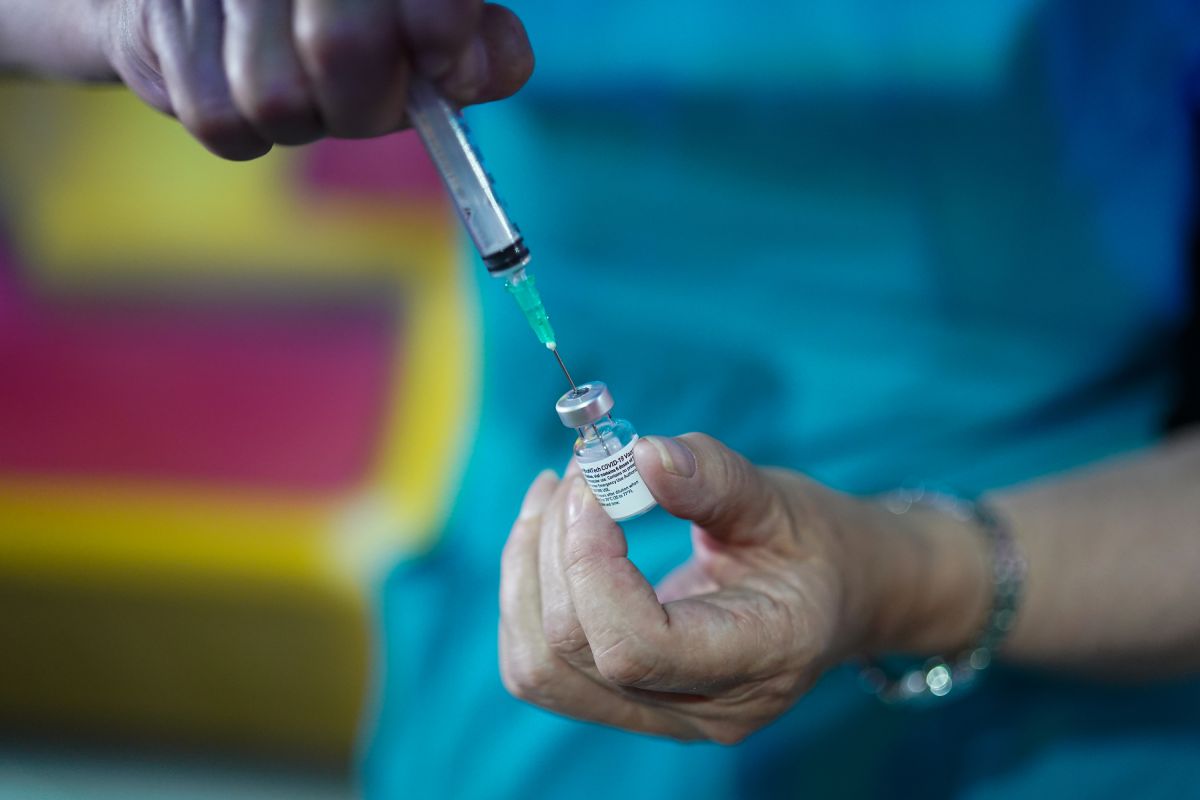 Photo: Ian Forsyth / Getty Images
Albert Bourla, CEO of Pfizer, spoke about the effectiveness of the Covid-19 vaccine from the pharmaceutical company he runs. He noted that his effectiveness steadily decreases to 84% protection, for people vaccinated four to six months after receiving the second dose.
CNBC published that the findings are based on a new study funded by the company and that it occurs when the pharmaceutical company argues to the United States health officials about the need for a third dose of the anticovid vaccine to increase the immune protection of the population. .
According to the Pfizer executive, the study of 44,000 people in the US and other countries revealed that the effectiveness of the vaccine was stronger between one week and two months after receiving the second dose, up to 96.2%.
Then the protection decreased an average of 6% every two months, and the efficacy after "four to six months was found to be about 84%," Bourla said.
"The good news is that we are very, very confident that a third dose, a boost, will bring the immune response to levels that will be sufficient to protect against the Delta variant," explained the executive.
He also pointed out that it is not uncommon for vaccines to decrease in effectiveness over time, and recalled that there are precedents for three-dose vaccines for other diseases.
The New York-based drugmaker plans to formally submit data to US regulators on the benefits of a third dose of Covid vaccine in mid-August.
In early July, when Pfizer first announced its plans, the Food and Drug Administration and the Centers for Disease Control and Prevention (CVC) rejected the company, saying that "Americans who have been fully vaccinated do not They need a booster shot this time. "
The CDC and the World Health Organization (WHO) do not recommend Covid booster injections at this time. The WHO said in the week that it is investigating whether a booster injection is needed. to increase protection.
In the United States, cases of coronavirus have increased in recent weeks, attributable to the Delta variant, according to health authorities, who say that most hospitalizations and deaths from Covid occur in unvaccinated people.
It has become known that the Delta variant is so contagious that vaccinated people can transmit the virus just as easily as unvaccinated people, even in asymptomatic cases.
In information that we publish in this same space, We realized that Pfizer made $ 10.4 billion dollars thanks to the sales of its vaccine against Covid-19 in the first six months of the year.
You may also like:
Know the days when it is cheaper to buy plane tickets
"People went crazy buying": why house prices soared around the world
Tokyo 2021 Olympics: what Olympians gain by winning a gold medal