Photo: Photo by alleksana from Pexels / Pexels
Diabetes is a complex disease that brings with it other conditions that deteriorate health. Specifically, it has been proven that people with diabetes have increased chance of having high blood pressure, or hypertension, than people without diabetes. In addition, diabetes can be related to kidney and cardiovascular, digestive, obesity, depression, sleep disorders, among other conditions. One of the most dangerous is hypertension, considered a silent enemy (since it generally does not produce symptoms) and is considered a condition in which the force exerted by blood against the walls of the arteries over time it is high enough to cause health problems, such as heart disease. So: the more blood the heart pumps and the narrower the arteries, the higher the blood pressure.
Fortunately there are several measures focused on lifestyle and nutritionn that they can make a significant difference in the control of diabetes and high blood pressure in diabetic patients. At this point, every day we are more familiar with the basic dietary recommendations, which broadly promote following a natural diet based on whole foods rich in fiber, lean proteins, healthy fats, plenty of fluids and, of course, avoiding alcohol and alcohol. ultra-processed. However, also there are powerful medicinal herbs which will be the perfect ally thanks to its cardioprotective, antioxidant and anti-inflammatory properties.
1. Basil
Basil is one of the most valued aromatic herbs in the kitchen, it also shines for its healing properties. In fact, it is popular in alternative medicine because it is rich in several powerful compounds and one of the most striking is its high in a compound called eugenol. There are scientific studies that have linked this plant-based antioxidant with many health benefits, one of the main being Decreased blood pressure. Studies suggest that eugenol may help lower blood pressure by acting as a natural calcium channel blocker. Calcium channel blockers prevent the movement of calcium into the heart and arterial cells, allowing the blood vessels to relax. Best of all, it is delicious and perfect to integrate into all kinds of dishes, such as soups, creams, salads, ceviches and pastas. Not for nothing is it one of the star condiments of the Mediterranean diet.

2. Parsley
Parsley is a popular herb in American, European, and Middle Eastern cuisine. It is native to the Mediterranean and has an impressive nutritional profile, which stands out for its content in vitamin C and dietary carotenoids, which can lower blood pressure. Specifically, research suggests that carotenoid antioxidants lower blood pressure and LDL (bad) cholesterol, a risk factor for heart disease. It is also another herb that acts as a calcium channel blocker and that is why it has the power to lower systolic and diastolic blood pressure. Helps relax and dilate blood vessels.

3. Garlic
Garlic is one of the foods with the greatest medicinal power, in fact it is one of the oldest natural remedies to enhance health in various and important aspects. It is rich in many compounds that can benefit your heart. In particular, garlic contains sulfur compounds, such as allicin, that can help increase blood flow and relax blood vessels. Together, these factors can help lower blood pressure. Several studies have shown that the recurrent intake of garlic can reduce systolic and diastolic blood pressure by an average of 8.3 mm Hg and 5.5 mm Hg. Even its benefits have been compared to the effects of medications to control high blood pressure.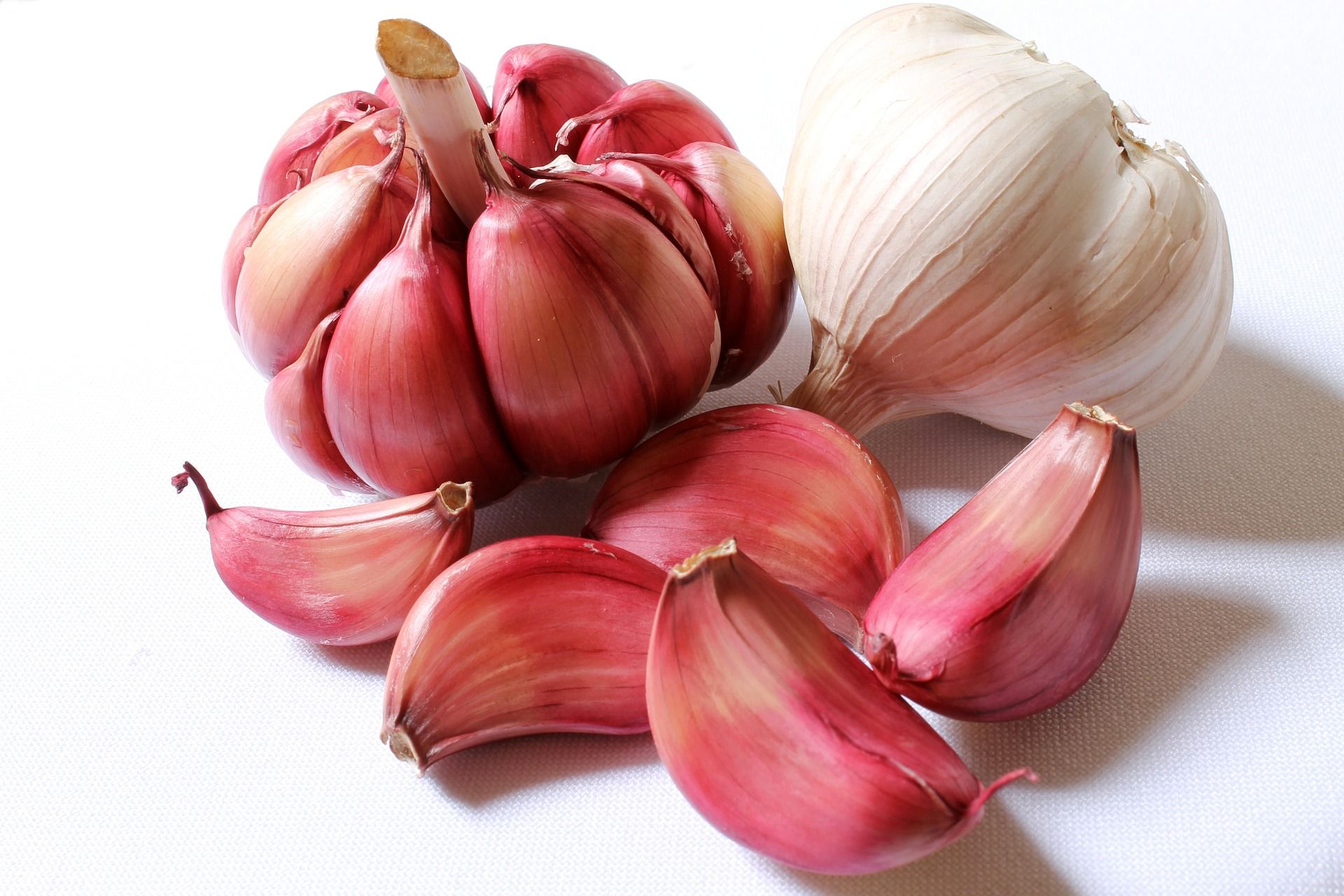 4. Thyme
Thyme is another of the most popular scented herbs in international cuisine, and it's packed with numerous healthy compounds. The one that attracts the most attention is rosmarinic acid, in fact it is a substance that has been the subject of study for its immense medicinal properties. Among the main qualities is reducing inflammation and blood sugar levels. It can also help lower blood pressure. Studies have shown that taking rosmarinic acid helps to significantly lower systolic blood pressure by inhibiting angiotensin converting enzyme (ACE). ACE is a molecule that narrows blood vessels and increases blood pressure. Therefore, inhibiting it can lower blood pressure.

5. Ginger
We won't tire of talking about ginger and its immense power, it is incredibly versatile and a staple in alternative medicine. Not in vain has it been used for centuries to improve many aspects of heart health, including circulation, cholesterol levels, and blood pressure. Both human and animal studies have shown that taking ginger lowers blood pressure in several ways. In principle it acts as a natural calcium channel blocker and natural ACE inhibitor. In addition, ginger is delicious and easy to integrate into the daily diet, in juices, smoothies, soups, bread, stews and salads. It will also always be easy to find it in the form of supplements, which are usually more concentrated.

6. Cardamom
Cardamom is a delicious medicinal spice with an intense flavor that is widely used in desserts for its slightly sweet taste. Is packed with various antioxidants that can help lower blood pressure and shines for its anti-inflammatory properties. According to a 12-week study, it found that people with hypertension who consume 3 grams of powdered cardamom per day significantly lower their blood pressure, lowering it close to the normal range. According to experts, its benefits may be related to its ability to act as a natural calcium channel blocker and diuretic. Its diuretic benefits are of great help to eliminate the accumulation of water when urinating, and above all excess sodium (one of the main causes of hypertension).

–
It may interest you: