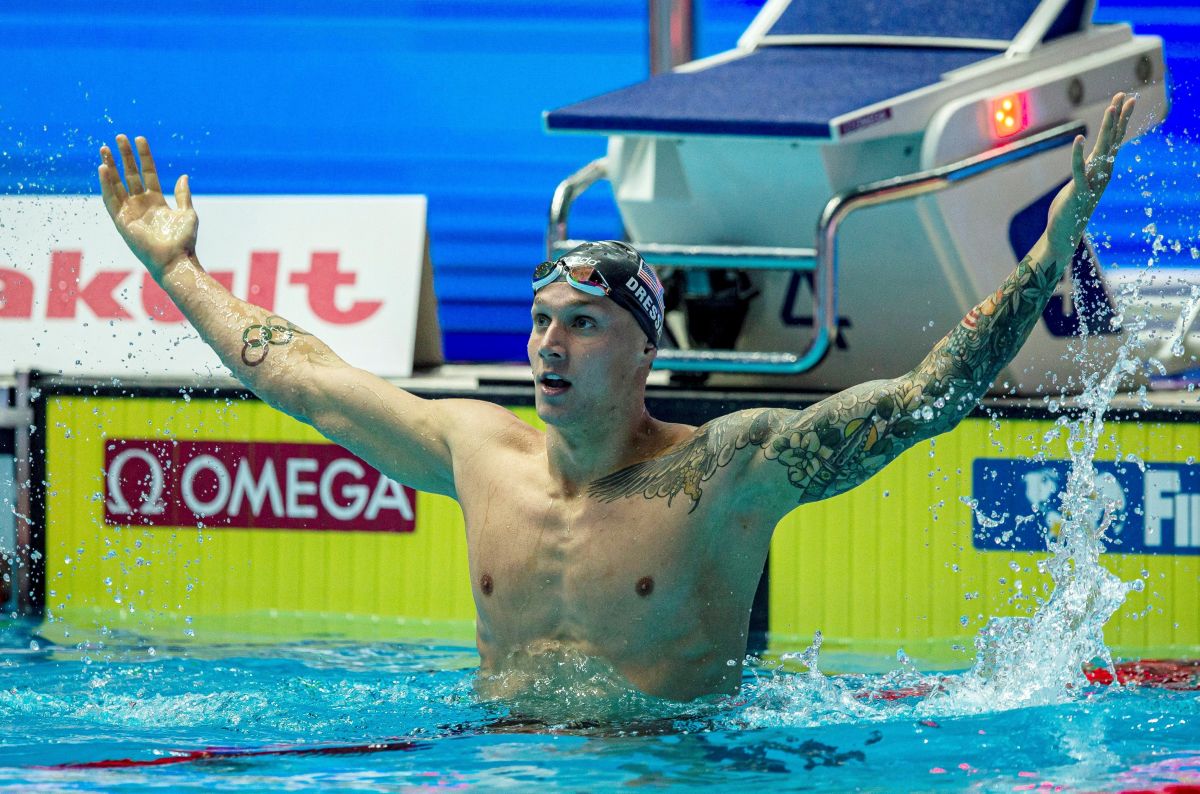 Photo: PATRICK B. KRAEMER / EFE / EPA
'Happy' yet 'tired': Swimmer Caeleb Dressel celebrates atop New York's Empire State Building after his #Olympic win https://t.co/oNqI5vREpG pic.twitter.com/Zxem4AsnS4

– Reuters (@Reuters) August 3, 2021
After saying goodbye to Tokyo 2020 with five gold medalsOlympic champion Caeleb Dressel has been out for a walk in New York, along with other members of the US swim team.
The Florida native who will turn 25 in mid-August, was yesterday at the top of the famous Empire State, one of the most iconic buildings in the world, along with other fellow Tokyo 2020 medalists.
"I've been to New York a couple of times, but I've never really been here … this is very good," Dressel commented to Pix11 from the skyscraper. "Being able to really see the city instead of just the sides of the buildings is quite special here."
Ryan Murphy, who won gold, silver and bronze medals, was also pleased with the visit. "It's great to come here after a really successful Olympics. with the United States team, "said the Illinois native.
Abbey Weitzeil, Californian swimmer four times Olympic medalist, recalled that these Olympics were different due to COVID regulations and the absence of spectators, but they made the most of them. "The team and the athletes did a very good job, even being in the stands and cheering and making the atmosphere the best we could."
Regan Smith, A Minnesota native, she won two silver medals and one bronze. "It was a lot of fun… It was great meeting and interacting with the teammates. Competing on the highest stage in the world was super special ", he summarized.
Of Dressel's five gold medals, three are for individual victories. "Being able to represent the flag on my cap has been really special for me," he added. Now after long flights and weeks away from home with the pressure of competing, all said they long to go back to their own beds and spend time with their families.
Previously, on Monday, Dressel was on the morning show Today of NBC, on a broadcast from the Rockefeller Center gardens, surrounded by admirers. Before leaving the Japanese capital, he affirmed that in this Olympic event "he felt the magnitude of the pressure" as the top favorite in all the tests where he competed.
"I've been to New York a couple of times, but I've actually never been up here, but this is pretty cool," swimming medalist Caleb Dressel said. "Being able to actually see the city instead of just sides of buildings , it's pretty special up here. " https://t.co/53AQ3WgtXh

– PIX11 News (@ PIX11News) August 4, 2021