On one side of the Plaza del Mariachi on First Street in the Boyle Heights neighborhood of Los Angeles, it opened its doors and windows, District 14, the new restaurant of the chef of Mexican origin, Juan J. Sanjuan III.
"My partner Guillermo Piñón had the idea of ​​opening a restaurant and giving it the name of District 14. When we met, he told me about his project and invited me to be part of it. Immediately, I said yes ", says chef Sanjuan in an interview with The opinion, wrapped in a T-shirt of The dodgers, but with the name of District 14.
This is how Piñón and Sanjuan partnered to create a restaurant that joined the new food businesses that are emerging around the Plaza del Mariachi.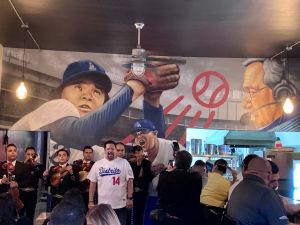 The name of District 14 It comes because the restaurant is within the Los Angeles Council District 14 constituency, which encompasses neighborhoods like Boyle Heights, El Sereno, Eagle Rock, Highland Park, and downtown, among others. "We want it to be a restaurant where everyone from the 14th district comes together."
Sanjuan was not afraid to risk opening a new restaurant, even when the covid-19 pandemic took one of his two restaurants from him.
"We lost Gloria's Pueblito, but we keep Gloria's Restaurant in Huntington Park."
Gloria's Restaurant was opened by her parents Juan Sanjuan Jr. and Alicia Sanjuan 38 years ago; while chef Sanjuan opened his first restaurant at age 24 in East Los Angeles.
Art in District 14
On the walls of District 14 highlights an impressive mural where we can see images of Los Dodgers players, Fernando Valenzuela and Julio César Urías as well as the narrator in Spanish of The dodgers, Jaime Jarrin.
"One of my idols has always been Fernando Valenzuela and listening to Jaime Jarrin brings back many memories and feelings of when I listened to baseball with my dad," says Piñón.
And he adds that they included Urías in the mural because in the last year, he helped The dodgers to win. "We are in talks with them so that the three of them can come to the District 14 when the season is over ".
For the realization of the mural they were associated with Kalli Arte Collective from Boyle Heights, who commissioned the work. But every month they will bring local artists to the District 14 to display their art.
Sanjuan announced that they will also close on Wednesdays to accommodate itinerant chefs. "100% of what is earned will be for them and a small percentage will go to the Foundation Chefs supporting Chefs", He says.
And remember that in the heaviest months of the pandemic, between March and May, he and Chef George gave more than 20,000 meals to the elderly.
"We were worried about people, especially older people like my grandmother who couldn't go out. It has made me very sad to see so many people die and continue to die ".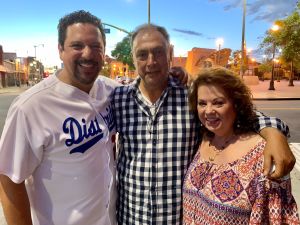 A place for the community
Chef Sanjuan says they have had to overcome many obstacles and it has not been easy to open a restaurant in the midst of the pandemic. "But we felt our community especially needed him here in Boyle Heights."
From the restaurant District 14, you can see in the distance, the First Street Bridge and downtown Los Angeles buildings. "Before our people used to cross the bridge to go to work or go to restaurants, now they don't have to cross it. Here you have everything, you don't have to go anywhere else; and we want other cities to come and consume here ".
His vision is that the District 14 be it a house for the community, where they will find traditional and village food such as gorditas, tortas, burritos, chicken rinds; and later, ceviches.
Unfortunately, he said they are short-staffed due to the health crisis. However, if there is one thing he is proud of, it is to have recruited chef Isabella who worked with him at Gloria's and La Huasteca restaurant.
"We are creating a team of pure women, the aunts, sisters and moms who live in Boyle Heights. The hiring system that we develop seeks to give women from this community an opportunity ".
He emphasized that what they want is that the diners when they taste the food, think that it tastes like their grandmother's. "So that's why we brought the aunts and moms to cook."
Other dishes that are going to be included in the menu are: green chicken pozole, small red and cocido. "Every week we are going to have a soup from each state with handmade tortillas."
Aztec Spirit
Chef Sanjuan III recognizes that they have had to overcome many obstacles and it has not been easy to open a restaurant in the middle of the pandemic. "But we felt our community especially needed him here in Boyle Heights."
But he also affirms that they cannot give up in the face of the covid-19 crisis.
"If we Latinos have something, it is our Aztec warrior fighting spirit."
District 14 is located at 1837 E. 1st street, Boyle Heights 90033."We are open from Thursday to Sunday, and from Monday to Wednesday, and from Monday to Wednesday we have special events to support local artists and raise funds for our traveling chefs and the Foundation. Chefs supporting Chefs".