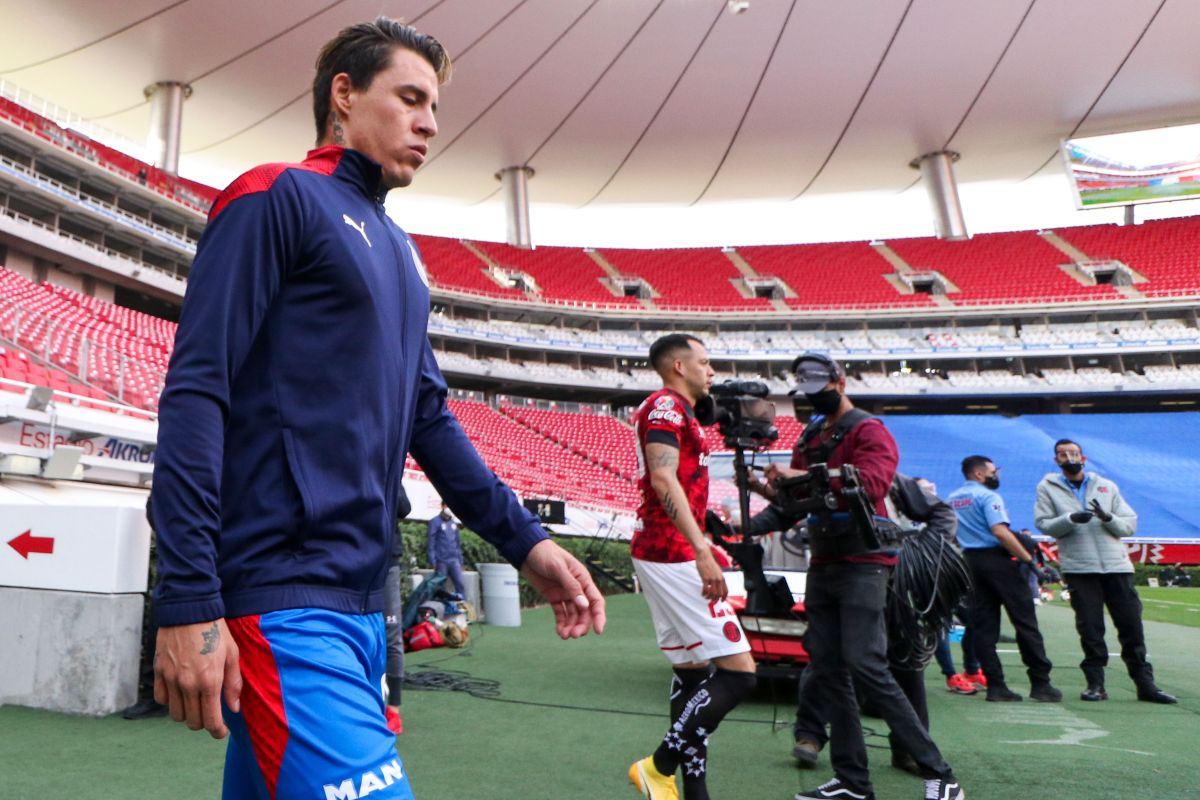 Photo: Fabian Meza / Imago7
Chivas de Guadalajara is not going through a good sporting moment. The "Sacred Flock" has only won one game out of the first five games of the season in Liga MX. The poor results have made the fans will begin to complain about the performance of their club. Víctor Manuel Vucetich is on the tightrope and there is even talk of his replacement. In addition, in the last hours a controversy has been unleashed with Cristian Calderón, a player who faced the fans and they have reproached him on social networks.
"I don't know where to start, but one thing if I tell you, Stop being negative comments on my photos! How do they make something that wasn't really aggressive so big? Don't mess with me and my children. Bad comment I look at, I will block the person. I won't be dealing with mediocre people", said Adriana Castillo, Calderón's wife, through social networks.
Although "Chicote" Calderón apologized for having confronted Chivas fans, the public continued to repudiate the footballer's attitude through social networks. However, the footballer made it very clear that It bothered him that they messed with his wife and children.
Bad performance on the court and even so Chicote Calderón starts to fight with the Chivas fans

They do not understand anything…pic.twitter.com/2enGKWrSig

– David Medrano Mora (@deividmedrano) August 19, 2021
As punishment for the player's reaction, Chivas de Guadalajara imposed an economic sanction on his footballer. However, everything is a consequence of the club's poor results and the fans' annoyance with the leadership. when trying to face this tournament with an almost zero investment in transfers.
"El Chicote" Calderón must understand what it means to wear the Chivas jersey. The voice of the fan is sacred. His claim is due to a frustration ++ losing 0-3 at home ++. Chivas footballers must understand that they play for a club where pressure is a privilege …

– David Faitelson (@Faitelson_ESPN) August 19, 2021
You may also like:
FIFA puts a heavy hand on Mexico: the sanctions against the Mexican Football Federation are reaffirmed
"It hurts me to see how they have insulted my wife and children": Cristian Calderón faced the Chivas fans and showed his indignation
Bombshell in Liga MX: Vucetich is losing credit in Chivas de Guadalajara and Jaime Lozano would be the savior