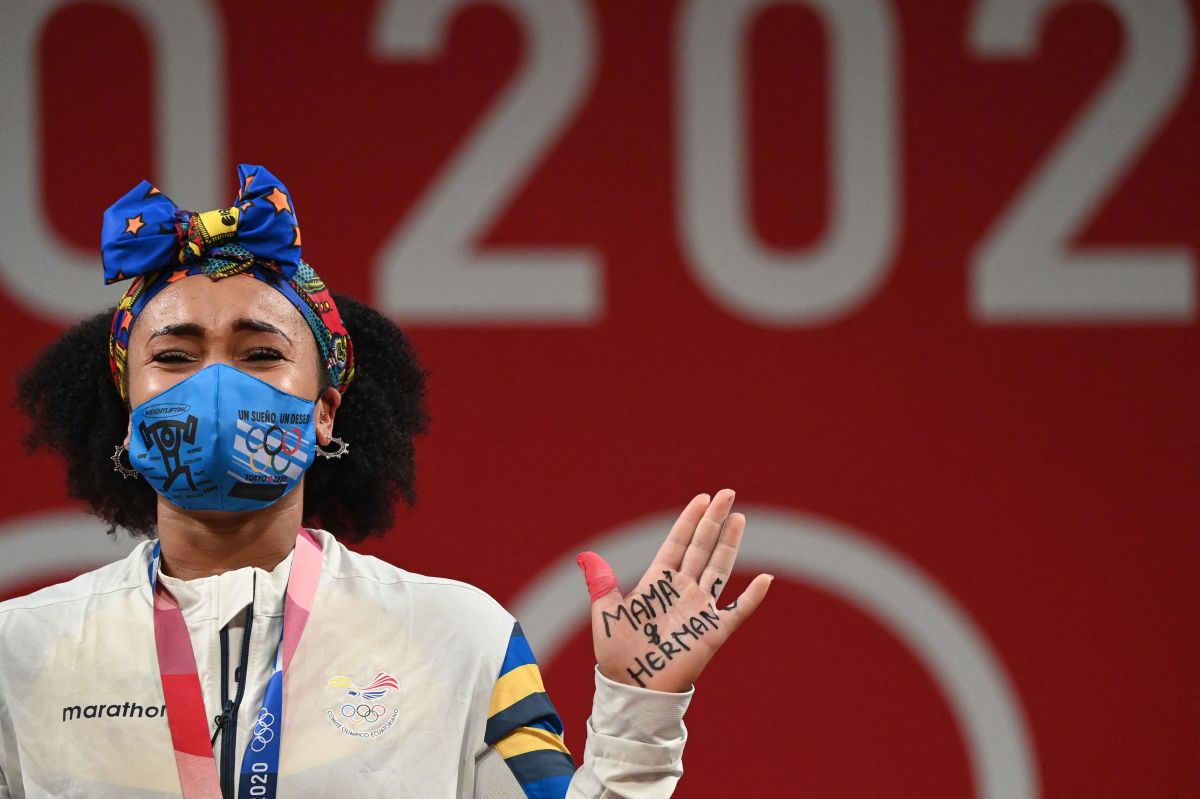 The Ecuadorian weightlifter Neisi Dajomes he left behind the adversities that life presented him and embraced this Sunday with Olympic glory to the win the historic gold medal at the Tokyo Olympics, which is added to that of Jefferson Pérez, in the 20-kilometer march in Atlanta 1996 and that of the cyclist Richard Carapaz also in Tokyo, a week ago.
Lack of resources to develop in weightlifting, the unexpected loss of his mother, the positive in a first test of the COVID-19 a few days before the competition, they did not stop her and she found the maximum impulse to defeat all those situations and reach the top of the podium.
Neisi Dajomes is from #gold! 🇪🇨

Weightlifting # Tokyo2020 once again making us jump out of the chair !!

And there is more:
✅ She is the first woman to win gold from Ecuador.
✅ It is the first time that Ecuador has won two golds in the Olympic Games.#Olympic Games @ECUADORolimpico pic.twitter.com/nHU99MIYWS

– The Olympic Games (@juegosolimpicos) August 1, 2021
The purity of his technique, he cultivated strength and character day by day at each training site, but in a special way, at his home in Puyo, the Ecuadorian province of Pastaza in the eastern region, where his first inspiration and trainer of that triumphant character received them in his home from his mother.
"If I had to describe my mother in two words, it would be: 'wonder woman'", Dajomes highlighted at the age of 15, when he won the junior youth title at the U-17 World Cup, in Uzbekistan in 2013, the athletes who debuted in an Olympics, those of Rio 2016, with an Olympic diploma by ranking seventh in its category.
GREAT NEISI DAJOMES!

Congratulations on your gold medal at the Tokyo Olympics.

Today you leave your mark on the history of Ecuador. 🙌🏼🇪🇨 pic.twitter.com/8xZamzhyw9

– Guillermo Lasso (@LassoGuillermo) August 1, 2021
"The golden woman" -as highlighted today on his Twitter account by the 2019 champion of the South American Soccer Cup, Independiente del Valle- today paid tribute to his deceased mother (two years ago and a brother three years ago), her siblings, her family, those who were always with her and at the award ceremony she showed the palm of her hand, where it read: "Mom, brother."
Always showing a smile, gazing at the goal and the drive to conquer it, Dajomes is a true source of success, of triumphs, of great results. If at the age of 15 she was a world champion, to which she later added two more world titles at the youth level in Georgia 2016 and Tokyo 2017, in her career she also set several records, between world and Pan-American.
In each training session in his native Puyo, he was never short of music, from salsa to romantic melodies and, of course, his pets: his dogs, with whom he relaxed after exhausting training sessions, with the vigilance and guidance of the Russian trainer. Sergey Ignatov, who enjoys your absolute confidence and security.
"I had a hard time, I lost my mother and recently my brother Javier Palacios, for whom I am here, and all my achievements are dedicated to his memory … I thank my country for that good vibes they sent me … This medal is thanks to God". @NeisiDajomes gold medal. pic.twitter.com/6kqO1EiV0c

– Comite_Olimpico_Ecu (@ECUADORolimpico) August 1, 2021
Even, When state support was exhausted, her coach would support her with his resources, as Dajomes highlighted in an interview with EFE at the beginning of the year.
Dajomes he prepared with his younger sister, 20 years old, that last week she debuted in the Tokyo Olympics, and placed sixth in her category, for which she received the Olympic diploma.
Neisi Dajomes always demanded to be attended to in their requirements to achieve a better technical and physical response, and therefore on more than one occasion had friction with sports managers, as the president of the Ecuadorian Weightlifting Federation (FELP) recognized EFE Luis Zambrano.
The physical power, the discipline with which he prepares, the love he shows for what he does to develop a technique full of neatness and the youth of Dajomes, open an infinite path, not only to be the first Ecuadorian woman to win a gold medal at the Olympic Games, but to continue succeeding as she has done since she was a child.
You may be interested in:
Even Chapulín Colorado went to Allegiant Stadium to link Mexico in the Gold Cup final
"The judges were a bit unfair": Mexican Alexa Moreno after finishing fourth in horse jumping