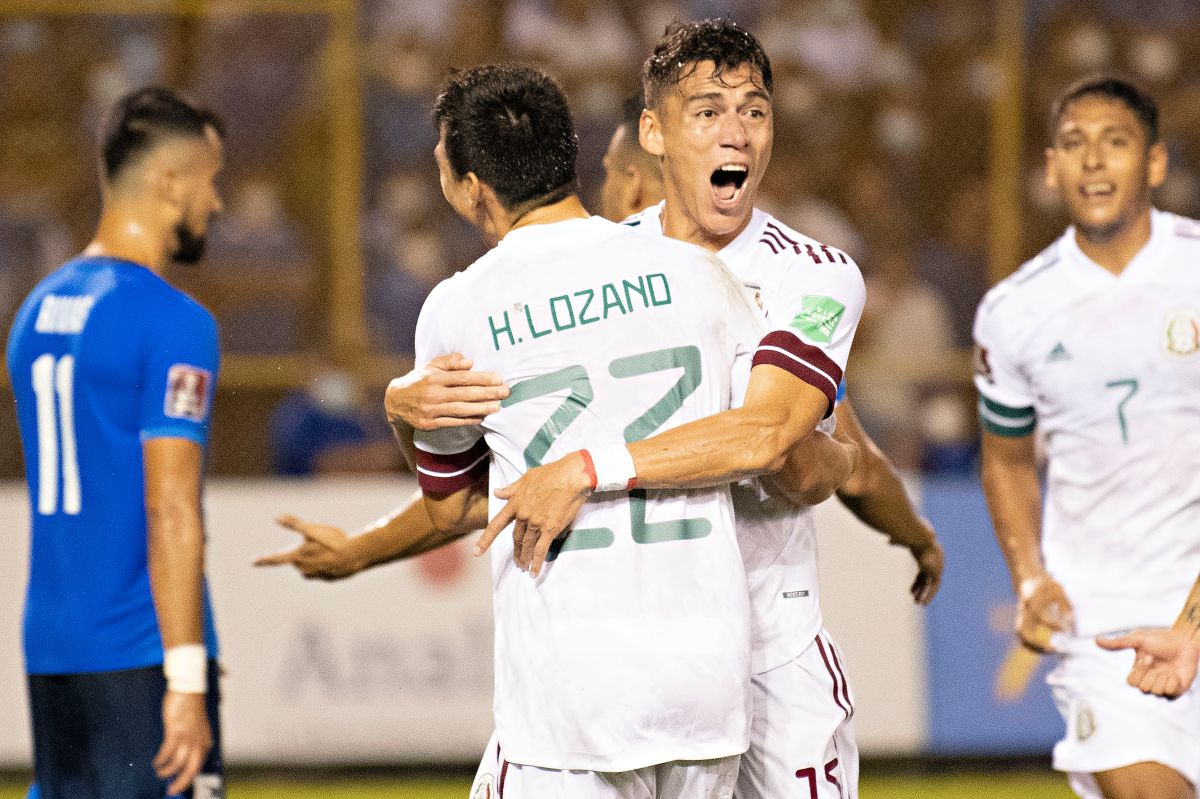 Photo: Etzel Espinosa / Imago7
The selection of Mexico defeated this Wednesday visiting El Salvador with so many Héctor Moreno and Raúl Jiménez to reaffirm himself as the leader of the Concacaf tie heading to the world cup Qatar 2022.
With four wins, two draws and 14 points, the team of Argentine Gerardo Martino lead the tie ahead of the United States (11) and Canada (10), who won their respective duels on the sixth date.
El Salvador was tied with five units with Jamaica and behind Panama (8) and Costa Rica (6).
The Mexicans quickly took control of the ball and pushed the Salvadorans out, who had the support of thousands of fans who they packed the Cuscatlán stadium in San Salvador.
Despite their dominance, it took the Mexican squad 12 minutes to generate their first clear goal option with a header from Osvaldo Rodríguez after a corner kick.
This same formula allowed visitors to mark the 0-1 at 30 minutes through Héctor Moreno, who headed without a mark at a time when Salvadorans were trying to create danger.
The aspirations of the Salvadoran Selecta, who did not make a single shot on goal, to equalize the score were diminished after the expulsion of debutant Mario Jacobo, for a direct red at 48.
Those led by Hugo Pérez managed to increase their possession of the ball after the expulsion of Aztec defender Néstor Araujo for double yellow, but the Mexican defense fought its bow without major worries.
At the end of the game, Raúl Jiménez stole a ball from the right wing and dragged the defense into the area, where he was knocked down and the referee whistled a penalty kick.
The same Jiménez put the 0-2, without the rescuers having time to try to discount on the scoreboard.
After this visit to El Salvador, Mexico will have to travel to the United States, Canada and Jamaica.
Salvadorans, who stayed in seventh place, They will host Jamaica in November and visit Panama and the United States.
Data sheet:
0. El Salvador: Mario González; Eduardo Vigil, Mario Jacobo, Alexander Larín, Bryan Tamacas (m.76: Marcelo Díaz); Isaac Portillo (m.76: Joshua Pérez), Marvin Monterroza (m.76: Amando Moreno), Alex Roldan, Darwin Cerén (m.51: Lisandro Claros); Enrico Dueñas and Joaquín Rivas (m.57: Walmer Martínez).
Coach: Hugo Pérez.
2. Mexico: Guillermo Ochoa; Julio Domínguez, Néstor Araujo, Osvaldo del Postal (d.64: Jesús Gallardo), Luis Romo; Héctor Moreno, Orbelin Pineda (min.63: Héctor Herrera)), Carlos Rodríguez, Ernesto Vega (min.20: Jesús Corona); Hirving Lozano (m.70: Luis Rodríguez) and Rogelio Funes Mori.
Coach: Gerardo Martino.
Referee: Canadian Drew Fisher admonished Salvadoran Isaac Portillo and Mexican Hirving Lozano, Héctor Moreno and Raúl Jiménez. He expelled Mario Jacobo, from El Salvador, and Néstor Araujo, from Mexico, for double warning.
Goals: 0-1, m.30, Héctor Moreno. 0-2, m.93: Raúl Jiménez.
Incidents: Match corresponding to the matchday six of the final round of the Concacaf qualifiers for the 2022 World Cup in Qatar, played at the Cuscatlán stadium, in San Salvador, in front of more than 29,000 fans.
You may also like:
· Carlos "Gullit" Peña assured that, despite not being with Mexico, he does not wish El Tri evil
· "They hated Mexicans and wanted to eat us alive": former El Tri players recall their mistreatment in El Salvador
· Enough of the punishment for "Chicharito"! Social networks ask Javier Hernández back in El Tri


Source-laopinion.com