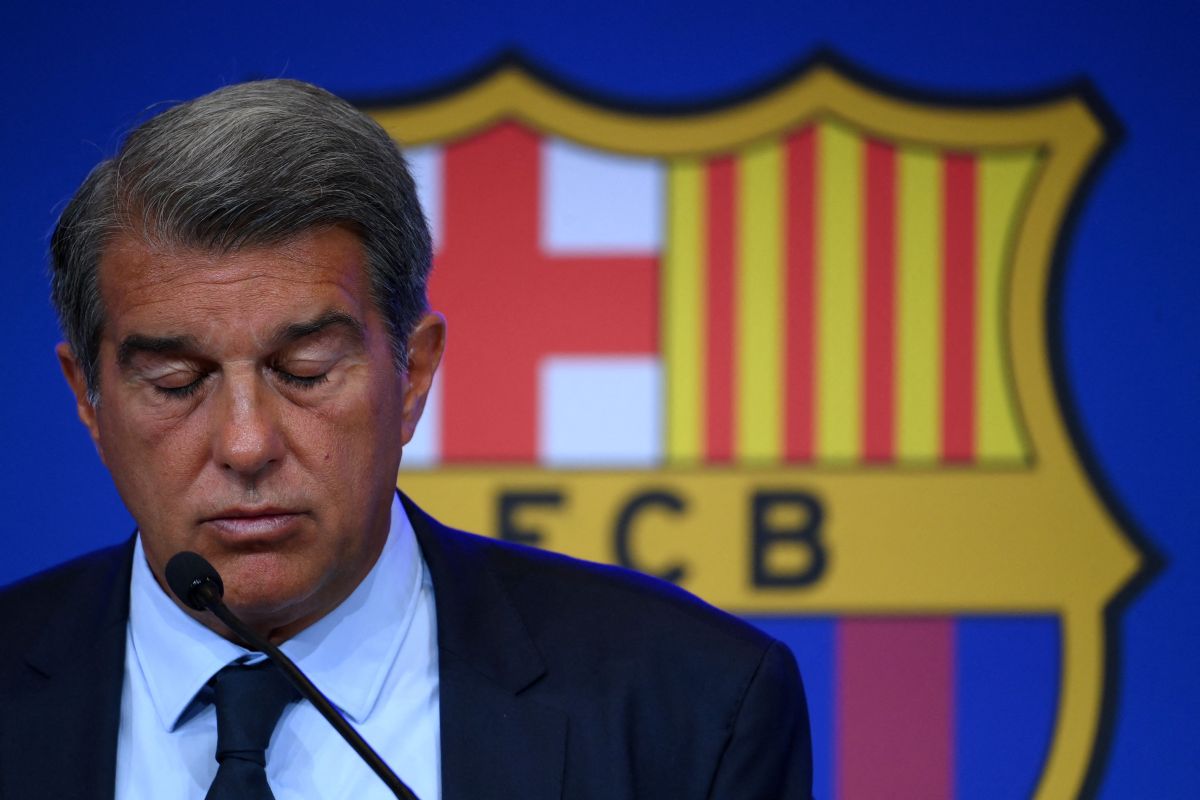 Photo: LLUIS GENE / AFP / Getty Images
The departure of Lionel Messi was terrible news for FC Barcelona fans. However, this would only be the beginning of a terrible nightmare that has the Catalan team submerged in the red numbers. The club president, Joan Laporta, revealed the harsh reality of a team that lives and will live turbulent moments.
"Barcelona have a negative net worth of € 451 million euros ($ 529.5 million). It has forced us to work to show our creditors that the club is viable. We have had to demonstrate credibility. We have a negative working capital of € 553 million euros ($ 649.3 million dollars). It is the difference of what we owe and what we are owed. Bank debt rises to more than € 600 million euros ($ 704.5 million dollars)"Said Laporta.
❝We have losses of 481 million that we have already presented to @The league. The impact of Covid-19 is 91 million❞

🗣 @JoanLaportaFCB pic.twitter.com/rsEYNB4uR1

– FC Barcelona (@FCBarcelona_es) August 16, 2021
Under these circumstances the club is submerged in a sea of ​​debts that add up to around € 1,350 million euros ($ 1,585 million dollars). These figures are distributed between the gigantic bank debt, footballers, litigation, subscribers and television rights.
Emergency call to La Masía
At another time, the FC Barcelona quarry was the target of all the eyes of world football. The Catalan team proudly displayed the footballers who came out of their lower categories. However, the club bet less and less on its young promises and opened its wallet, but current conditions suggest restarting the machine.
"The goal is to reduce € 200 million euros ($ 234.8 million), in salaries. We are going to bet on La Masía that will allow us to enter the model we want"Laporta sentenced.
❝ Betting on football and all united, I am convinced that this era will go down the path of success❞

🗣 @JoanLaportaFCB 🔵🔴 pic.twitter.com/0TjNv19vBo

– FC Barcelona (@FCBarcelona_es) August 16, 2021
Laporta took on a sinking ship
The current president of FC Barcelona revealed that he knew what he was up against. In this sense, he assured that with commitment he will seek to give a new direction to the club and to be able to leave behind the results of the previous mismanagements in the Spanish team.
"We knew it was wrong and it was worryingBut both my colleagues and I had a plan. We have a very high morale and more seeing the team yesterday. I am convinced that the decisions to be made have been made. We feel strong and convinced that the situation will be reversed. It does not scare us, it motivates us because the challenge is very great and we will be able to reverse it (…) in a couple of years the club economy will be healthy", Concluded the present of FC Barcelona, ​​Joan Laporta.
❝We will work hard to reverse the economic and sports situation. The challenge is great, but together we will achieve it. The captains have told me that they will leave the last drop of blood to make this new era a success❞

– @JoanLaportaFCB – pic.twitter.com/4cnXKH814R

– FC Barcelona (@FCBarcelona_es) August 16, 2021
You may also like:
It was revealed that FC Barcelona has a millionaire debt with Lionel Messi
Video: Hristo Stoichkov, Barcelona legend, cried on a television program for the departure of Lionel Messi
Videos: Lionel Messi's children stole the show at their father's presentation with PSG