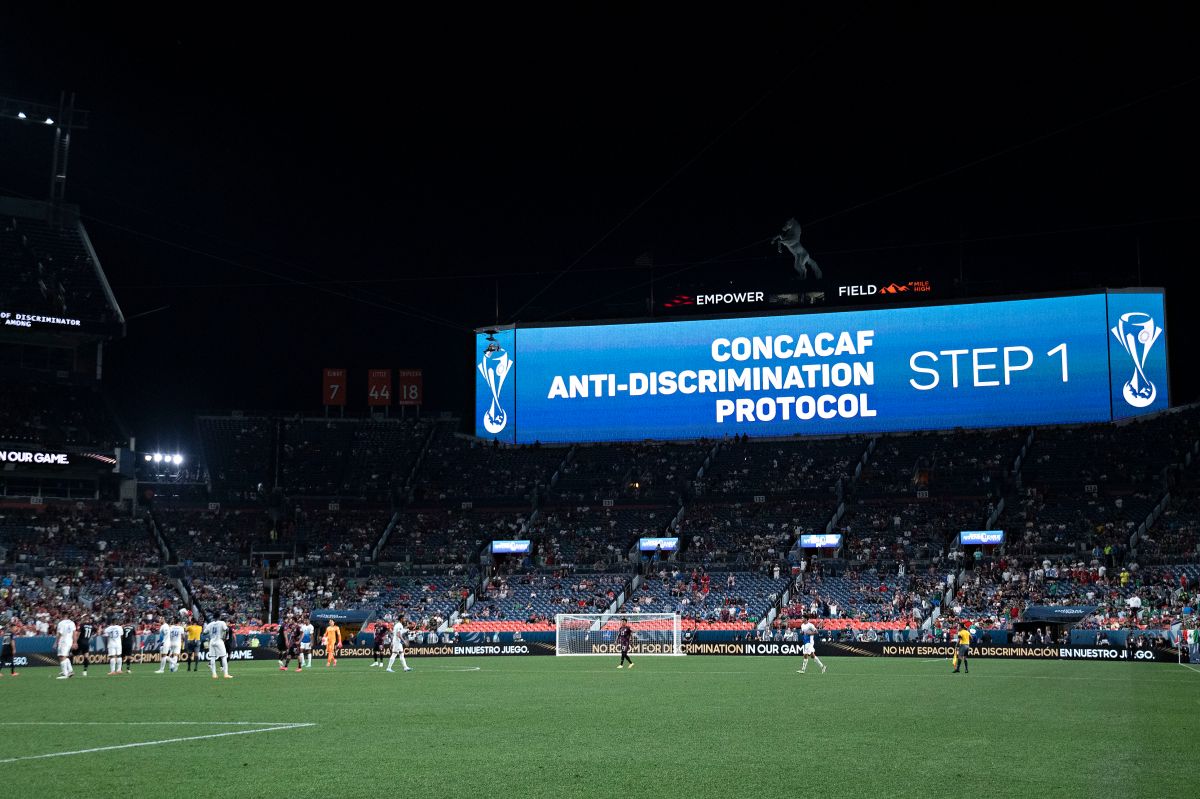 Photo: Etzel Espinosa / Imago7
The Mexican Football Federation (FMF) reported this Wednesday that FIFA reduced the sanction for the homophobic shout, from two closed-door parties to one, for the "efforts made to eradicate discrimination."
"The FIFA Appeals Committee has ruled that the sanction imposed by the Disciplinary Committee consisting of two matches behind closed doors, is reduced to a single match. The sanction will be fulfilled in the next official match that any category of men's eleven football plays at home, "the Federation explained in a statement.
The FMF added that the game in which the sanction will be paid will be on September 2, when the senior team makes their debut in the Qatar 2022 World Cup qualifiers versus Jamaica at the Azteca stadium.
🚨 REDUCED THE PENALTY 🚨

The FIFA Appeals Committee reduced the suspension of the Mexican National Team from two to one match for the 'homophobic cry'

The punishment will be for the game against Jamaica in the men's category

* The Tri Women will not be affected#CentralFOX pic.twitter.com/rQiDZR06TJ

– CENTRAL FOX MX (@CentralFOXMX) August 25, 2021
🚨OFFICIAL! 🚨

FIFA will punish the Mexican National Team with a single match and it will be in the match against Jamaica 🇯🇲 which will be played behind closed doors.

👉🏻This was derived from the famous 'Homophobic Scream'. #LaVozDeQatar pic.twitter.com/J8qbhl0Fs4

– W Sports (@deportesWRADIO) August 25, 2021
Last June, FIFA notified the FMF who would suffer a two-game penalty behind closed doors because in the Concacaf Pre-Olympic tournament, held in March in Guadalajara, Mexican fans expressed the homophobic cry in the matches against the Dominican Republic and the United States.
What's more, FIFA imposed a fine of $ 65,000 and he told the FMF that the behavior of his followers in the friendly match against Iceland was under investigation, which was played on May 29 in Arlington, Texas.
FIFA imposed a fine of 2.2 million pesos on the FMF for a homophobic scream emitted on May 29 in the match between Mexico and Iceland. Https://t.co/XIFlE9ZRIp

– The Financier (@ElFinanciero_Mx) July 23, 2021
However, the body that governs world football did not specify at that time which Mexican team should pay the punishment and even versions of the local press suggested that the FMF considered paying for some of the punishment matches with the women's team.
Since the 2014 World Cup in Brazil, FIFA has aimed to eradicate the homophobic cry with fines to the FMF and threats that this discriminatory manifestation could leave them out of international competitions such as a World Cup.
To try to end the cry, the FMF has campaigned, has partnered with the National Council to Prevent Discrimination and has received the support of the Mexican Soccer League, which this season changed the name of its two tournaments to "Grita México" in which anti-discrimination messages will be sent.
These actions were assessed by FIFA to reduce the punishment for the FMF from two games without fans to one.