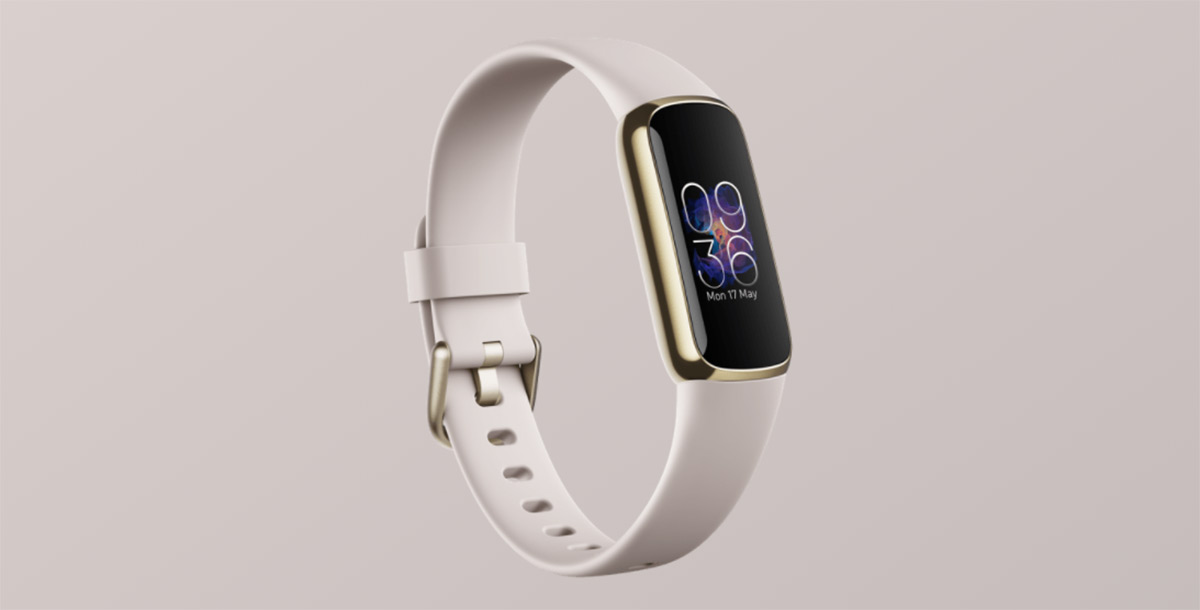 Fitbit, one of the pioneering brands in activity wristbands and smartwatches that is now owned by Google, announced this Monday at the launch of Fitbit Luxe, your new color touchscreen fitness and wellness tracker that claims to help you take a more holistic approach to health. As a great novelty, Luxe helps to identify changes caused by stress or fatigue.
Fitbit Luxe collects activity and sleep information automatically, and provides the information on a screen on the bracelet and also in a more complete metric panel in the Fitbit application. When buying Luxe for a price of $ 149.95, 6 months of Fitbit Premium (a $ 59.94 value) is included, which gives additional support and more detailed analysis of the data. Battery life reaches up to five days.
Featuring a buttonless design, Luxe is Fitbit's slimmest touchscreen activity tracker to date, with new clock options on the color screen.
It's as stylish as it is smart — introducing #FitbitLuxe, our most fashion-forward tracker yet with all the health & fitness essentials you need. Highlights below 👇 https://t.co/Aqg87KtqbL pic.twitter.com/erywKGuDRW

– fitbit (@fitbit) April 19, 2021
James Park, Fitbit vice president, general manager and co-founder, highlighted how Luxe incorporates tools that were previously exclusive to more expensive smartwatches: "We have made significant technological advancements with Luxe, creating a smaller, slimmer and beautifully designed monitor packed with advanced features, some previously only available with our smartwatches, making these tools accessible to even more people around the world. "
"Over the past year, we have had to think differently about our health, from keeping an eye out for possible symptoms of COVID-19 to managing the stress and anxiety of today's world. Although we are beginning to see positive changes, managing your holistic health has never been more important, "said Park through a statement from the brand.
Stress monitoring
During the pandemic, 50 percent of people felt the physical and mental effects of stress. Fitbit Luxe seeks to make relevant stress management tools available to millions of users for the first time on a fitness tracker. The Fitbit Stress Management Score provides a daily assessment of your body's ability to handle stress based on your activity levels, sleep, and heart rate.
Fitbit Premium members get a detailed stress management score breakdown, including information on exertion, sleep patterns, and responsiveness. Also included is access to workouts and nearly 200 sessions from popular brands like Aaptiv, Aura, Breethe, and Ten Percent Happier to help you manage stress.
Tools for a healthier life
Luxe provides access to Fitbit health and wellness features to support a healthy lifestyle approach. The Health Metrics 10 table tracks respiratory rate, heart rate variability (HRV), resting heart rate (RHR), skin temperature variation, and soon, oxygen saturation (SpO2). For example, by looking at your weekly HRV and RHR, you may be able to see when there is a sudden change, which could be a sign of stress, fatigue, or a cold.
Since it is thinner than previous Fitbit wristbands, it is more comfortable to wear at night while sleeping. The sleep score (sleep score) helps you better understand your sleep quality, and bedtime reminders help you establish a more consistent sleep routine.
Additional health tools include nutrition, hydration and weight tracking, and menstrual health tracking. Premium members have access to more than 60 new nutritional content, including healthy recipes from Fitbit and EatingWell. The new Blood Glucose Tracker in the Fitbit app lets you keep track of your blood glucose levels to see how they change throughout the day.
Physical activity record
For many, COVID-19 changed exercise routines. With 24/7 heart rate tracking, which powers many of Fitbit's health, wellness and fitness tools, you can track your daily heart rate in real time to measure your burning calories. You can also choose from 20 different exercise modes, including golf, Pilates, spinning, or tennis, and for those who prefer to run, bike, or walk outside, you can use connected GPS from your phone to view pace and distance. in real time. With Premium, access over 200 guided audio and video workouts from certified personal trainers and popular brands like Aaptiv, barre3, Daily Burn, obé, and POPSUGAR.
Active Zone Minutes is a custom standard for monitoring activity beyond steps, measuring time spent in each heart rate zone, measuring when to increase or decrease exercise, and help you reach your recommended weekly goal of 150 Active Zone Minutes to help improve your health.
Fitbit Luxe also issues reminders to move and reduce sedentary time. Includes Premium games to make reaching your goals more fun.
Other Fitbit Luxe Features
In addition to all the health and fitness features, Luxe has alarms, a stopwatch, and timers. Connected to your cell phone, it shows customizable notifications for calls, text messages and more. Set reminders for bedtime or turn on "Do Not Disturb" when needed. It is compatible with Android and iOS, 18.
Fitbit Luxe jewelry-based design
The Luxe design gently conforms to the wrist "with a jeweled look and feel," according to the brand's statement.
"Fitbit applied a modern take on traditional jewelry making techniques using an innovative design process called metal injection molding to create the Luxe stainless steel case, which provides the warmth you expect from handmade jewelry, while providing the level of precision necessary to enable its advanced sensor technology, "the statement said, noting that Fitbit used a metal vaporization technique on the gold and platinum finishes to provide a premium look and feel.
Fitbit partnered with jewelry brand Gorjana for a Fitbit Luxe Special Edition that transforms the tracker into a piece of jewelry with a Parker Link bracelet in smooth gold-tone stainless steel, and a classic silicone band.