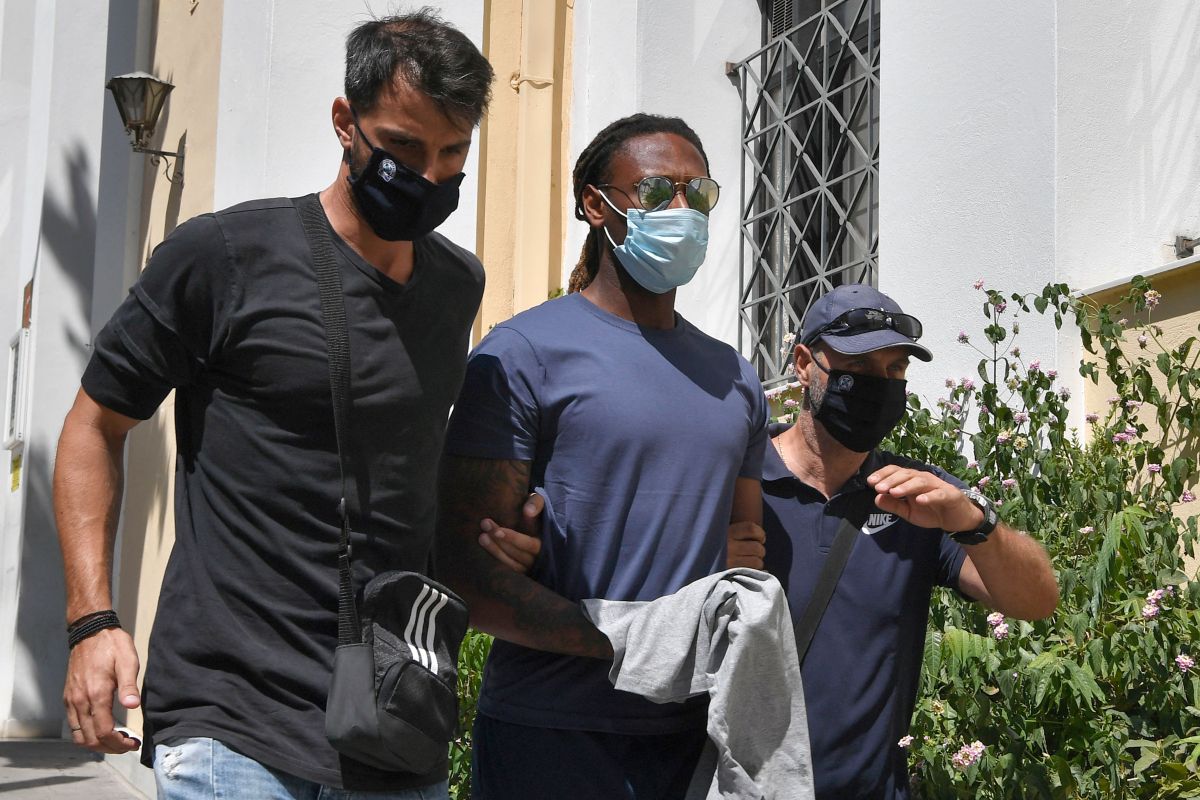 The Portuguese defender of Olympiacos from Piraeus Ruben Semedo, was charged by gang rape of a girl under the age of 17, assured this Tuesday that he is innocent and that He will prove it to the judge when he testifies next Thursday.
"I am innocent, and they will see. This is all because of the money. If I were not a footballer, all this would not have happened, "said the 27-year-old former Villarreal player, and said he will prove his innocence.
Semedo, darrested on Monday after a complaint by the alleged victim, made these statements before the cameras after a brief appearance before the investigating judge, who He gave him until Thursday to prepare his testimony.
Ruben Semedo charged with rape of a 17 year old girl pic.twitter.com/X9dicLH0Hw

– the GAMBLER  (@lord_oscar_I) August 30, 2021
In addition to Semedo, his representative was arrested, a 40-year-old Nigerian accused of having participated in the rape of the young woman, who, in turn, will give a statement on Friday.
As the young woman reported to the Police, the rape occurred last Saturday at Semedo's house, after having gone out with a friend and the two defendants for a drink in various bars.
The young woman allegedly assured that She arrived at the player's house drunk and she lay down in her bedroom, where she was first raped by her representative and later by Semedo himself.
The lawyer of the former Villarreal player, Stavros Yeorgópulos, told the media that hehe sexual relations were consensual and therefore the crime of gang rape that has been imputed to his client, nonexistent. Proof of this, he said in statements to the media, that the young woman did not leave after the alleged rape, but remained at home.
"If there had been no complaint, she and Semedo would continue taking walks together", Affirmed the lawyer. Yeorgópulos added that his client also believed that the young woman was 19 years old.
Olympiacos center-back Ruben Semedo was reportedly arrested on Monday in Greece for the alleged sexual assault of a 17-year-old girl last Saturday. pic.twitter.com/miqtc4Sjol

– Leelafootballnews (@ Leelafootball2) August 31, 2021
The Greek penal code provides for the crime of gang rape penalties that can go up to life imprisonment.
In 2018, still in his stage as a Villarreal player, the Portuguese was arrested and imprisoned for 142 days for kidnapping and assaulting a man at his private home in Valencia.
After being sentenced to ten years for illegal detention, injuries, theft and illegal possession of weapons, a sentence that was reduced to five, Semedo finally did not have to return to jail in exchange for committing not to set foot in Spain for eight years.
Semedo went international with the Portugal's U21 soccer team ten times and played for Villarreal between 2017 and 2019.
You may also like: