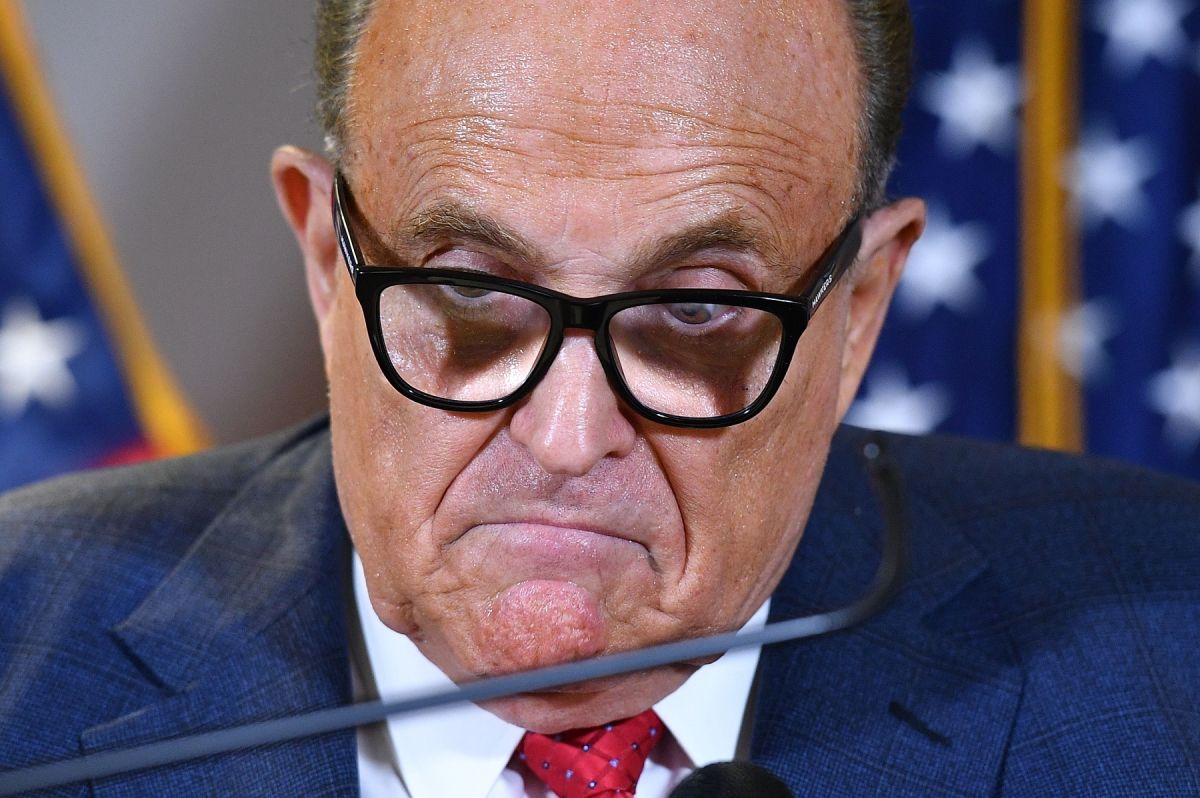 Photo: MANDEL NGAN / AFP / Getty Images
Rudy Giuliani spoke in New York with NBC News in an explosive interview aired last night about the federal investigation accusing him of illegal deals in Ukraine, an investigation he calls "lawless."
The former mayor of New York (1994-2001) and personal attorney for the former president Donald trump has been the subject of FBI investigations and scrutiny since two business partners were arrested in 2019 in a separate case. But in the exclusive interview last night, the controversial Giuliani emphatically maintained that he did nothing wrong, apparently obsessed with declaring his innocence.
"I didn't commit any crime, and if you think I did commit a crime, it's probably really stupid, because you don't know who I am," Giuliani said, as an investigation looms into whether he was working as an unregistered lobbyist for Ukrainian officials.
Noted that he was working for then-President Trump as his attorney at the time.
"The guy who put the mob in jail, terrorists in jail, Ed Koch's commissioners in jail, and the worst people on Wall Street, am I not going to file (a form)? I mean, that's crazy, "he said rhetorically in reference to himself.
Giuliani initially agreed to speak with NBC New York at the World Trade Center Memorial in Lower Manhattan for an upcoming story on the 20th anniversary of the 9/11 terrorist attacks. But it was clear that there were other things that worried him: the fallout from the recent elections and the fact that he still faces a criminal investigation.
Giuliani expressed his frustration at the FBI raids on his home and law firm in Manhattan, calling the investigation misleading and politically motivated. "I am more than willing to go to jail if they want to put me in jail. And if they do, they will suffer the consequences in heaven ", He said. "I did not do anything wrong".
When asked why he would be willing to go to jail if he is not guilty, Giuliani replied: "Because they lie, they cheat." He also noted that there are a partisan double standard in the Department of Justice (DOJ), It considers that it has been lenient with the COVID policies of the New York Governor's nursing home Andrew Cuomo, as well as what he termed harmful information on the laptop of Hunter Biden, son of President Joe Biden.
"When you see the differences between the way Cuomo was treated and the way I was treated, and you don't realize that there is a very, very terrible distortion of justice. Because that's not the only example, "he said.
Giuliani also commented on who compare the riots of January 6 of this year in El Capitolio with September 11, 2001, calling it "sacrilege" and insisting that he did not incite violence in his speech beforehand.
"I think that January 6 was a crime. I think they committed the crime of trespassing, I think they did some destruction, "he said.
Giuliani also reflected on whether he thinks his legacy has been affected in recent years. "I can't control that, I can't control my legacy," he said. "I think I will be vindicated."
The FBI declined to comment on Giuliani's remarks yesterday. In June, a New York court suspended Giuliani from practicing law in this state, finding that his behavior "immediately threatens the public interest." Earlier this month, the Superior Court for the District of Columbia followed suit.
The New York ruling prevents Giuliani, a former federal prosecutor in Manhattan, from practicing law, but it does not strip him of his attorney license.
In a bombshell interview, Rudy Giuliani blasted the months-long federal probe accusing him of illegal Ukraine dealings as "lawless," he's saying "more than willing to go to jail" – but those who put him there will "suffer the consequences in heaven "Https://t.co/Q3KzC45Tf4

– NBC New York (@NBCNewYork) July 31, 2021