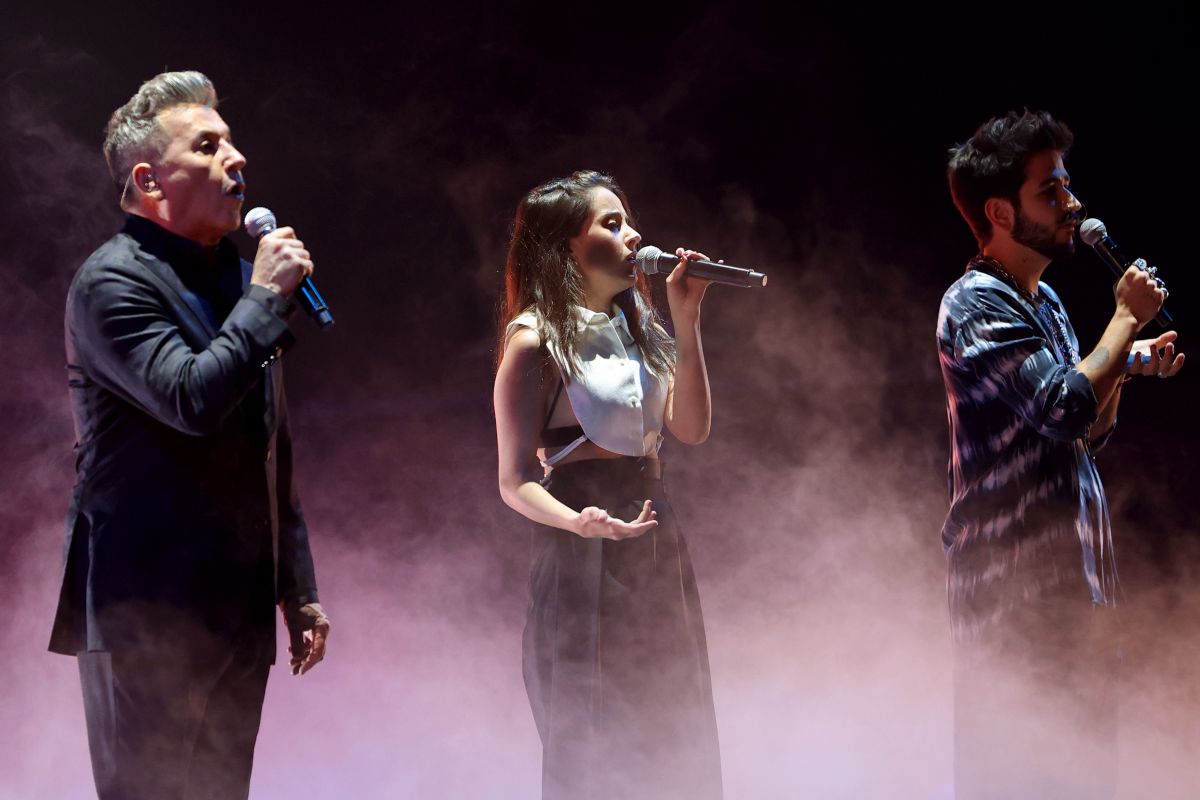 Photo: Rodrigo Varela / Getty Images
Social media exploded with joy after Camilo and Evaluna Montaner revealed that they are going to become parents with an emotional video in which they shared not only the name of their baby, but also the reaction of all their loved ones, including the young woman's father, the singer Ricardo Montaner.
Through their respective Instagram accounts, the interpreters of "For the first time" were given the task of informing their fans and friends of the medium that after almost two years of marriage, they will become parents. The acclaimed couple turned to music to reveal this news, and they did so with the theme "Indigo", the same name that the little one they are expecting will bear.
At the end of the music video that accompanies said song, The exact moment is shown when Evaluna, Ricardo Montaner's daughter, shows her husband Camilo the pregnancy test, who, unable to contain his emotion, breaks down in tears. In addition, the material shows when celebrities share the news with their families, as well as friends through video calls.
Although Evaluna's pregnancy was something that had been speculated for a long time, the news fell unexpectedly for the fans of the couple and several friends in the middle, who They did not take long to fill the publications of both with affectionate comments and congratulations. Some of the artists who spoke about it were: Morelli, Wisin, Mijares, Luis Fonsi and producer Tainy.
Likewise, the Mexican singer Danna Paola, who did not miss the opportunity to celebrate the sweet wait of her colleagues and with a simple message, but full of emotion, showed her affection for both: "What a blessing! Infinite light for both and that blessing on the way ".
For his part, the Spanish David Bisbal congratulated the couple saying: "What beautiful images. The ones that Evaluna has posted are also exciting! Enjoy this wonderful stage. Congratulations to the family too ".
Another congratulation that caused a stir was that of the Mexican-American singer Selena Gómez, who after having collaborated with Camilo for the song "999" became very close to the couple, so when she heard the news she could not help but comment: "Congratulations!! I am very happy for you ".
Of course, the relatives closest to Evaluna and Camilo, such as the singer Mau Montaner, could not fail to comment, so the soon to be uncle, wrote: "Hahahahaha I love you !!! What a pod with the third photo … hahaha thank you for contributing to the virality of the meme! ".
It may interest you:
Camilo: On the day of the 10 Latin Grammy nominations they wouldn't let him enter a restaurant in London because of his looks
Selena Gomez and Camilo join forces for the song "999"
Camilo: "I am a successful singer-songwriter to the extent that I am honest"


Source-laopinion.com