MEXICO.- Sitting on the sidewalk in front of the offices of the Mexican Commission for Refugee Aid (Comar), Lafontant Nonord, 32, is one of more than 18,000 Haitians who came to seek asylum in Mexico in the last year although he misses a time of his life in Chile with his wife and daughter.
He arrived in Chile without a visa because in 2017 this country did not require any document from Haitians and there he quickly adapted. "It was not a complicated life," he says.
In fact, it was too simple. Get up, go to the carpentry workshop and get to work with the saw, nails, hammer and machines to make furniture of all kinds: tables, chairs, bookcases, armchairs, paintings …
He worked an eight-hour day and had a salary that was enough to have a small apartment in Santiago, to support his family and the occasional walk until things began to get complicated with the anti-immigrant policies of the once booming country with open doors.
"Little by little they began to treat us badly, to look bad at us in the streets," he recalls.
The Chilean is not an aggressive society or one of direct attacks or fuss, but every day they whispered more, he says. That there were already too many Haitians, that they did not have papers, that the health and education services were losing order and would soon collapse into a self-confidence similar to that of other Latin American countries.
Lafontant Nonord never imagined that Chileans would go out to burn the belongings of migrants as they do now. The man he always worked for was an older gentleman of few words who treated him gently until he died.
Then the family sold the workshop and the migrant was left without a job in a fatal coincidence because since 2018 the Chilean congress began to legislate in an intense debate of heated discussions, a bill promoted by the government of Sebastián Piñera.
The plan was to ask Haitians for visas to hinder their entry and reduce their high flow because, between earthquakes, hurricanes and poverty, thousands and thousands were thrown from the heat of the Caribbean towards the rainy Chilean cities and there was more and more criticism from the opposition and conservative groups.
Lafontant recalls that on television the speech of the "extraordinary increase" in migration was repeated and suggested the visa to avoid trafficking networks.
"We are aware of companies in Port-au-Prince that were dedicated to telling Haitians 'sell your house, sell everything you have, pay us three thousand dollars and we give you a work contract in Chile and you pay for the plane,'" he said. at the beginning of 2018 the then Chancellor Heraldo Muñoz
The imposition of the visa was approved and thus they blocked the direct routes for the entry of Haitians to Chile, but not the other roads because there is no one to stop the hunger, observes Lafontant as he watches his wife eat some fruit and tries to make her two-year-old daughter forget a promised drawing.
This 37-year-old Haitian observed that the arrival of desperate friends, relatives, neighbors and strangers continued its course. With economic support from their families, they jumped to the Dominican Republic and from there to Guyana, Suriname or Ecuador, countries that only ask Haitians for their passports.
In Chile the laws tightened more. Not only against Haitians but against all foreigners (who had increased from 305,000 in 2010 to 1.5 million by 2020) who were given a last minute to regularize or be deported.
For Lafontant, an ordeal began: he would knock door to door but the answer was the same: "bring your papers."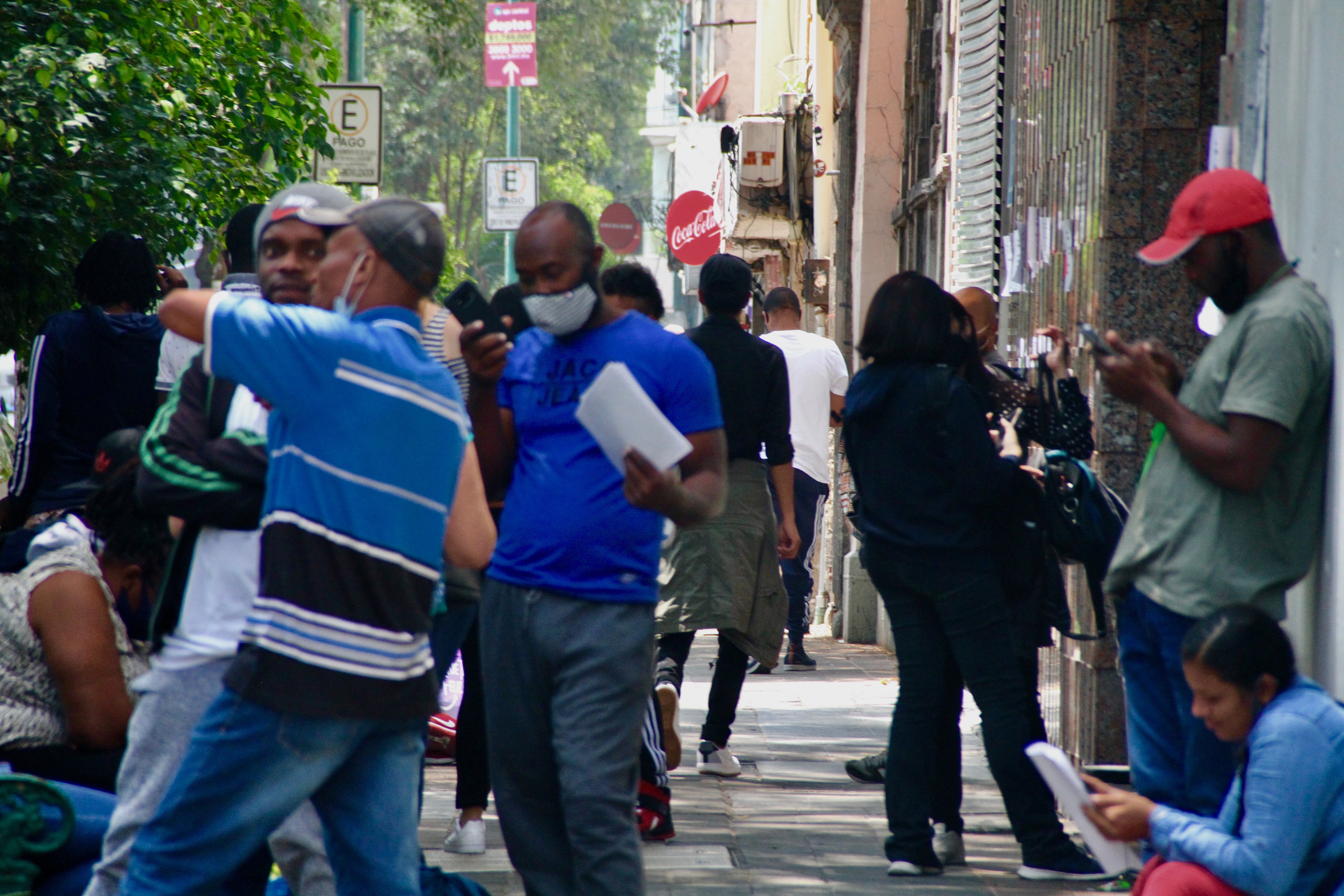 From time to time I got something badly paid and I was there when the pandemic hit and they had to ask for charity. Then Democrat Joe Biden came to power and said that the policies of his predecessor, Donald Trump, were inhumane and that he would treat immigrants better.
Thus, Haitians began to look towards the US. Thousands and thousands of undocumented immigrants in Chile and Brazil packed their bags and took off in a hurry.
Heading to the USA.
Vladimir Joseph, 37, left Chile this year like Lafountant, when he lost his fear of the pandemic and feared deportation to Haiti, one of the poorest countries in the world.
From there he intends to get his wife and son that he left to make his way. "There were more reasons to flee," he says while waiting his turn to request refuge in the Comar.
He knows that patience in these cases is wise, that perhaps it does not reach shifts because in Mexico City there are around 3,000 and 4,000 Haitians wanting refuge in recent days, according to some civil organizations such as the Citizen Committee in Defense of the Naturalized and Afro-Mexican (CCDNAM).
Decide to hold on. And holding on means coming and going every day waiting for a respHe asks for his asylum. Many of his compatriots have to get up early to wait their turn because there are few workers in Comar and Mexico has registered the arrival of around 147,000 migrants only so far this year.
This is triple 2020!
Otherwise, Vladimir Joseph would have to expose himself to follow the path on his own and risk being deported from Mexico as happened on September 29.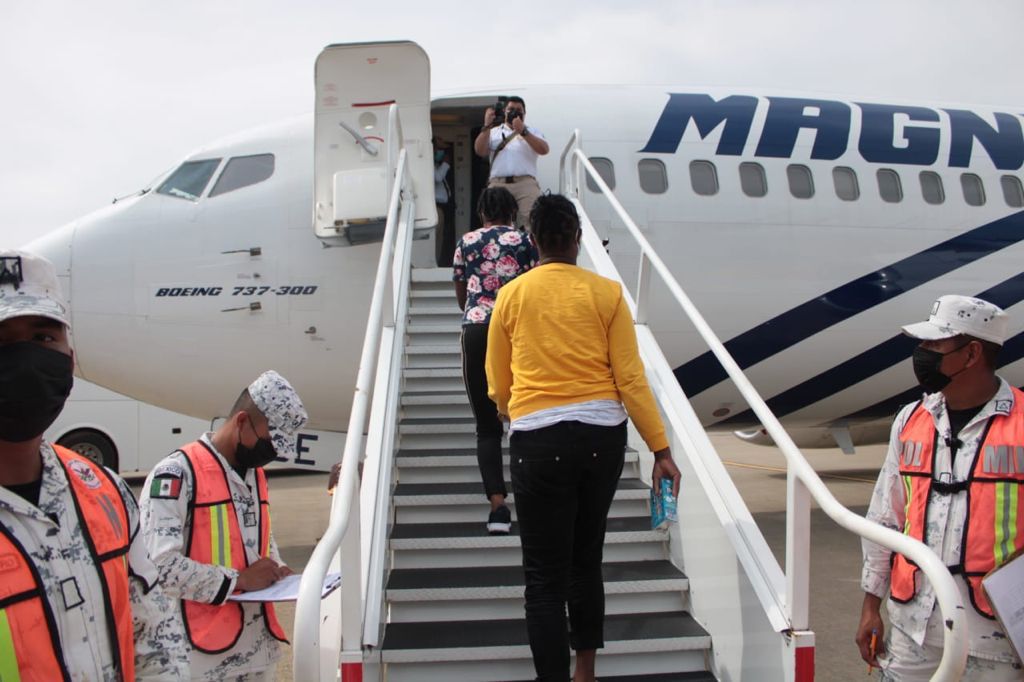 The National Migration Institute announced that it had deported the first 70 illegal immigrants to Port-au-Prince who were settled in Mexico City, the State of Mexico, Hidalgo and Tabasco. There were 41 men, 16 women and 13 minors.
Vladimir Joseph says he has paid thousands of dollars in bribes since leaving Chile And he does not want to commit an imprudence that causes him to be thrown one step away from glory, that is, the border with the United States.
He tried to buy a ticket at the Central Camionera del Norte in CDMX but was denied it because he did not have documents and that is why he is officially seeking asylum but what he really wants is the ticket to leave for Texas, start working, save and to send his wife and the 11-year-old boy who will soon be a teenager in the midst of political turmoil (recently they assassinated their president), social, economic and security that their country has.
"They don't realize that we don't have a choice," he said.
Vladimir Joseph still has no answer to his request and in the meantime he rented a hotel room in the Juárez neighborhood that costs him about $ 13 a day. A fortune for him because he pays for it with his savings. If the Comar prolongs its verdict, it will have to ask family or friends for money and it does not want to do so: it already happened in Tapachula.
Choices
When Haitians began to despair because they were not given asylum in Tapachula (border with Guatemala), they formed caravans. They tried to advance in groups three times last summer, but the National Guard fell on them to stop them, and some migrants were kicked and beaten without condescension. The images of those attacks went around the world.
That is why it was surprising that some 14,000 Haitians suddenly appeared on the border between Ciudad Acuña (on the Mexican side) and Del Río (in the US) in the first days of September … how was it if they had not been allowed to pass through Mexico?
"What happened is that Biden and AMLO agreed to let them pass little by little and to grab him and deport them from Mexico or the United States."Says Wilner Matelus, leader of the Citizen Committee in Defense of the Naturalized and Afro-Mexicans, who throughout 2020 and until mid-2021 protested because the stranded in Tapachula did not respond to their requests for refuge and asylum.
Vladimir Joseph revealed that in the US he has family both in New York and Florida. His sisters, aunts, nephews, cousins ​​are there. "I know that my life will be better there, it is earned in dollars, there is work."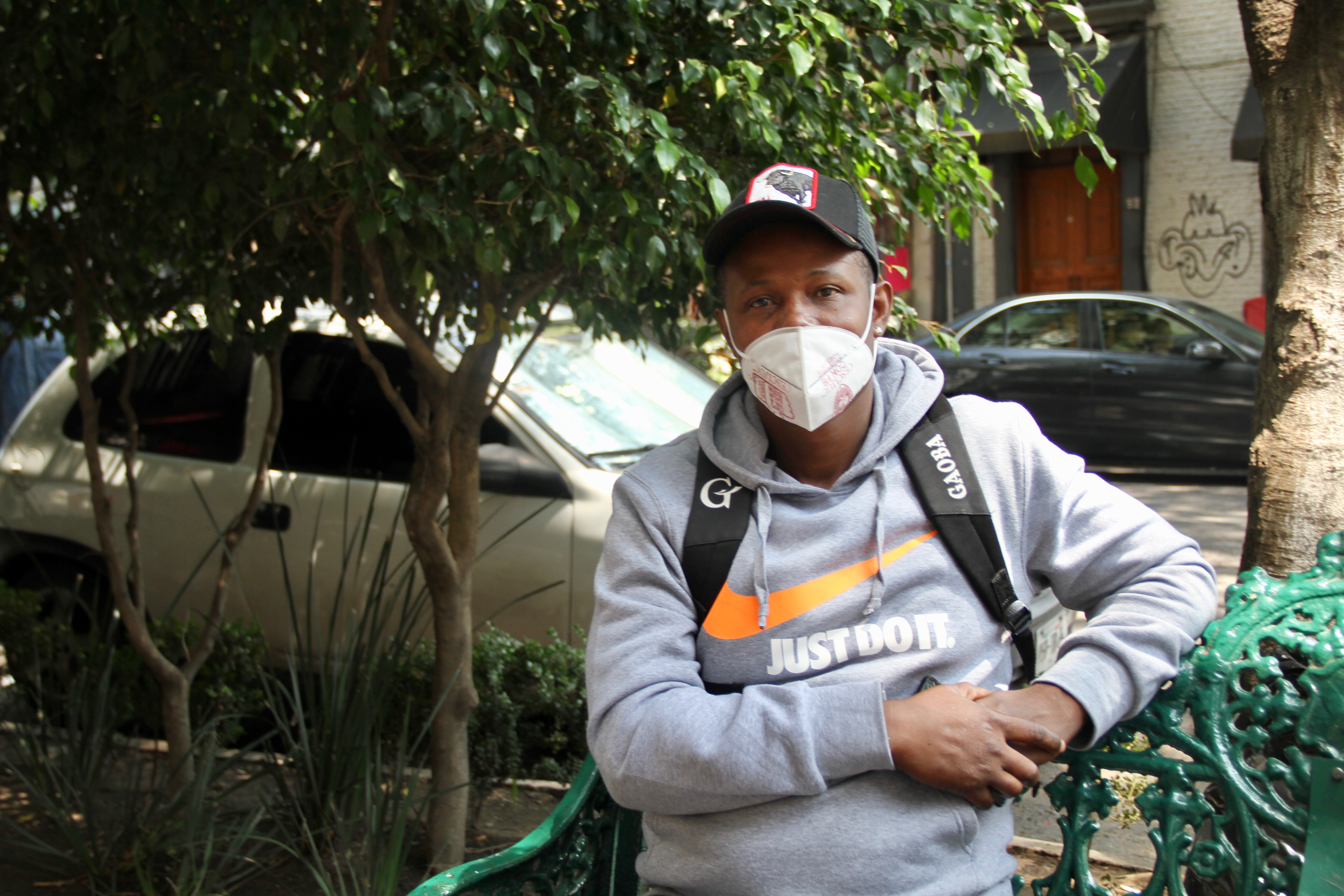 That is why he took the road through 10 countries when he left Chile. Because crossed the jungle border between Colombia and Panama – known as the Darien – where many have died and some 16,000 Haitians are still waiting for easing to pass. "For me it was not so complicated because the family helped me and I was able to pay for trucks and extortion."
Others have not had the same luck and have died on the way. The test of reaching the north awaits him, although the United States closed the door again.
The U.S. Department of Homeland Security (DHS) said nearly 30,000 Haitian migrants had been found in Del Rio. in the last two weeks and that there were none left in the camp since the penultimate week of September.
More than 12,000 of them will have the opportunity to present their asylum case before US judges, while some 8,000 voluntarily returned to Mexico and 2,000 were expelled to Haiti. Other detainees are waiting to know their fate.
"For fear of being deported, as happened in Texas, many Haitians prefer to go to the big cities of Mexico and ask for refuge or asylum here, in Monterrey, Guadalajara, CDMX," says Metelus.
In Mexico, however, there are few possibilities. Last year, of all asylum applications that were formally resolved, only 22% of Haitian cases were approved, compared to 98% of Venezuelans, 85% of Hondurans, 83% of Salvadorans, and 44% of Cubans.
President Andrés Manuel López Obrador has been clear in the official position. On the one hand, he intends to give refuge to some (he has not said how many), but he says that he does not want the country to become a gigantic "camp" and that is why the deportations began and he has denied the State budget to install shelters on the migratory route.
Until now, aid in the Haitian journey has been supported by civil society. The greatest support is now concentrated in Casa Indi, in Monterrey, a shelter founded and managed by a priest Felipe de Jesús Sánchez, which so far has around 2,000 Haitians.
The Mexican president argues that he is looking for a way for these migrants to remain in shelter,
"That they do not lack anything here, but what they want is to get to the US" and, therefore, he gave some advice for the US to invest in Haiti and for the United Nations to put order in the political chaos of the island .
"There is a complete misrule in Haiti, you cannot forget that. It is not only possible to attend to Haitian immigrants who, out of necessity and due to violence, leave their country ", and added:" the UN is taking time ".
The Mexican Foreign Minister, Marcelo Ebrard recalled that the US has sent contradictory messages of openness towards migrants such as the extension until 2023 of the TPS program that provides temporary protected status to those already in the US.
On the other hand, the US has said that "it does not have open doors" and through various officials has recalled that the country always maintains title 42 to limit asylum, that is
an exception in the country's health law, which allows restricting the entry of foreigners by land for health reasons (even for those who have a visa).
"They are deceiving them," he finally said about the human trafficking networks that would be behind the Haitian migration in need of a better life.
To avoid headaches, the Haitian Lafontant has decided to stay in Mexico. He does not want much, he assures: "only a carpenter's job and with that I will be grateful to the country"
"Aren't you afraid of insecurity?"
Lafontant Nonourd laughs mischievously.
"Anything is better than Haiti."
It may interest you:
This is how Mexican cuisine is renewed
· They don't pay teachers and… they put Mexico in chaos!
The women behind the decriminalization of abortion in Mexico


Source-laopinion.com