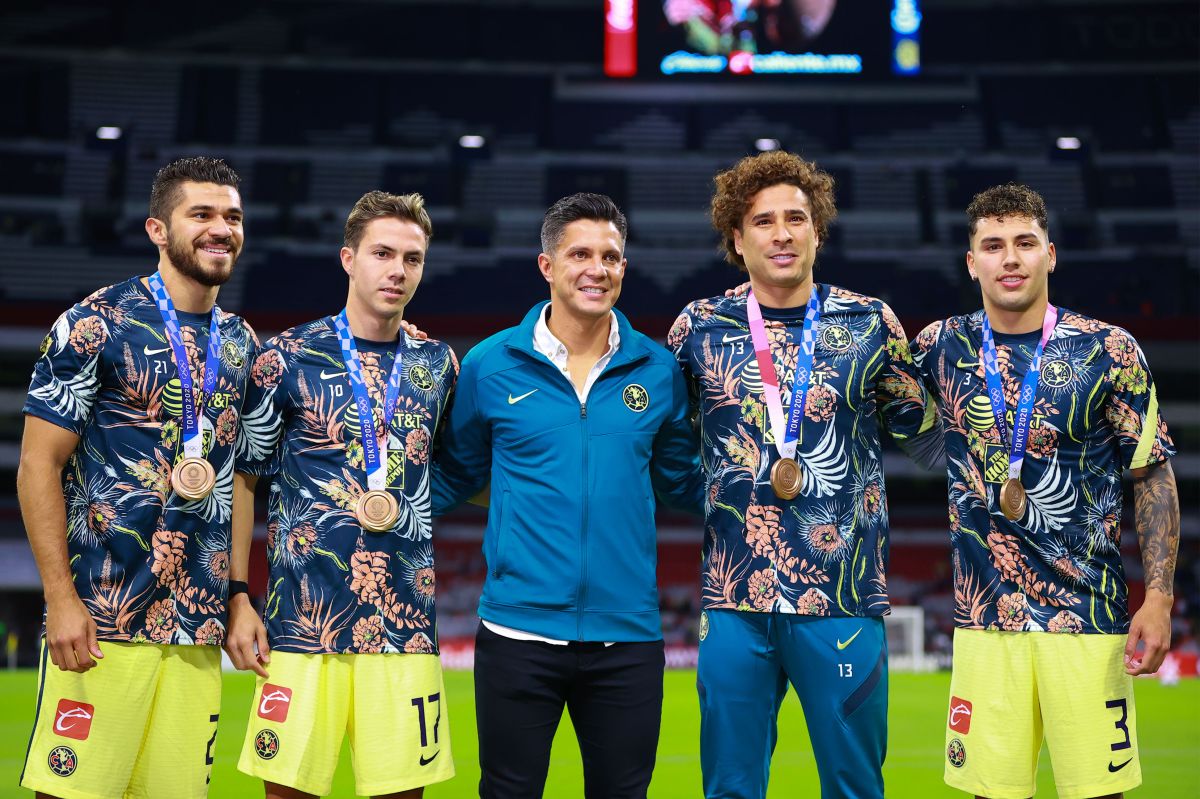 Photo: Eloisa Sánchez / Imago7
The Mexican players who were in the Tokyo 2020 Olympics they went back to their clubs from the MX League. The El Tri footballers had a outstanding participation, so their reinstatements did not go under the table. So did the Águilas del América with Guillermo Ochoa, Henry Martín, Sebastián Córdova and Jorge Sánchez.
Very proud of you, Mexican Eagles! 🦅🇲🇽🥉@HenryMartinM, @ Cordovar97, @ yosoy8a, @ Jorgiesanchez1 #FlyWithUs 🔸 ♦ ️🔹 pic.twitter.com/QiBtTUZ6qS

– Club America EN (@ClubAmerica_EN) August 13, 2021
Before the game of the Concacaf Champions League semifinal, between the Eagles of America and the Philadelphia Union, the Mexican institution decided decorate these four footballers. In the imposing Azteca Stadium the players were awarded for their participation in the Olympic Games where they represented Mexico.
"Thank you for bringing the greatness of Mexico and Club América to the most important stage of world sport. Thank you for teaching us that dreams can be achieved, his legacy will transcend for generations ", were the emotional words dedicated to the four American players.
Great welcome to the medalists! 🦅💥🙌@America club gave recognitions to Memo Ochoa, @HenryMartinM, @ Cordovar97 and Jorge Sánchez for the bronze medal in Tokyo 2020 🇲🇽🥉

🎥I @GibranAraige pic.twitter.com/oUWVhdnA0h

– TUDN USA (@TUDNUSA) August 13, 2021
The award was presented by Diego Ramirez, recently integrated as part of the leadership of the Mexican club.
The Eagles of America one step away from the final
The Mexican team won 2-0 to Philadelphia Union at the Azteca Stadium. This result leaves Santiago Solari's team in a very good position for the return to the United States. Among the curious facts of the meeting, Oliver Mbaizo, from Cameroon, lost a tooth as a result of a slap from Mauro Lainez.
You may also like:
Video: forward for the Eagles of America slapped a Philadelphia player and pulled out a tooth
Mexican player was the victim of scornful shouts from Orlando City fans
Tigres failed in the Leagues Cup and the memes pointed their entire arsenal against Miguel Herrera