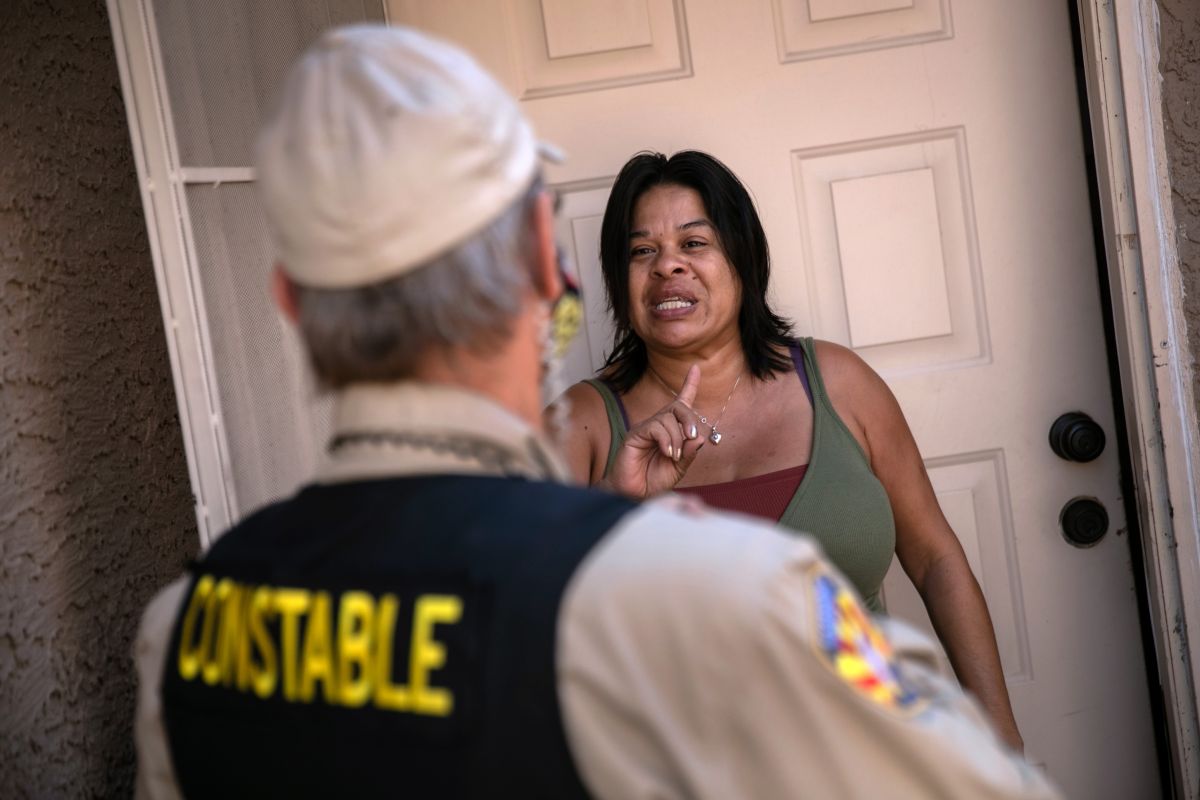 Photo: John Moore / Getty Images
The Centers for Disease Control and Prevention (CDC) announced this week a new temporary extension on evictions, however, there are concerns that the number of Americans facing eviction from their homes in the United States increases and be the beginning of a new crisis that will mainly affect women.
Every year 2.3 million people are evicted from their homes, but the economic consequences of the coronavirus pandemic they could raise that figure once the new moratorium ends on October 3.
Women most affected by evictions

Most eviction requests are against women. Since the beginning of the pandemic, women represent 51.7% of the percentage of people who have been evicted from their homes according to a database compiled by the Princeton University Eviction Laboratory directed by Matthew Desmond.
During the creation of the database Desmond identified that African American women, renters, and Hispanics disproportionately face evictions And that pattern has remained throughout the COVID-19 pandemic according to the study.
The new 60-day extension is the product of the CDC's decision stating that a new wave of evictions would only accelerate the spread of the delta variant of the coronavirus, considered more infectious, which could contribute to generating a new public health crisis.
The latest figures from the Census Bureau suggest that 1.4 million households have a high probability of being evicted in the next two months.
Related: Eviction Moratorium: White House Extended Extension But 800,000 Americans Are At Risk Of Losing Their Homes
In late June, census data revealed that about 12.7 million tenants were not sure they could afford their next rent. To make matters worse, the eviction protocol varies greatly between states and some Americans have no protection at all once the moratorium ends.
The federal government approved a program with $ 47 billion in grants to help distressed tenants meet their monthly payments, however, so far only 6.5% of that money has been distributed.
In April 2020, an NBC News investigation indicated that the number of requests for sexual services by some homeowners in exchange for paying rent for the most vulnerable tenants was increasing during the onset of the COVID-19 pandemic.
Related: CDC Announced New 60-Day Moratorium On Evictions But Could Be Overruled By Supreme Court
To understand the size of the crisis people who work full time and receive minimum wage cannot afford a two-bedroom apartment in any state in the country, according to the annual "Out of Reach" report of the National Low Income Housing Coalition.
The report revealed that more than 40% of African American and Hispanic households spend more than 30% of their income on rent compared to 25% of white households.
You may be interested in: