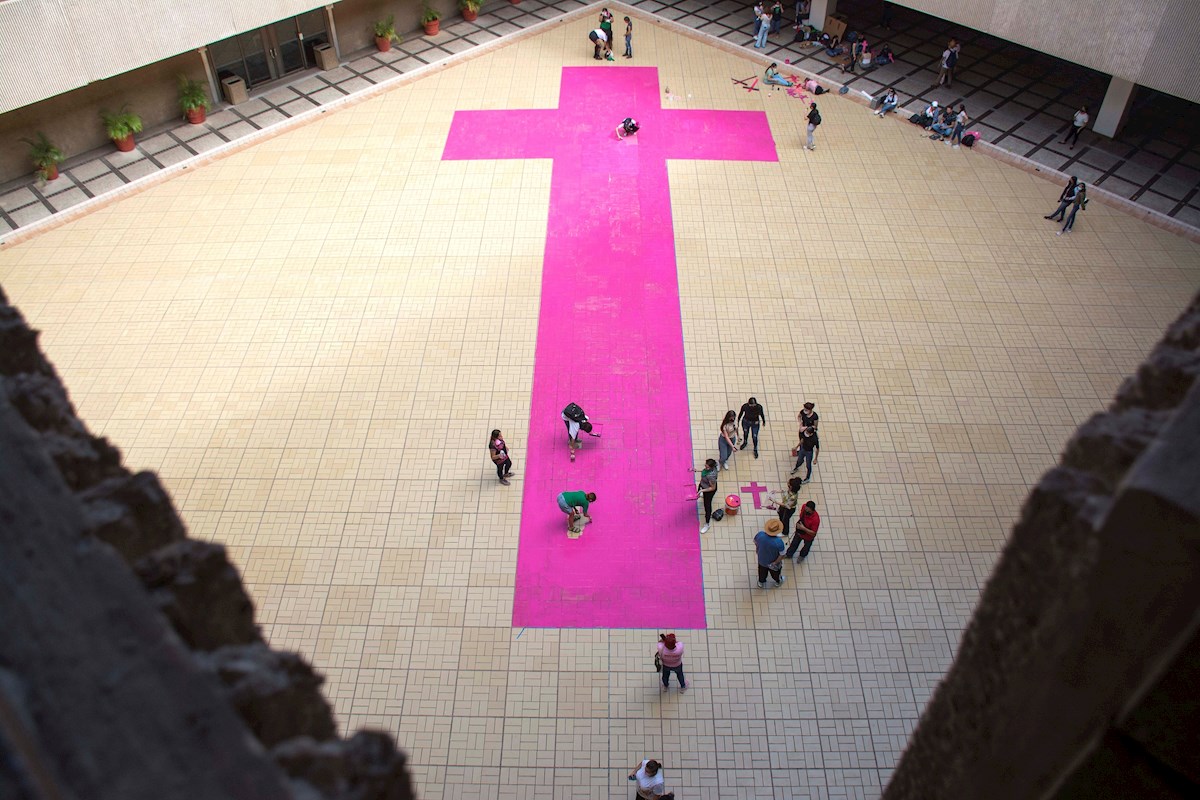 Photo: Juan Carlos Cruz / EFE
A huge pink cross, representing the 800 femicides perpetrated in the last 10 years in the Mexican state of Sinaloa, was painted by groups of women in the central courtyard of the Government Palace of the entity.
The activists chose Mexico's Independence Day to protest against domestic violence and femicides registered in this area of ​​the country, where violence associated with drug trafficking prevails and where the Sinaloa Cartel predominates.
Priscila Salas, leader of the collective "Don't mess with our daughters", denounced that in the last 10 years 800 murders of women have been committed in the state and said that the level of impunity in these cases is 97% and 96% in domestic violence ".
"The murders of girls, adolescents and women remain uncontrolled in Sinaloa," he said. This year, 37 femicides have been registered and 18 have been committed in the city of Culiacán, the state capital.
A month and a half after the Government of Governor Quirino Ordaz ends, and despite the alert of gender violence that was accepted in 2017 by that Administration, "Femicidal violence has not stopped, but on the contrary, it has worsened in recent years"Said Salas, one of the most active defenders of women in the state.
"The gender violence alert in Sinaloa has not worked because femicides and domestic violence continued to increase, it did not decrease a bit," he lamented.
According to official figures from the State Attorney General's Office from January 1, 2017 to September 15, 2021, 252 women have been murdered.
For its part, The General Coordination of the State Council for Public Safety (CESP) reported that this year femicides increased 79% compared to the cases registered in 2020 and that family violence is the crime with the highest incidence in Sinaloa, with an increase so far this year of 41%.
CESP statistics also reveal that there is a 58% increase in complaints for the crime of rape.
During today's demonstrations, the women also made a roll call of the names of the 36 women who have been killed in 2021. Then they marched to the municipal palace where they also protested and demanded justice.
It may interest you:
AMLO gives his third Cry of Independence without an audience in the Zócalo due to the pandemic
· VIDEO: Flashes in the sky and panic in the heights; this is how the 7.1-degree earthquake was experienced in Mexico
Mexico celebrates Independence Day under restrictions due to the COVID-19 pandemic