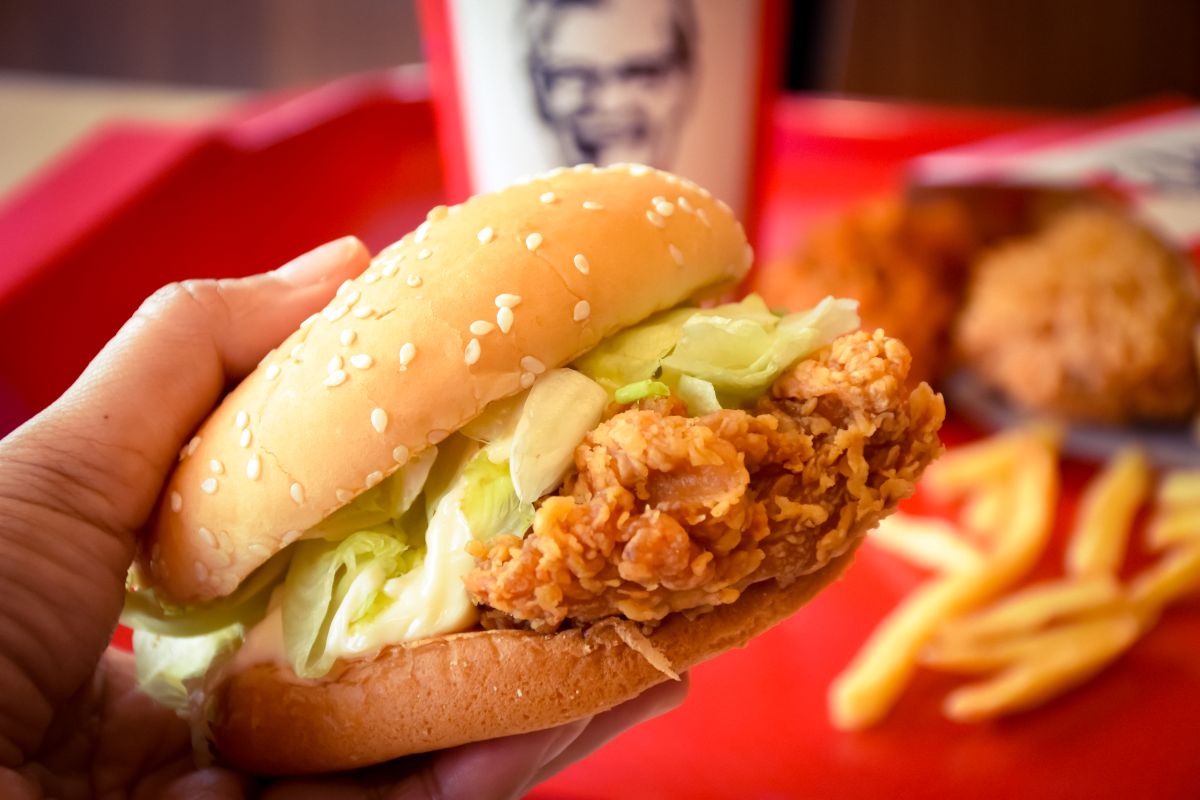 Who could imagine that eating a hamburger could put your life at risk? Absolutely no one, unless we are talking about some choking situation that ends in suffocation.
But that was not the case for a 34-year-old woman from Portsmouth, England, named Holly strevens, who never imagined that eating a triple chicken burger from KFC would be the worst decision you could ever make.
The story goes back to one day in September 2004. Holly had a strong craving for a KFC burger and ordered a Wicked Zinger Burger, which was made with 2 fried chicken medallions stacked alongside a hash brown.
The KFC delivery man arrived at his home and was about to enjoy his hamburger while he watched television. Suddenly, after taking a couple of bites, he heard a loud pop coming from his mouth.
"It was the joint on the left side of my jaw. It seemed normal, but the feeling was horrible: it kept locking and unlocking. At that moment I must have stretched my mouth too much when I bit the hamburger, "the woman recalls in an interview for the Carters agency.
He immediately moved to a hospital where after several studies, fShe was diagnosed with a temporomandibular joint (TMJ) disorder.
According to information released by the Mayo Clinic, the temporomandibular joint acts as a sliding hinge that connects the jaw to the skull (We have one such joint on each side of the jaw). Temporomandibular joint disorders can cause pain in the jaw joint and the muscles that control jaw movement.
Due to the situation, in recent years, Strevens has had to undergo about 5 surgeries so that 12 screws were placed in the jaw. This implies that suffers from daily severe pain, occasionally seizures and thus developed an anxiety disorder. In addition, it is impossible for him to eat something hard or that he must chew.
This problem also led to her losing her job as an office clerk. "Throughout these years, I was on sick leave for a long time, as I was in and out of the hospital and the pain affected my life. People open their mouths up to 35mm, but my jaw movement was reduced to 13mm. I also developed arthritis in my left jaw with cysts in the joint, "he added.
In 2017, a doctor told her that he could improve her situation by performing an open joint replacement, that is, they replaced the tissue on the left side of her jaw with an "artificial disc". Unfortunately, the surgery did not give the expected result because the same procedure has yet to be done but on the right side.
"I regret having eaten the hamburger. It changed my life. Now I am disabled and completely lost my independence. My mental health worsened and I have anxiety because I might have a seizure when I'm alone. I hope they replace the right side of my jaw to end the incessant chronic pain, "he told the same media.
In addition, the woman indicated that she has raised her voice so that fast food restaurants reduce the size of their hamburgers in order to prevent another person from going through the same thing as her.
You are interested in:
The hamburgers that have "helped" 31 women give birth
He sued McDonald's of New Jersey by claiming that they gave him a hamburger with feces