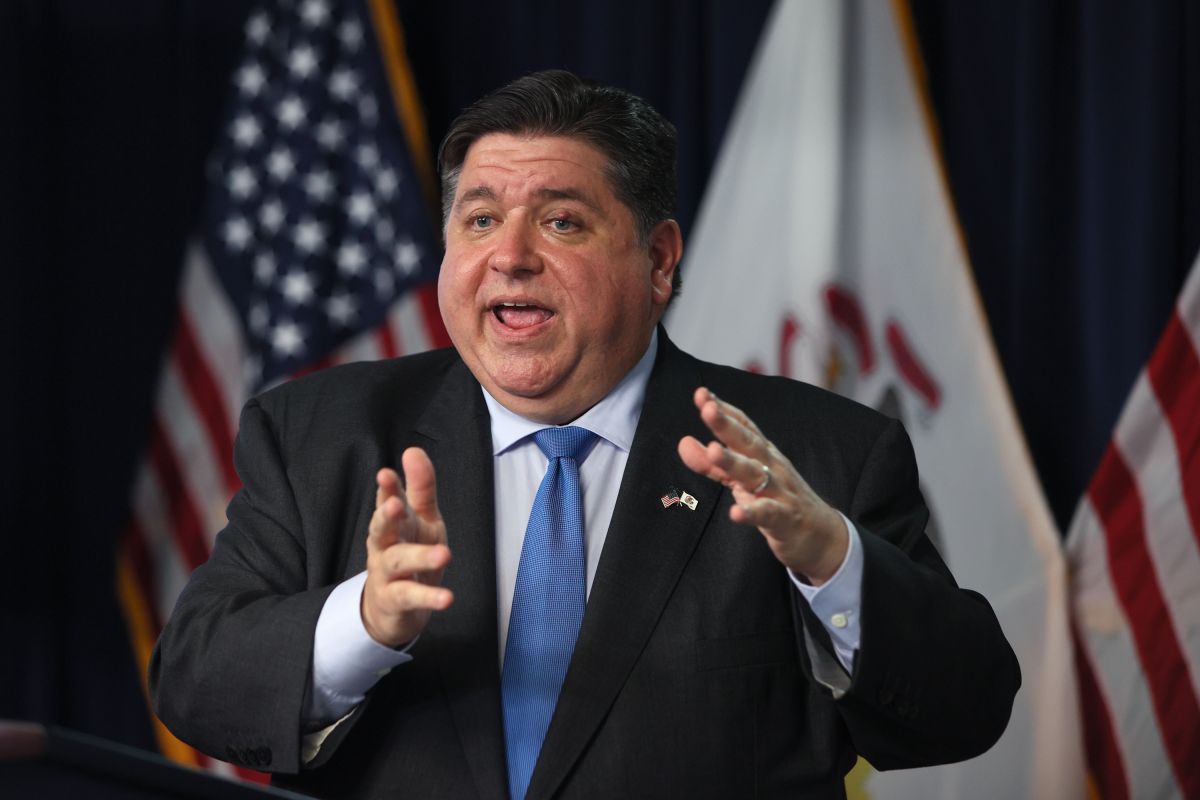 Photo: Scott Olson / Getty Images
Illinois Governor JB Pritzker has reinstated a mask mandate for the state, requiring the use of masks indoors for residents, regardless of whether they are vaccinated or not, because in Illinois "our hospitals run out of beds."
Illinois's New Indoor Mask Mandate will begin on Monday and will require face coverings indoors, regardless of vaccination status. coronavirus.
"Illinois will join several other states that have reinstated state indoor mask requirements, regardless of vaccination status, beginning Monday," Pritzker said. "The masks work. Point."
What's more, Pritzker also announced a new mandate that requires teachers, healthcare workers, and higher education students to receive the coronavirus vaccine or undergo weekly COVID tests. through a program of improved protocols.
Vaccinations will be required for P-12 teachers and staff, higher education staff, higher education students and healthcare workers in settings such as hospitals, nursing homes, urgent care facilities and doctor's offices, Pritzker said, and He added that the mandate will take effect on September 5.
Those who remain unvaccinated will need to be tested for COVID-19 at least once a week, but may require additional testing in some cases, such as when outbreaks occur.
Today, I'm announcing a series of additional vaccine requirements aimed at protecting our most vulnerable residents, unvaccinated children and their families, and the ability of hospital systems to handle the #DeltaVariant arises in Illinois. pic.twitter.com/2UNxgcPNEo

– Governor JB Pritzker (@GovPritzker) August 26, 2021
Pritzker said the delta variant "is causing increasing concern about our hospital capacity in Illinois communities."
"Let's be clear, vaccination is the most effective tool we have to keep people out of the hospital and prevent deaths," he said.
Today's action are necessary because Delta is different.

The rapid spread in Illinois and across the US is holding us all back from the post-pandemic life we ​​so desperately want – harming our most vulnerable.

I urge everyone: get the life-saving vaccine as soon as you can. pic.twitter.com/ImmvTV64wP

– Governor JB Pritzker (@GovPritzker) August 26, 2021
Calling it "an unvaccinated pandemic," Pritzker said "you don't have to be an epidemiologist to understand what's going on here."
As of Wednesday, all 102 Illinois counties are experiencing "high transmission" levels of COVID-19, meaning that counties are seeing 100 or more new COVID cases per 100,000 residents each week, or are seeing positivity rates. above 10% in all COVID tests.
Under those parameters, the CDC recommends residents in those counties wear masks, but Pritzker's order will go one step further, requiring people to wear masks indoors, regardless of vaccination status.
The decision is also driven by rapid increases in the number of patients requiring ICU beds as they battle COVID-19. In Region 5, located in southern Illinois and comprised of 20 counties, only six of the 86 ICU beds in the region are currently available, compared to just one available Tuesday.
According to the latest figures released by the Illinois Department of Public Health, the state recorded 4,041 new confirmed and probable COVID-19 cases during the past 24 hours. That's the fourth time in the last seven days that the state has reached that milestone of 4,000 cases a day, a number the state had previously only hit twice since the end of a spike in cases in late January.