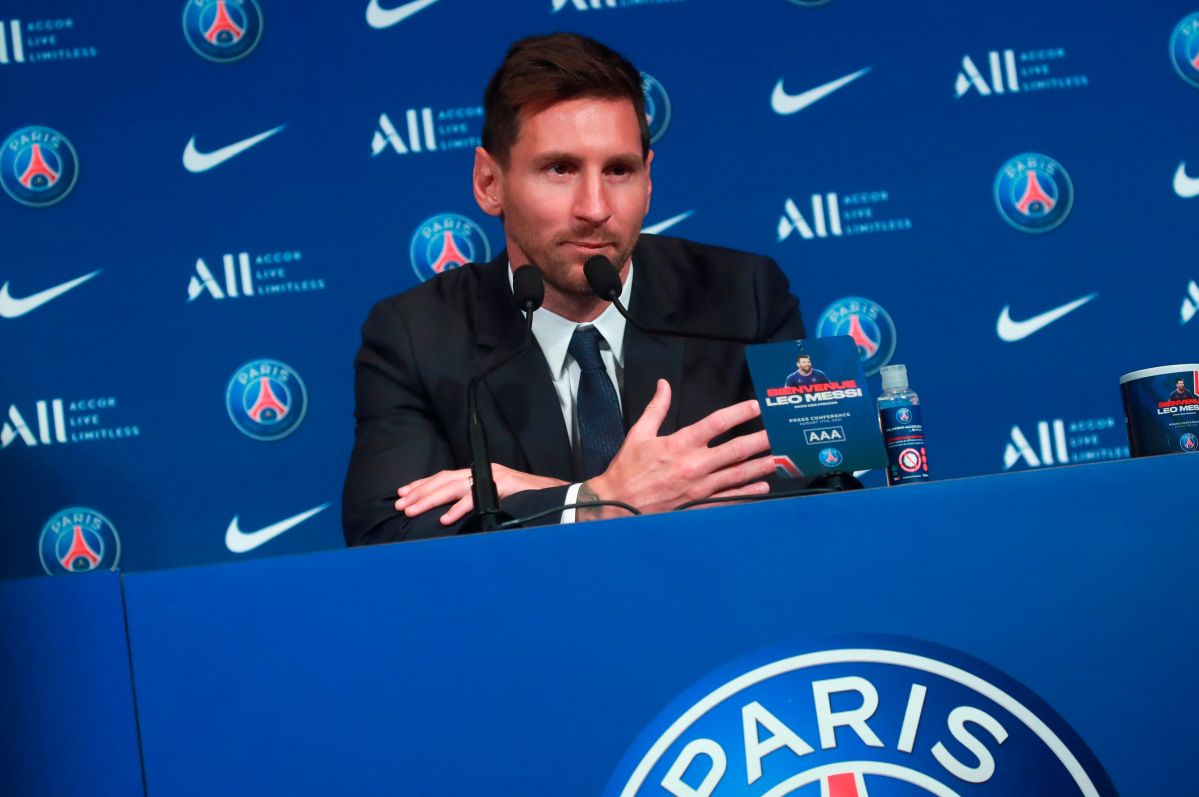 Photo: CHRISTOPHE PETIT TESSON / EFE
Lionel Messi spent an unforgettable 24 hours. Paris Saint-Germain and the fans were in charge of giving a warm welcome to the Argentine, full of surprises. Finally, the long-awaited signature was completed and "La Pulga" will wear the number 30 for the next two seasons. The Argentine star was presented to the media and already offered his first words as a PSG player.
"I'm very happy. Everyone knows about my departure from Barcelona a few days ago, where it was honestly very hard because it's been many years (…) I have been enjoying it a lot since the first day I arrived together with my family and my people. I can't stand the desire to meet my teammates, the coaching staff and start this new stage ".
A new 💎 in Paris!#PSGxMESSI ❤️💙 pic.twitter.com/zseS7LmjSP

– Paris Saint-Germain (@PSG_espanol) August 10, 2021
From very early, Lionel Messi offered his statements together with the president of PSG, Nasser Al-Khelaifi. Despite his painful departure from FC Barcelona, The Argentine did not hide his illusion of being part of one of the most powerful clubs in the world.
"I am happy to be here, excited, with a lot of desire. I have the illusion and the desire intact to continue winning. That is why I come to this club, because it is an ambitious club (…) that is my goal, to keep growing, keep winning, keep winning titles. That is why I come to this club. Hopefully we can all achieve it together ", he sentenced.
– Paris Saint-Germain (@PSG_espanol) August 11, 2021
Lionel Messi on his arrival at Paris Saint-Germain
"My arrival was crazy, I want to thank the people of Paris. If something else was needed to make her happy, it was to finish rounding up the entire reception, the deal. I am sure that we are going to enjoy this time together very much ", said the former FC Barcelona footballer.
PSG fans warmly welcomed Messi throughout. From the airport and the stadium, the fans sang songs with which they hoped to receive their new idol. Before this gesture, "La Pulga" expressed some words.
"Very grateful to all those people who took to the streets. It was crazy. I was in Barcelona when I had just received the statement and people were already outside, without having started conversations. People left as if I was already traveling, I want to thank them ".
WHAT MAN 😍🇦🇷#PSGxMESSI pic.twitter.com/299buqkn4K

– Paris Saint-Germain (@PSG_espanol) August 11, 2021
The Champions League, Lionel's goal
In the first instance, the Argentine footballer He recognized that he is in a club surrounded by great footballers. In this sense, he confessed that one of his objectives is to be able to raise a new "Orejona".
"It's not easy to win the Champions League: sometimes you have the best team in the world and you don't win (…) I knew that I was going to join a strong, competitive team that wants to win the Champions League. They know me, they know that I like to win and I want to continue to achieve goals ".
🇦🇷 Rosario 🤝 Paris 🇲🇫#PSGxMESSI pic.twitter.com/Vu1Y48Bfc1

– Paris Saint-Germain (@PSG_espanol) August 10, 2021
Lionel Messi vs. FC Barcelona
Finally, the former Blaugrana player commented how you would feel in a hypothetical match against your former teammates from FC Barcelona, the club in which he shared for so many years and lifted a large number of titles.
"Before leaving without knowing where I was going to go, I told the Barcelona fan that I will always be grateful for the loveIt is my house, I have been there since I was little, many things lived. I don't know if we're going to face each other. On the one hand it's going to be nice to go back to Barcelona, hopefully with people when possible. And on the other hand It's going to be very strange, to go back to playing at home with another shirt but this is football and it can happen. We will see", he concluded.
A unique legacy pic.twitter.com/DEVj8PrL13

– FC Barcelona (@FCBarcelona_es) August 8, 2021
You may also like:
Lionel Messi, the king who was presented at the Parc des Princes
Messi to PSG: why Qatar is the great beneficiary of the signing (in addition to the French club)