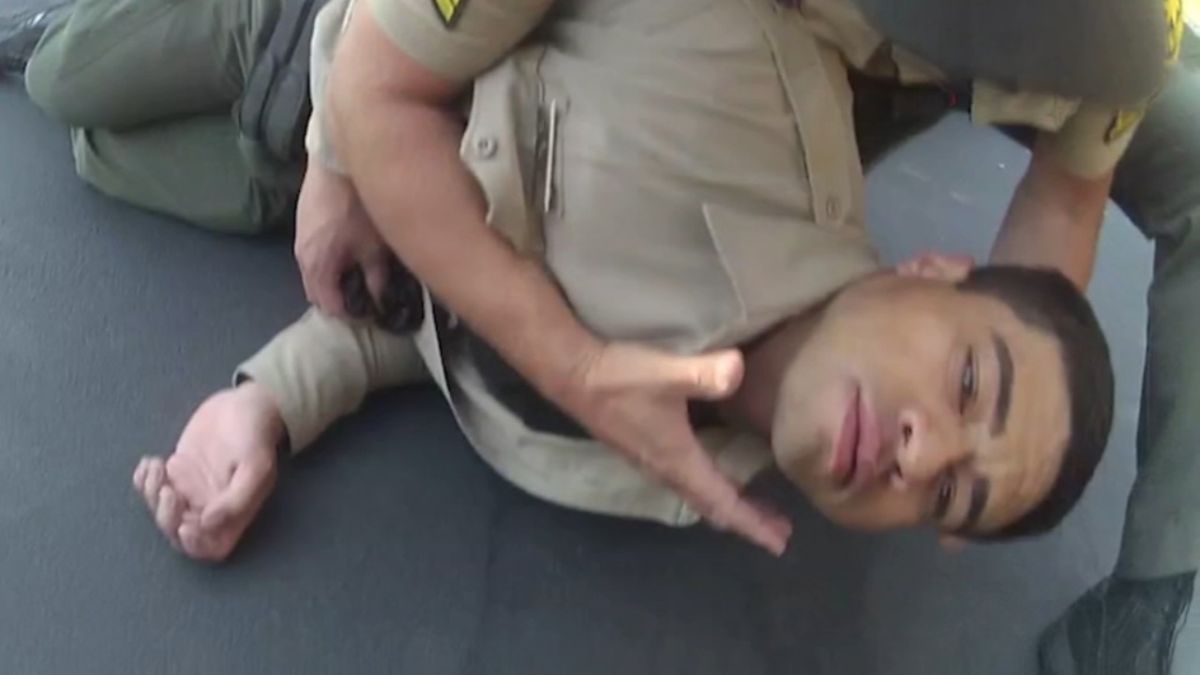 Photo: San Diego County Sheriff / Courtesy
A week ago the images of a California officer who intoxicating by accidentally touching fentanyl falls in shock to the ground shocked the world. Now a group of experts has questioned the legitimacy of the video.
"It is not biologically possible", Researchers assured in an article published this Monday in The New York Times.
The San Diego County Sheriff's Office recently released images of Officer David Faiivae collapsing after being exposed to opioid while seizing drugs in San Marcos.
The doctors assured that it is almost impossible to overdose on fentanyl simply from touching the drug.
Body camera footage shows Corporal Scott Crane assisting Faiivae by administering Narcan, a chemical that reverses overdoses.
It all happened on July 3, according to the authorities, who released the video in an effort to raise awareness about the dangers of fentanyl, a drug that has claimed hundreds of thousands of lives in the United States.
Experts told the New York newspaper that it is impossible to overdose on fentanyl simply from exposure. They added that spreading false information does not help curb the opioid crisis.
"The only way to overdose is by injecting, inhaling, or ingesting it in some other way," said Dr. Ryan Marino, medical director of toxicology and addiction medicine at University Hospitals of Cleveland. "You cannot overdose from a contact like the one seen in the image."
Faiivae recalled his alleged overdose: "It was as if my lungs just closed, I couldn't breathe. I was trying to gasp for breath, but couldn't breathe at all. "
"I remember not feeling well and then backtracked. I don't remember anything after that ", added the officer
"I ran up to him and grabbed him… I was in shock," Crane added.
"It is not biologically possible to experience overdose symptoms, or die from touching or being exposed to the drug and he said that most opioids take 30 to 90 minutes to become fatal, and a fentanyl overdose can be fatal in 10 to 15 minutes ", explained the medical expert.
Doctors explained that the only way to get fentanyl into a person's body through the skin is by using a doctor-prescribed fentanyl pain patch, and these patches have not caused documented overdoses.
The professor slipped that the reaction could be the result of stress and panic among law enforcement officers around the opioid crisis.
The doctor also hit the Sheriff's office, as he explained that misinformation is dangerous, Well, if people believe that just touching fentanyl can be deadly, it won't help whoever needs it.
Historic amount of methamphetamine seized
A shipment of more than 5,000 pounds of methamphetamine hidden in a cargo truck was detected by federal authorities at a California border port in what appears to be one of the largest seizures of that drug in the United States, local media reported.
The discovery occurred on Thursday of last week in an inspection of a cargo truck that was trying to enter California from Tijuana, Mexico, through the Otay Mesa port of entry, the San Diego Union Tribune reported.
Inside the cargo vehicle with California plates, 5,528 pounds of methamphetamine were found, and more than 127 pounds of fentanyl.
Authorities arrested the truck driver identified as Carlos Gerardo Symonds Saavedra, a Mexican citizen who was charged this Friday with two federal crimes for smuggling controlled substances into the United States.
Officials from the United States Department of Justice for the Southern District of California said late Friday in a statement to the newspaper that "This is believed to be one of the largest methamphetamine seizures in the nation's history."
The largest seizure of that drug in a single shipment would have occurred in December 2019, when federal authorities reported the discovery of a 5,000-pound shipment of methamphetamine in Laredo, Texas.
Read on: Latino Overdose Deaths Rise Dramatically