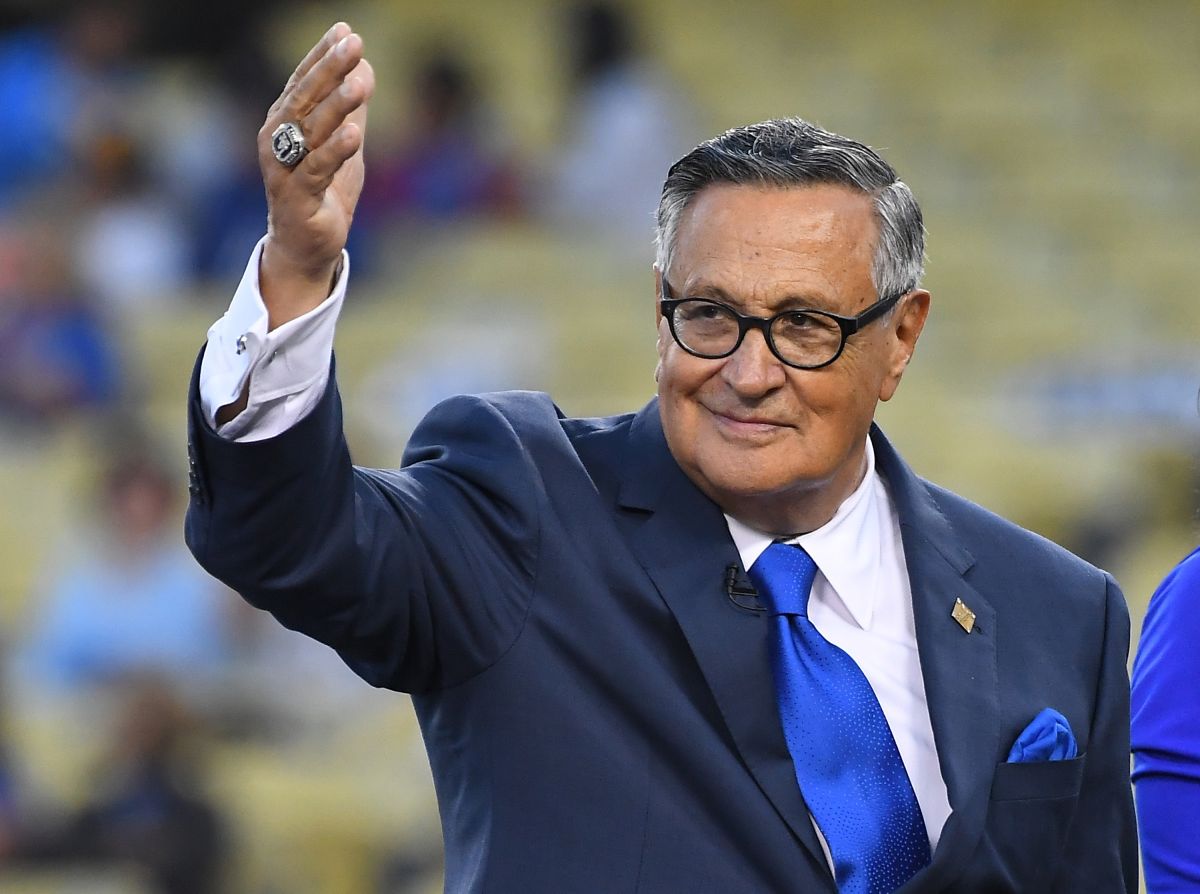 Photo: Jayne Kamin-Oncea / Getty Images
The elegant and unmistakable voice of Jaime Jarrin, the Spanish chronicler of the Dodgers Since 1959, a bit of excitement began to break on Tuesday afternoon at a phone call with La Opinion while expressing appreciation to the Hispanic community of Southern California for their support throughout the decades.
"Without the support of our listeners obviously you will get nowhere and I fully understand that the community has been what has sustained me all these years in front of the microphoneJarrín said in the interview. A few hours earlier, the Los Angeles Dodgers announced that the most iconic Ecuadorian in baseball and Los Angeles will retire at the end of the next season (2022).
The Cooperstown Hall of Famer, who is nearing the end of his 63rd season as a Dodgers storyteller, said he had been thinking about his retirement for months and made the decision for family reasons.
Jaime Jarrín wants to travel the world with his children
"Admitting that changes must be made, I believe that priorities change, I think the time has come for me to dedicate more time to the familyJarrín said from his home. "They have been my priorities, the Dodgers and my family. Now it will be family and Dodgers.
Specifically, the man who will turn 86 this December plans to spend more time with his sons Jorge – who earlier this year announced his retirement as a Dodgers narrator where he worked alongside his legendary father – and Mauricio, in addition to his grandchildren.
"They totally agree with what I decide: if I want to continue with the Dodgers they are totally supporting me, but if I leave the Dodgers they will logically be happy because I will leave a 64-year vacation with the Dodgers, because I always do my job. I have considered it a vacation, not a job ", commented the man who has narrated 30 World Series, 30 MLB All-Star Games and 22 no-hitter, no-run games, including three perfect games.
"They are happy because they know that we are going to travel so much here in the country to states they do not know like Wyoming, Montana, the Dakotas, Maine and South Florida, and then travel abroad."
Jaime Jarrín, who in February 2019 lost his wife Blanca, said that wants to go with their children to countries in Europe and the Far East.
In this process of making the decision to "hang up" the microphone, Jarrín also consulted with Vin Scully, the most legendary baseball narrator, who in turn retired a few years ago to leave Jaime as the longest-serving active chronicler of all. the Major Leagues.
"We have been great friends for many years and I had to ask him and comment, and he totally agrees that if he wanted to leave the Dodgers it was a positive step," Jarrín revealed. "I never thought I'd hit Vin's 67-year-old record with the Dodgers, I will be short in three seasons, but happy that he continues to be the only one in that regard.
This is how Jarrín wants Dodgers fans to remember him
Jarrín will complete the current Dodgers season in which the team is the biggest favorite for the championship and then in 2022 he will live his farewell campaign only from the broadcast booth of Dodger Stadium, because He pointed out that he will not work in the team's tour matches.
"I know that my voice will fail me in the last transmission I make, it is logical, because I will be quite excited because it will be my last broadcast, but things have to arrive when they have to arrive, "he told La Opinion about his final goodbye to the Dodgers broadcasts.
"I don't know yet what it will be like, but only I want people to remember me as someone who for 64 years gave everything he had within his reach, all the talent to serve them, because I believe that each transmission is not only a matter of recounting what happens on the ground, but is also a recreation for the public, the parents in particular who come home tired after a Tiring day of work and what better than to give them something to entertain them.
"So my broadcasts have been a public service and I hope everyone takes it in that sense," said Jarrín, whose name was added by the Dodgers to their 'Ring of Honor' in 2018.
Jaime Jarrín, who said he will never forget the first Dodgers game that recounted at the Memorial Coliseum in 1959 before 75,000 spectators, and who was able to narrate the exploits of great Dodgers such as Willie Davis, Sandy Koufax and Don Drysdale, he gained special national and international notoriety in 1981.
That year the so-called "Fernandomanía" exploded, which by the way is turning 40, and it was Jaime Jarrín who helped Fernando Valenzuela in his interactions with the media, in addition to obviously recounting for Dodgers fans the historic achievements of " Bull".
"The most brilliant chapter I would say," said Jarrín about that part of his titanic career. "The year 81, particularly where a boy from Mexico came to cause a general commotion in baseball, not just here in Los Angeles, but across the country. The year 81 is a year that I always have in my mind ".
That boy from Mexico who caused madness in Los Angeles, the United States and Mexico in 1981 was fortunate, fortunate to meet Jaime Jarrín, the legendary chronicler with whom he still shares broadcasts today.
READ MORE:
The fans surrendered again to Fernando Valenzuela when celebrating 40 years of the "Fernandomanía"
Together Again: Dodgers Mourning the Death of Legendary Tom Lasorda's Widow
Jaime Jarrín's tribute to Felo Ramírez: "He had a unique ability to narrate baseball"




Source-laopinion.com