The date to start the criminal trial against Naasón Joaquín García, leader of the La Luz del Mundo church, was set this Friday for May 9, 2022.
Garcia, 51, has been in pretrial detention at the Los Angeles County Central Jail for Men since he was arrested on June 3, 2019 at Los Angeles International Airport (LAX).
The main crimes he faces are human trafficking, rape and lewd acts against minors and possession of child pornography.
There are five accusers, identified as "Jane Doe", and one accuser "John Doe" against whom García and the fugitive Azalea Rangel would have committed lewd acts somewhere in the La Luz del Mundo temple, in Guadalajara, Mexico.
Along with García, Susana Medina Oaxaca and Alondra Ocampo, two of his alleged accomplices who recruited girls for the so-called "Apostle", were accused.
Ocampo, 39, who was facing a separate trial, pleaded guilty in October 2020 to four counts, including rape and committing a sexual act and an act of sexual penetration against the will of a victim. The California prosecutor's office considers her the main accomplice of the religious leader.
The woman, who belonged with her parents to the La Luz del Mundo church, also said she had been a victim of sexual abuse and described Naasón Joaquín García as "a monster", in a Univision Noticias report.
Naasón Joaquín García is today an inmate with bail set at $ 90 million — the highest in California history.
His lawyer, Alan Jackson, stated during the hearing this Friday that a few days ago he received text messages that occurred between two whistleblowers, whose identities are protected (Jane Doe 2 and Jane Doe 3), and that they allegedly had conversations about the consumption of marijuana, his participation in a robbery, having had sexual relations with other young people and the criminal case.
"Garcia was set up," said the lawyer.
Jackson considered these details as "problematic", because he learned of them just a month before the scheduled date for the trial scheduled for September 27. For this reason, prosecutors Patricia Fusco and Jeffrey Segal did not oppose the postponement of the trial, although they considered the defense allegations as "exaggerated."
Thus, Judge Ronald S. Cohen granted the request and scheduled a preliminary hearing for October 15.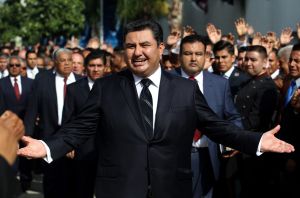 "Justice is seeing him behind bars," says Sóchil Martin
Among those attending room 101 of the Los Angeles County Superior Court this Friday were Sóchil Martin, one of the alleged "sexual servants" of Naasón Joaquín García; her husband Sharim Guzmán, her lawyers and five other alleged victims of sexual abuse.
"Before I was very afraid of him and I thought I was going to be afraid to see him," he said.
"Now I only have courage." Sóchil Martin is the woman who reported García in 2018 to the California prosecutor's office and who filed a civil lawsuit in February 2020 against La Luz del Mundo, Naasón Joaquín García, the Council of Bishops and various individuals from that church.
"The last time I saw him was at his office in Jalisco [México] where he raped me, "he said.
"The last time I heard your voice was when I was making plans to try [trata humana] me and my daughter … I was very afraid, also for all my colleagues who are here [en la corte] in case this man returns to the streets ".
Although she added that in the courtroom she felt safe, she said she feared for the fate of families, minors or couples who have contacted her to express their wishes to leave La Luz del Mundo but who "have been threatened or forced to sign documents. not to say anything, because if they do, they send guards around their houses to intimidate them, "said Sóchil Martin.
Nervously and frantically rubbing a handkerchief in her hands, she described that she saw in her alleged perpetrator "a man who has no shame or remorse; a man who is dangerous, a person does not understand what he did or that he does not care ".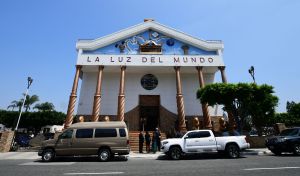 He said that, although the word justice has many meanings, "the first thing is that he [Naasón Joaquín García] he has to be behind a jail as a first step and acknowledge what he did, apologize for him and the people who helped him ".
Sóchil Martin and her husband said they are being part of an organization that, in Mexico and the United States, will fight to denounce human trafficking, "a very dangerous issue that happens in La Luz del Mundo in this 21st century."
He argued that for 30 years he was a victim of La Luz del Mundo and that for almost 15 years, a victim of Naasón Joaquín García.
"I paid a high price to be born [dentro] of this church ", he affirmed.
"We innocent victims have waited for the day when a jury will see the evidence of their heinous behavior and will confirm to the followers of the Light of the world and to the world that Nason is not a man of God, or a man to be idolized, but a criminal. Today was supposed to mark the final step toward Naason's trial; however, his trial was delayed once again ".
Eliezer Gutiérrez Avelar, pastor of La Luz del Mundo church, responded in writing to La Opinion with a statement shared on Twitter stating: "Let us trust God, brothers, the truth will come to light. We know the Apostle of Jesus Christ Naasón Joaquín García; his whole life is recognized by thousands and thousands of families ".
"Ms. Sochil's comments demonstrate exactly what has been wrong in this case from the beginning: a rush to judge in the media before any evidence has been presented at trial and indeed, even while it has been withheld evidence from defense team. I would like to make this observation, and then return to the content of the statement, "he added.


Source-laopinion.com