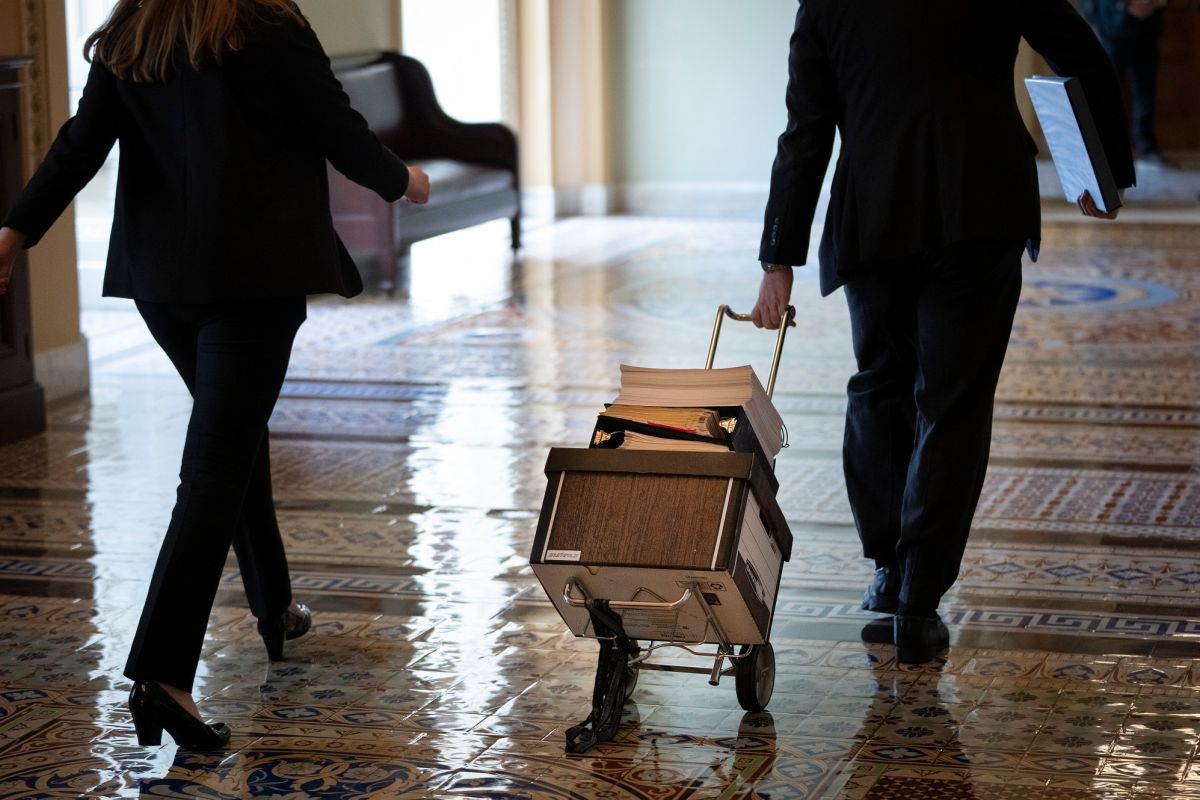 Photo: Drew Angerer / Getty Images
In unusual weekend gatherings, Senators successfully finalized the $ 1.2 trillion Infrastructure Investment and Employment Act, promoted by President Joe Biden, which is part of the new economic plan of the president.
It is a bipartisan bill that President Biden lobbied directly in several sessions with Republicans and Democrats to secure approval in Congress.
"We haven't done a big, bipartisan bill of this nature in a long time," said the Senate Majority Leader, Chuck schumer (New York), after revealing part of the content of the plan whose first advance was completed on July 28.
Investments include $ 66 billion to railroads, something that congressmen have highlighted when considering it to be the largest expense since Amtrak's inception in the 1970s.
It also includes $ 55,000 million that will finance the replacement of water pipes containing lead in the country, in addition to $ 65.00 million to expand broadband Internet access.
Republicans had pushed their own ideas for the proposal, which originally was for $ 2.25 billion, but President Biden agreed to reduce it in response to requests from the opposition.
"(The plan) takes our outdated infrastructure in this country and modernizes it, and that's good for everyone," said the senator. Rob portman (Ohio), the top Republican negotiator on the bill.
The plan considers $ 7.5 billion dollars for the construction of the first network of charging stations for electric vehicles, one of the projects most defended by President Biden, since he considers it essential to lay the foundations for future transportation. This plan has been highlighted by environmental activists.
Senator Schumer assured that this week would be the vote on the package that contemplates investments of $ 550,000 million dollars over five years.
Where do the funds come from?
Part of the new agreement between Democrats and Republicans is that the resources will come from reusing $ 205,000 million of aid against the pandemic of COVID-19 approved by Congress.
Unemployment bond funds that some states rejected, but does not contemplate an increase in gasoline taxes, as originally proposed, will also be taken back.
The proposal to increase taxes was left out, but the Democrats accepted the application of tariffs for those who use the infrastructure to be modernized.
The package preview, built into a 2,700-page project, is a great triumph for President Biden, since its approval in plenary session seems more realistic, although debate on investment details is still awaited.
Senator Schumer had an intense challenge within his caucus to get his colleagues to support the plan, since the Kyrsten sinema (Arizona) had marked its distance just a week ago, but now it has recognized important advances and agreements.
"I know it has been difficult and I know it has been long," he said. "And what I am proud to say is that this is what our ancestors intended."