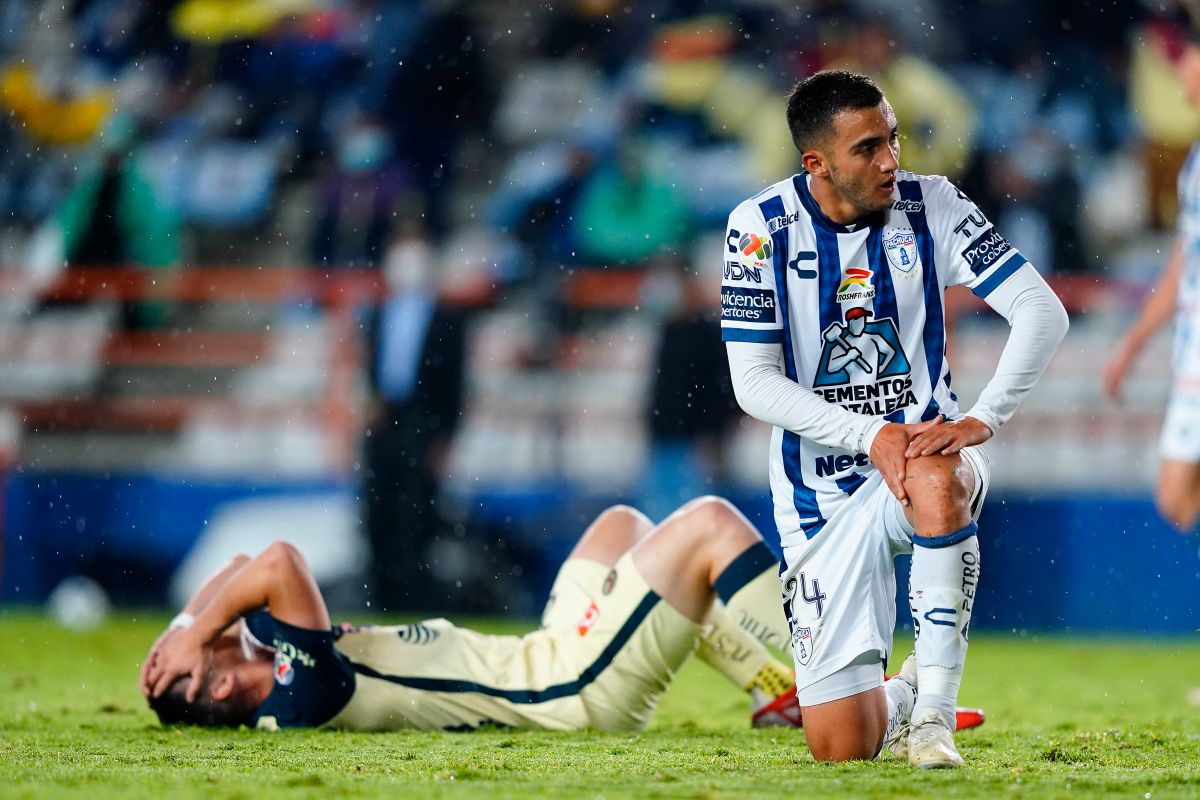 Photo: Alejandra Suárez / Imago7
The Eagles of America from the Argentine coach Santiago Solari tied this Tuesday for 1-1 with Pachuca and, although they reached three games without winning, were confirmed in the leadership of the tournament Mexican soccer opening.
In the continuation of the eleventh day of the championship, the Argentine Gustavo Cabral gave Uruguayan coach Paulo Pezzolano's Pachuca an advantage and Salvador Reyes tied the duel for América.
The initial half was alternate domain; in the 33rd minute, on a free kick, Cabral finished off with a header to give the Tuzos the advantage, from which the home team imposed conditions.
When America's worst play, match in the middle of the court, Kings made good returns from a play started with a combination among the Olympic medalists Sebastián Córdova and Henry Martin and with a right shot he tied.
The second half was boring, with little football and both teams down; Víctor Guzmán failed in a shot on goal in 85, stopped by the América goalkeeper, Guillermo Ochoa, and the Uruguayan Federico Viñas let the victory go for the azulcremas, in the 95th minute, stopped by the goalkeeper Oscar Ustari.
America what he lost nine days ago with Toluca and drew on Saturday with Guadalajara was confirmed in the lead with six wins, four draws, one loss and 22 points, two above Monterrey and Toluca and three on the Atlas, defeated this Tuesday by 0-1 by Puebla.
In an unexpected result, Puebla put a wall to the impetuous Atlas and prevented him from jumping to second place by defeating him with a target from the Uruguayan Christian Tabó, with a goal at the angle in the discount of the initial half.
The Paraguayan goalkeeper Antony silva stopped a penalty taken in the 53rd minute by Aldo Rocha and preserved the victory of Puebla that rose to thirteenth place with 12 points.
Shortly before the Mazatlán of the Spanish coach Beñat San José defeated Juárez FC 3-1 and kept alive his chances of qualifying for the quarterfinals.
An own goal by José Juan García, a target by Brazilian Camilo Sanvezzo and another by Mexican Bryan Colula They gave the victory to the painting of San José, while Pedro Garay discounted for Juparez.
The day began with the victory of Necaxa, 3-1 over the Xolos de Tijuana with annotations by Luis García, Argentine Maxi Salas and Alan Medina.
This Wednesday the San Luis will receive the Tigres UANL and Querétaro to Guadalajara, while Cruz Azul-León and Pumas-Santos Laguna will postpone their commitment to November.
You may also like:
The Eagles of America denounced the gender violence of Gerardo Velázquez de León against the club's press officer
Marco Fabián: the Mexican who went from playing in the Bundesliga to selling greetings for $ 52
Cruz Azul will seek to give Mexico another title and increase paternity over MLS


Source-laopinion.com