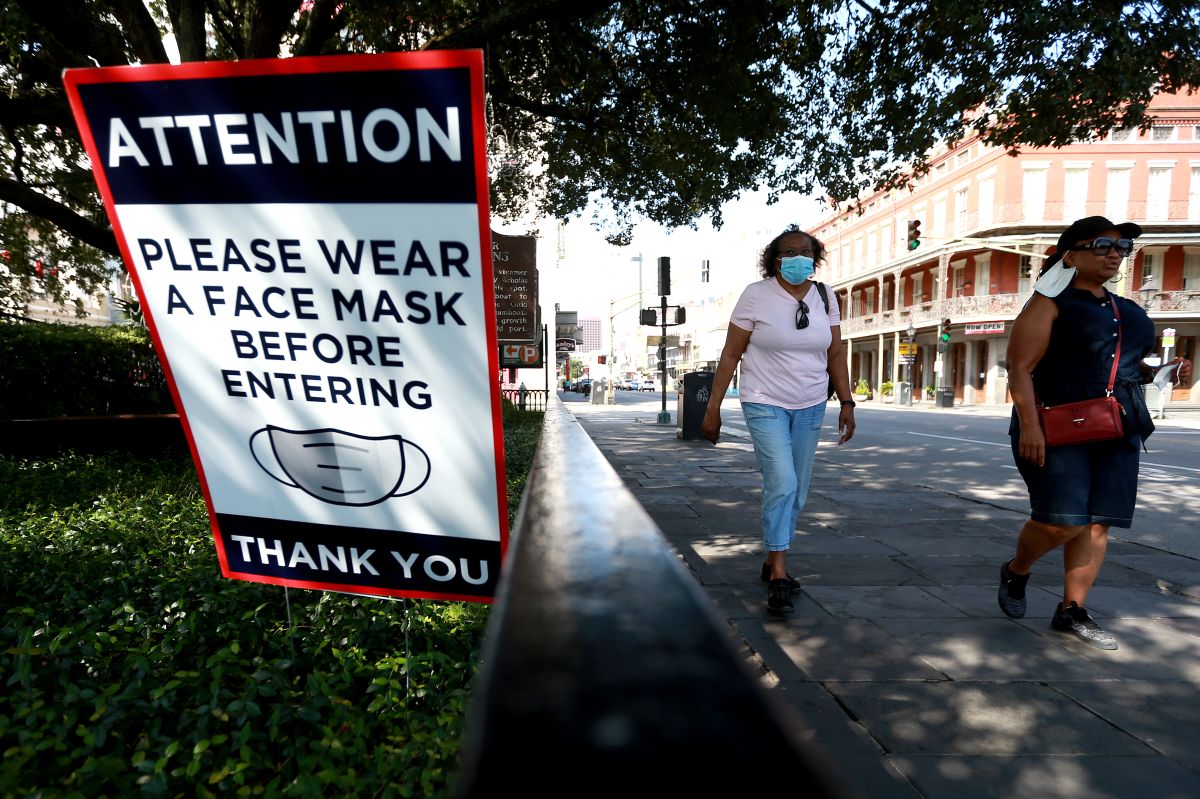 Photo: Sean Gardner / Getty Images
The governor of Louisiana John bel edwards He said Friday that he is "seriously considering" reinstating a state mask mandate, as his state leads the country in per capita growth of new COVID-19 cases and is among the least vaccinated states in the country. according to CBS News.
"At this point, it's not about vaccinating or masking. We have to do both, "Edwards said at a news conference. "When the facts change and you learn new things, you have to change your approach. You can't keep doing the same and expect a better result ".
Getting vaccinated means you're less likely to catch COVID-19 and more importantly, it means you're much less likely to have a severe reaction. Protect yourself, get vaccinated. https://t.co/c3yx8bhKoQ. #lagov pic.twitter.com/WnaOmJlwSH

– John Bel Edwards (@LouisianaGov) July 30, 2021
In May, Edwards lifted his state's face mask mandate, saying most fully vaccinated residents no longer have to wear them indoors as access to vaccines expands.
But last week, the governor, along with the Louisiana Department of Health, amended the mask guidelines and asked vaccinated and unvaccinated residents to wear masks indoors amid the surge in cases.
On Friday, The Louisiana Department of Health reported more than 5,300 new COVID-19 cases and 31 deaths.
There are currently 1,740 people hospitalized for complications from COVID, which is seven times more than the previous month, according to Dr. Jospeh Kanter of the state Department of Health. He said that 90% of those hospitalized with COVID-19 are unvaccinated patients. "As in the cases, there is still absolutely no indication that it is slowing down," Kanter said.
NEW: @LADeptHealth dashboard now includes data about unvaccinated patients.

Per LDH, 90% of new cases and 85% of new deaths, from July 15-21, are unvaccinated people. 89% of patients in hospitals statewide are not vaccinated @wdsu pic.twitter.com/Cgasvgi06t

– Christina Watkins (@CWatkinsWDSU) July 30, 2021
The highly contagious Delta variant of the virus is currently attributed to at least 83.7% of all COVID-19 cases in the state, Governor Edwards said. "Anyone who is COVID positive in Louisiana should assume they are from the Delta variant," he added.
Edwards mentioned that 45 hospitals in the state have requested additional staff assistance as cases increase and the Health Department is working on a contract for more hospital beds.
On Monday, one of Louisiana's largest hospitals suspended the scheduling of non-urgent surgical procedures that require hospital beds, which, according to Dr. Kanter, "really has consequences." He described the health worker staffing shortage as a "national problem" that has been difficult for workers "after a very traumatic year."
Both Kanter and Edwards urged Louisiana residents to get vaccinated and adhere to masking recommendations. Currently, 36% of Louisiana's population is fully vaccinated against the virus, with one of the lowest rates in the country.