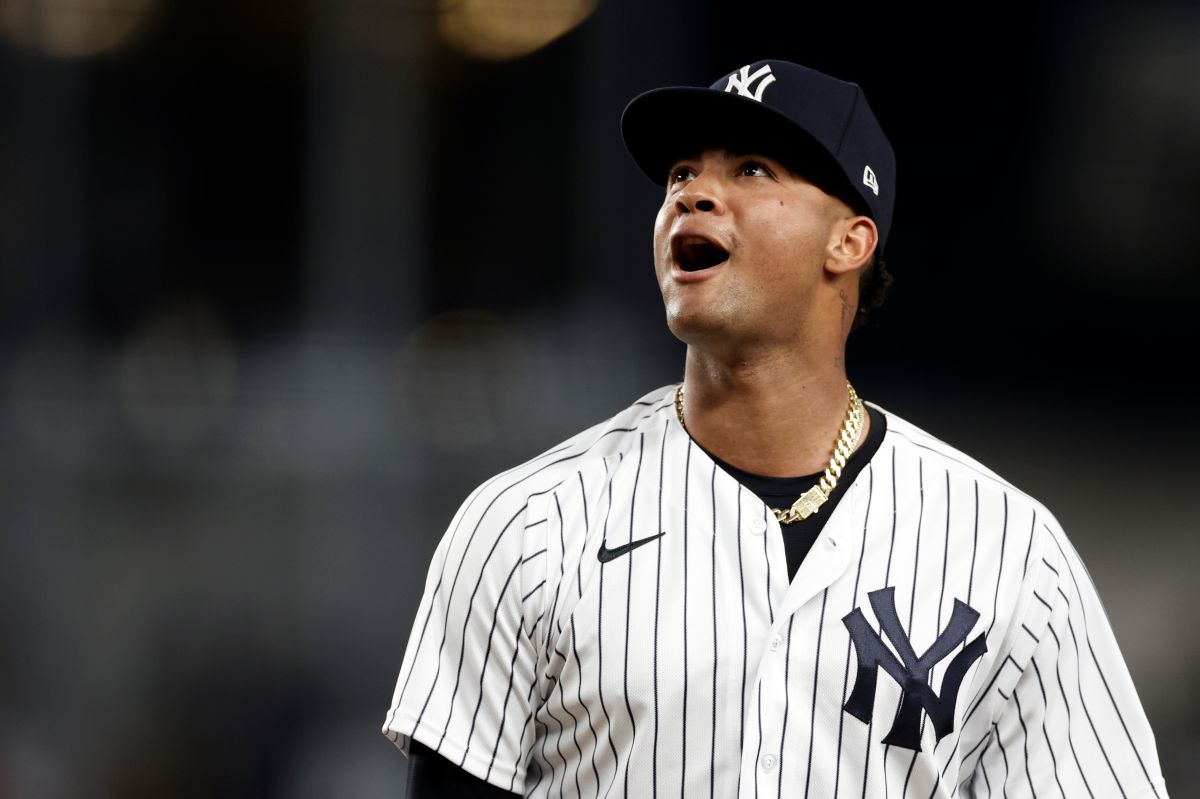 Photo: Adam hunger / Getty Images
Luis Gil is a Dominican rookie who has become the new New York Yankees sensation. With just three starts, he made MLB history. His path is just beginning and excites New Yorkers as much as the Dominican Republic.
This Tuesday he completed his third start brilliantly, allowing no runs in 4.2 innings against the Boston Red Sox. That is why he entered the history of the Major Leagues: he became the First pitcher to not allow runs in his first three MLB starts.
Luis Gil is the first pitcher in @Yankees history to begin his career with 3 scoreless starts. pic.twitter.com/B7LhrSrmLg

– MLB Stats (@MLBStats) August 18, 2021
Gil made his debut on August 3 against the Baltimore Orioles: he threw 6.0 innings, striking out six opponents and allowing only four hits.
Five days later he faced the Seattle Mariners and over five innings he struck out eight opponents.
Finally, nine days later, he gave us another dominant display against the classic Yankees rival. New York beat Boston, and even though the Azua native didn't win, his performance didn't go under the table.
"With God everything, without him, nothing," exclaimed the right-hander through Twitter, who is a member of Tigres del Licey on the Dominican ball.
With God everything, without nothing! 🙌🏽💪🏽🙏🏽❤️
Go @Yankees
– – – – – – – – – – – – – – – – – – – – – – – – – –
With God everything, without nothing! 🙌🏽💪🏽🙏🏽❤️
Lest's go @Yankees https://t.co/VZop72qzem

– Luis Gil (@ thegil81) August 18, 2021
Totaling his three starts, Gil has 15.2 innings of work, with 18 strikeouts and a 1-0 record, as well as a perfect ERA (0.00 ERA).
Gil's here and he's historic. @ thegil81 🙌 pic.twitter.com/B3L30vXoeW

– New York Yankees (@Yankees) August 18, 2021
23-year-old Luis Gil was returned to Triple-A after tonight's doubleheader. Why did it go down if your performance was fantastic? Because he entered the roster as a "27" player, as a replacement for COVID.
In theory, he never made it to MLB. And for roster management, he is "returned" to the Minor Leagues. Still, his work on the mound has given Yankees managers plenty of reason to consider giving him a permanent spot on the team in the coming weeks.
Following today's doubleheader, the Yankees returned "27th Man" RHP Luis Gil to Triple-A Scranton / Wilkes-Barre.

– New York Yankees (@Yankees) August 18, 2021
Is the next diamond star born for the Dominican Republic?
Luis Gil, Elevated 98mph ⛽️ pic.twitter.com/9jiTMhECbw

– Rob Friedman (@PitchingNinja) August 17, 2021