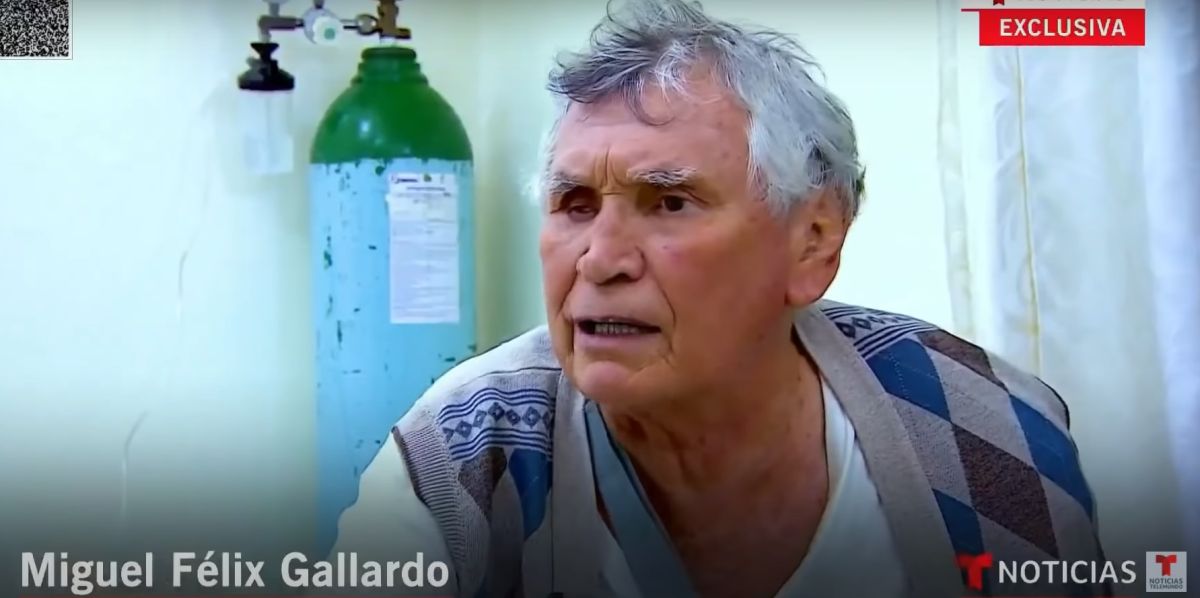 Photo: Telemundo / Courtesy
Miguel Angel Felix Gallardo, aka the Chief of Chiefs and former leader of the Guadalajara Cartel, wished from jail that "things go well" for the Mexican president Andrés Manuel López Obrador (AMLO) in their attempt to reduce violence in the country.
Interviewed by Telemundo in the maximum security prison of Puente Grande, in Jalisco, the drug lord who has spent 32 years incarcerated and serving a sentence of 37 for drug trafficking offenses and money laundering, rejected the amnesty proposed by López Obrador for elderly prisoners.
-Read more: El Chapo's son sends a message to AMLO and treacherous men // VIDEO: Hitmen are filmed when they murder a young girl
"And I wouldn't take your time. I am a corpse, which does not aspire to more than being buried in the root of a tree. I'm not asking the Lord for anything. On the contrary, I hope it goes well for him ".
"I know that the president is a man of good will who is fighting social inequality. He is giving pensions, he is giving many things, "he told Telemundo.
Felix gallardo, in prison since 1989, when he was arrested for the murder of Enrique Camarena, an undercover agent of the DEA, the US anti-drug agency, rejected all the accusations against him.
Prone in a wheelchair, blind in one eye and deaf in one ear, the Chief of Chiefs assured that the violence in the country is the result of social inequality.
"The violence is the result of unemployment, of the social inequality that today Mr. López Obrador is solving little by little. You have to give it time. You have to give it time, "he said about the president.
"This bacteria greatly lowered the purchasing power of Mexicans, but this man is of good will and hopefully God helps him," he added in apparent reference to the new coronavirus.
When he led the Guadalajara Cartel, Felix gallardo He was a key figure in the expansion of drug trafficking in Mexico.
In the 1980s, the organization, which until now was dedicated to trafficking in marijuana and opium, was one of the first to establish contacts with Colombian drug lords to transport cocaine from the South American country to USA.
Despite this, in the interview with Telemundo, he denied having been involved in any illicit activity, stating that he made a living from agriculture, livestock, pharmacies and two old hotels that belonged to him.
-You may also like:
· VIDEO: Hitmen are filmed while murdering a young girl // El Kalimba, whipped women and ended up dismembered
· Well-known porn actress reveals extreme sexual tastes of children of Chapo Guzmán // VIDEO: This is how the Catrina of the CJNG died
VIDEO: CJNG dismembers a woman alive // ​​The actor who gave life to Gohan in Dragon Ball is shot to death
· VIDEO: They kill a narcocorrido singer with 100 bullets; that's how his truck was