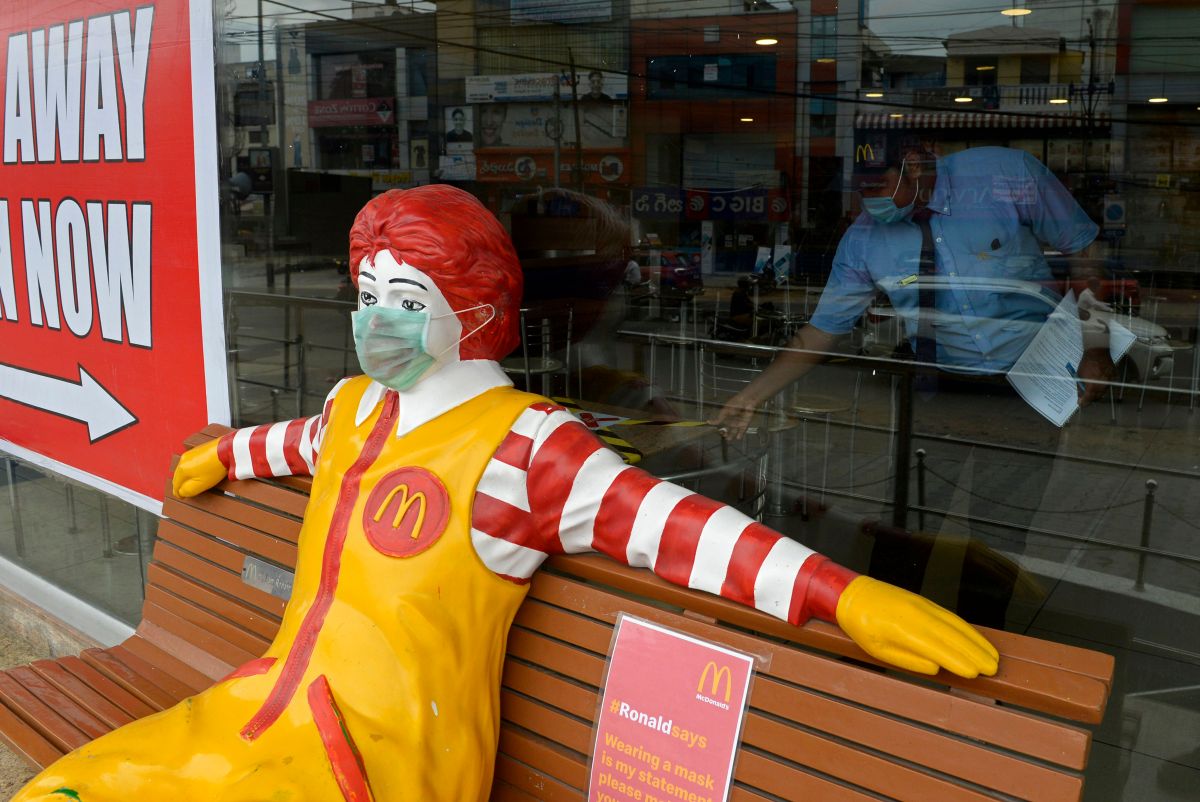 Photo: NOAH SEELAM / AFP via Getty Images). / AFP / Getty Images
The corporation that groups American food restaurants, McDonald's, announced this week that all its customers and service personnel will have to wear sanitary masks again in their restaurants throughout the United States from August 1.
The measure extends mainly to restaurants that are located in areas that are already being declared of high contagion with the new delta variant of COVID-19.
Regardless of whether you are vaccinated or not, to enter the fast food restaurant of the golden rings everyone must wear a mask.
Having this measure again may affect the attendance of clients who do not agree with the measure.
This way part of the new recommendations of the Centers for Disease Control and Prevention (CDC) of the United States, due to the rapid spread that the new delta variant of the virus has been shown to have.
In the United States, with the advancement of the vaccination plan, people vaccinated with the two doses had been allowed to circulate freely without a mask. Instead, the recommendation for those who decided not to get vaccinated was to continue wearing the mask.
Following these recommendations, not only business premises are changing their regulations for customers, but also for employees.
Local governments are also changing their regulations. Nevada and Kansas City were among the first to reintroduce the use of masks indoors and outdoors. Other states, such as New York, have imposed as regulations the requirement of the vaccine to enter some places such as restaurants, theaters and others.
While some companies are considering whether to require the vaccine or not for the return to work. On these vaccination requirements, in which many American companies were being quite flexible, they have changed in recent weeks. Well, the cases of contagion in the United States are increasing again, more in some states than others, but the situation once again raises the alarms of the hospital centers.
Department stores such as Walmart, Target, CVS pharmacies and the Starbucks coffee chain also again required the mandatory use of face masks.
Currently, Florida, Texas and California are among the states where the highest number of cases of contagion is on the rise.
McDonald's was one of the companies that at the beginning of the pandemic maintained only external service and in the middle of the year they demanded mandatory sanitary masks and put up panels to separate employees and customers.
Likewise, at the time, it trained its employees to provide service to customers who for some compelling reason could not use the mask. This time the exception is probably for areas where there are no high numbers of infections.
**
You may also like:
Videocurriculum could become the new trend to get a job