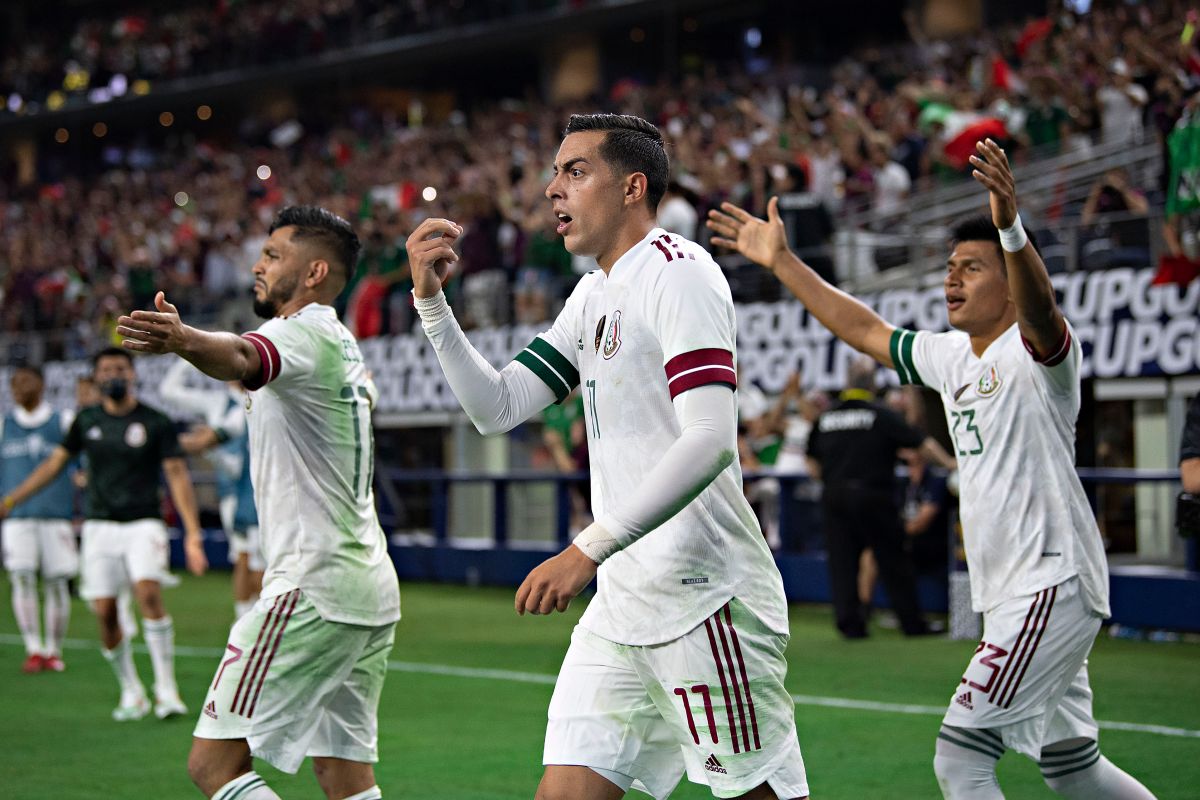 Photo: Etzel Espinosa / Imago7
The Mexican team will begin its path to the World Cup in Qatar this Thursday with a match against Jamaica at the Azteca Stadium, which will have the doors closed to fans as a penalty for their homophobic expressions.
Directed by the coach Gerardo "Tata" Martino, Mexicans come out as favorites to qualify directly to Qatar in the Concacaf tie, but its beginning will be sad, in a stadium that is usually the scene of a party and this time it will be silent.
For years, The Mexican Federation has been required and sanctioned by a homophobic scream that the fans throw from the stands at the rival goalkeepers. Although the institution carried out convincing campaigns to avoid the offense, it has not been successful.
With the difficulty of not having the support of his people, the Mexicans will look for the first three points against a rival that arrives with the absence of 11 English Premier League players, they weren't on loan from their teams, including West Ham's forwards Michail Antonio and Leon Bailey.
Mexico will also not have some of its referents of the attack such as Raúl Jiménez, from Wolverhampton English, e Hirving Lozano, from Napoli of Italy and will also be absent in midfield to Héctor Herrera, from Atlético de Madrid.
🚨THE LOSSES OF MEXICO FOR THIS DATE FIFA🚨#MarcaClaroMVS
📻102.5 FM
📺336 Dish
💻 https://t.co/hR2c0F2h2K pic.twitter.com/l4gxAJWmWL

– BRAND Claro (@MarcaClaro) August 31, 2021
At 2,240 meters above the sea, Mexico has everything in favor to prevail, but he must not underestimate a rival with fast men who will take care of the defense.
The Mexicans They start the tie after a couple of failures against the United States, in the Gold Cup and the Concacaf Nations League, thorns that Martino will try to remove in the octagonal tournament that in the first round will have another three duels: Canada-Honduras, Panama-Costa Rica and El Salvador-United States.
Mexico will continue its participation in the tie with visits to Costa Rica, on Sunday, September 5, and Panama, on Wednesday, September 8.
👊🏻💥Start the #RoadACatar from @miseleccionmx by @ MyChannel5 📺

🔜First stop:
🇲🇽Mexico vs Jamaica 🇯🇲
Thursday at 8:30 pm

🔜Second:
🇨🇷Costa Rica vs Mexico🇲🇽
September 5 at 5:30 pm

🔜 Third:
🇵🇦Panama vs Mexico🇲🇽
September 8 at 7:30 pm pic.twitter.com/0bCfRbQcQ0

– TUDN MEX (@TUDNMEX) August 30, 2021