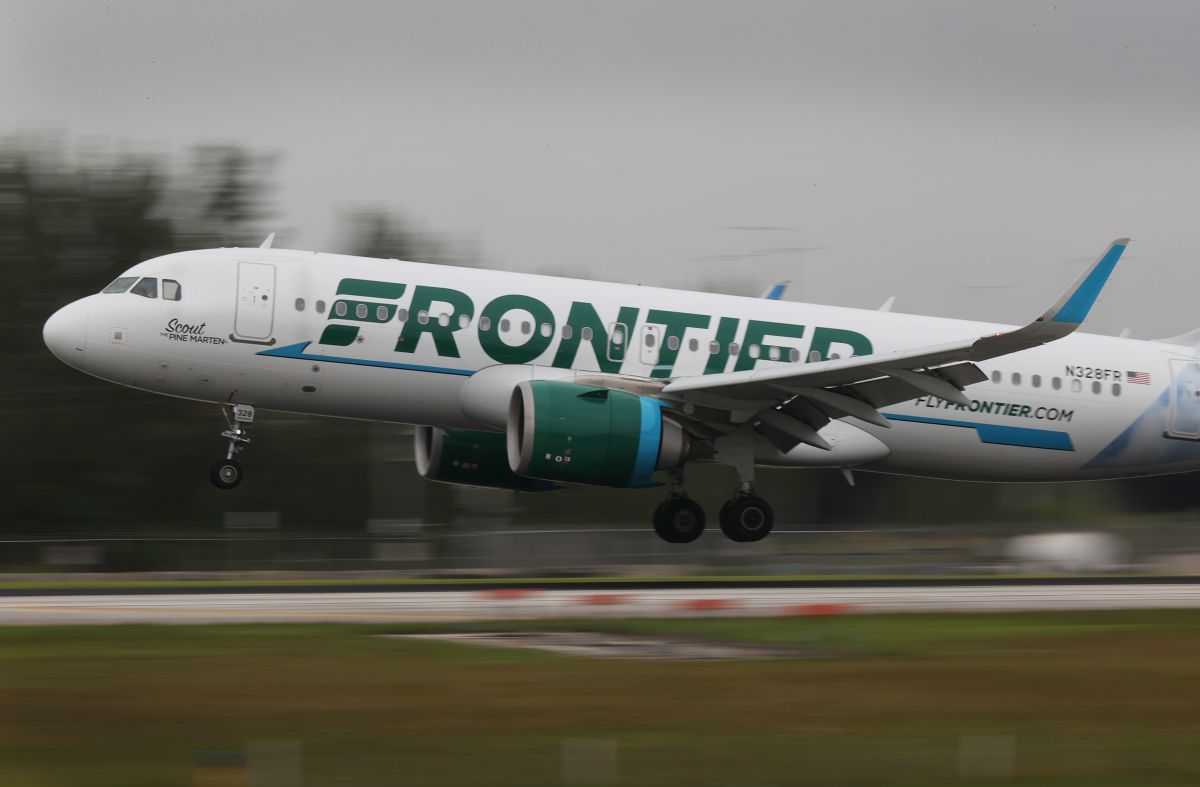 Photo: Joe Raedle / Getty Images
A man traveling on a Frontier Airlines flight ended up taped to his seat after a series of incidents among which is groping and punching a flight attendant in the face.
The police report notes that 22-year-old Maxwell Berry was sitting in seat 28D and had ordered two alcoholic drinks from a flight attendant. When finished he requested a new round and supposedly brushed his empty glass on the stewardess's butt in an inappropriate way. The incident occurred on the July 31 flight from Philadelphia to Miami.
The report mentions that the stewardess responded to the passenger saying "don't touch me." Despite this, the passenger was served another drink.
Then Berry spilled his drink on his shirt so he went to the bathroom and left without it. According to the police report, the flight attendant told him to put on a shirt and helped him remove a new one from his carry-on luggage.
Due to increased passenger violence on flights, American Airlines and Southwest Airlines postponed their alcoholic beverage service in May in an effort to stem a wave of passenger indiscipline as flight attendants have received anything from insults to beatings. during flights.
The young man continued to walk down the aisle of the plane for about 15 minutes and then "began to act nice" and even a second stewardess groped her breasts. A third flight attendant told the passenger to sit down and stop touching his partner. However, the police report mentions that the man was "He approached from behind and wrapped his arms around both hostesses and fondled their breasts again" And it seems punched one of them in the face.
According to the Federal Aviation Administration (FAA), until June it received more than 3,000 reports of indiscipline from passengers, of which 2,300 correspond to people who have refused to use a mask while traveling.
Videos posted on social media show a crew member in which is taping the young man to a seat with the help of a seat belt extender while some of the passengers celebrate the action. Berry remained strapped to the seat until the flight landed in Miami to later be arrested and charged with three counts of assault.
Cell phone video you'll only see on @ WPLGLocal10 shows to @FlyFrontier flight attendant duct taping an unruly passenger to his seat on Flight 2289 from Philadelphia to @iflymia. @MiamiDadePD says Maxwell Berry groped two flight attendants and punched a third. pic.twitter.com/SSLpCer8wh

– Madeleine Wright (@MWrightWPLG) August 3, 2021
Related: 3,000 Undisciplined Passenger Reports: Airlines Ask Justice Department for Exemplary Punishments
According to Local 10 News, the report states that due to the incident "the passenger had to be restrained until the flight landed in Miami and the police arrived. The flight attendants will, as required in such circumstances, not be able to fly until the investigation of the facts is completed. "
You may be interested in: