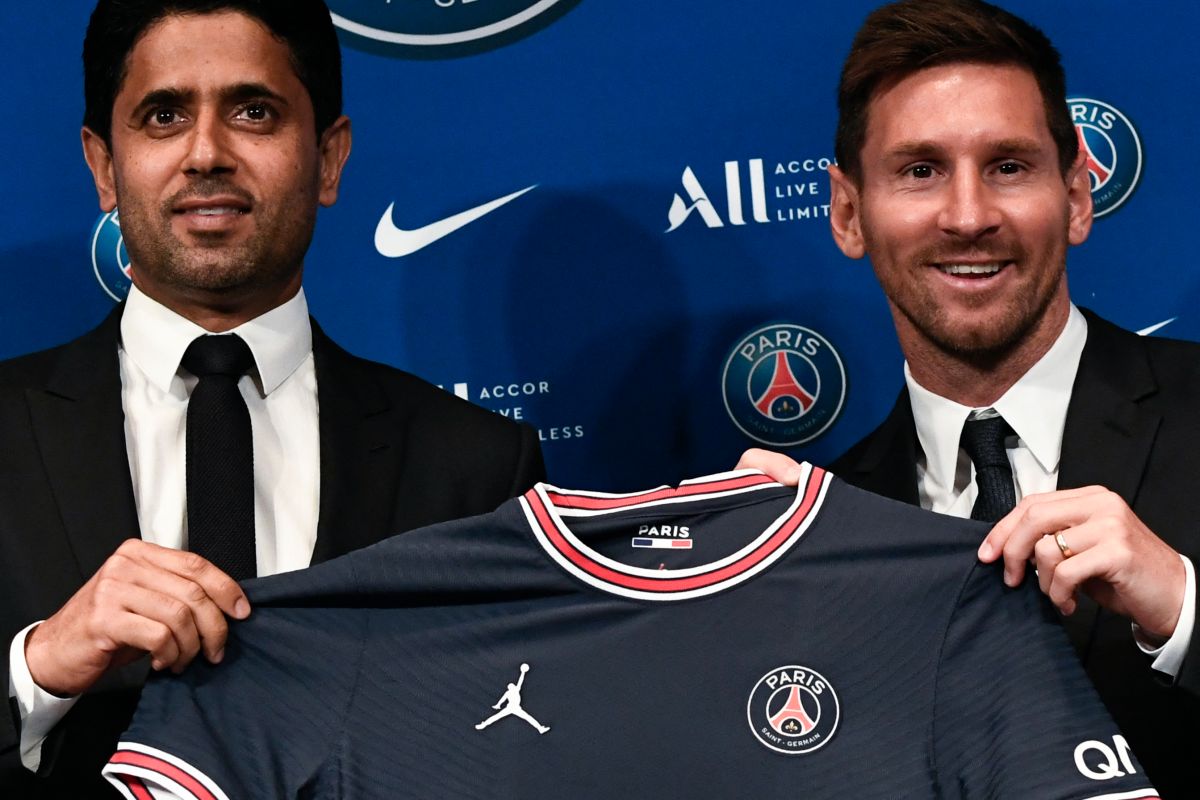 Photo: STEPHANE DE SAKUTIN / AFP / Getty Images
Paris Saint-Germain has one of the most expensive squads in world football. The French team experienced a resurgence with the arrival of the sheikh Nasser Al-Khelaifi and its impressive millionaire investment. The modest PSG knew how to bring footballers like Zlatan Ibrahimovic, Edison Cavani, Neymar, Kilyan Mbappé and Lionel Messi himself.
🔴🔵https: //t.co/2FROhSNgw8 welcomes Lionel Messi, Gianluigi Donnarumma, Sergio Ramos, Achraf Hakimi
& Georginio Wijnaldum to the @PSG_inside Familia.#PSGxMESSI | $ PSG ⚡️ $ CHZ pic.twitter.com/6TA7mded8e

– Socios.com (@socios) August 11, 2021
The new world football market is being marked by businessmen from the east. The PSG lived an exaggerated transformation thanks to the economic income that allowed him to break the transfer market summer to summer. Qatar Sports Investments has taken it upon himself to sustain this star-studded team.
THE ABSOLUTE INSANITY. Neymar was presented to the PSG fans at the Parc des Princes: https://t.co/dDyXd9jVzj pic.twitter.com/HUalEO7MtP

– Undefeated (@InvictosSomos) August 5, 2017
Lionel Messi may not be the best example, since "La Pulga" arrives as a free agent from FC Barcelona. However, it is estimated that the Argentine will receive some € 40 million euros ($ 47.1 million), net per season. Although this season the Parisian team has used players without contracts, their investment in the last ten years has been close to € 1 billion euros ($ 1,179 million).
Zlatan Ibrahimovic was presented at PSG with the Eiffel Tower in the background. Crack. pic.twitter.com/g9AEiNYy

– Kike Arrieta (@enriquearrieta) July 18, 2012
PSG's most outstanding transfers in the last ten years
2011: Javier Pastore (ARG) signed from Palermo in exchange for $ 49.5 million dollars.
2012: Zlatan Ibrahimovic (SUE) signed from Milan in exchange for $ 24.7 million dollars.
2012: Thiago Silva (BRA), signed from Milan in exchange for $ 49.5 million dollars.
2013: Lucas Moura (BRA), signed from Sao Paulo in exchange for $ 47.1 million Dollars.
2013: Edinson Cavani (URU), signed from Napoli in exchange for $ 76 million Dollars.
2014: David Luiz (BRA), signed from Chelsea in exchange for $ 81.9 million.
2015: Angel di María (ARG), signed from Manchester United in exchange for $ 74.3 million.
2017: Neymar (BRA), signed from Barcelona in exchange for $ 261.9 million Dollars (record transfer in football).
2017: Kylian Mbappé (FRA), signed from Monaco in exchange for $ 212.3 million.
2018: Leandro Paredes (ARG), signed from Zenit Saint Petersburg in exchange for $ 47.1 million Dollars.
2019: Keylor Navas (CRI), signed from Real Madrid in exchange for $ 17.6 million Dollars.
2020: Mauro Icardi (ARG), signed from Inter Milan in exchange for $ 59 million Dollars.
2021: Achraf Hakimi (MAR / ESP), signed from Inter Milan in exchange for $ 70.7 million Dollars.
2021: Sergio Ramos (ESP), signed from Real Madrid in end of contract.
2021: Leo Messi (ARG), signed from Barcelona in end of contract.

With information from EFE.

You may also like:

It was revealed that FC Barcelona has a millionaire debt with Lionel Messi

Smear and new account: Sergio Ramos welcomed Lionel Messi to PSG

The sheikh's new whim: sign Cristiano Ronaldo and build a historic trident at PSG