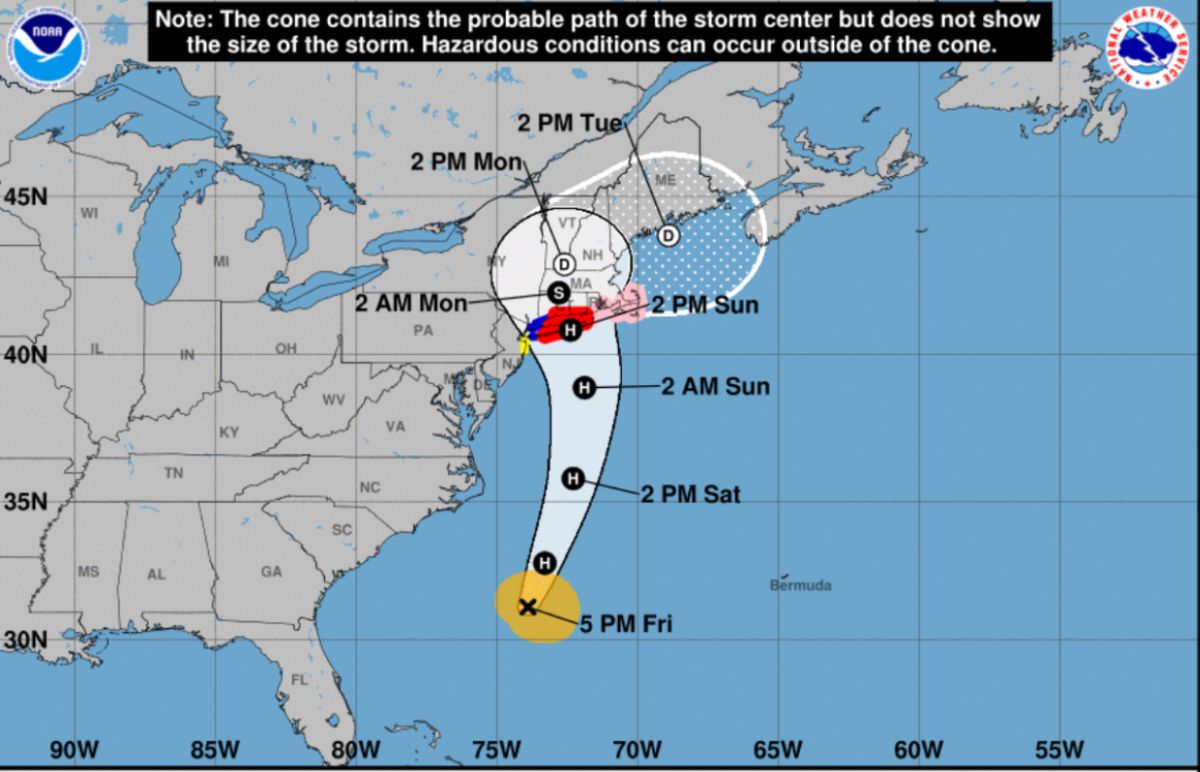 Photo: NHC / NOAA / Courtesy
Tropical Storm Henri moved toward New England, where a hurricane hasn't landed in 30 years. The storm is expected to make landfall Sunday night.
Tropical Storm Henri could become a hurricane on Saturday and will make rare landfall on New York's Long Island or southern New England on Sunday, according to the National Hurricane Center (NHC).
Henri has strengthened in recent hours and is near a hurricane with 70 mph winds, according to the NHC's 5 p.m. update on Friday.
"Although a steady to rapid weakening is forecast as Henri moves over cooler waters south of Long Island and New England, it is likely still at or near hurricane intensity when it reaches shore," the center said. Friday afternoon.
Here are the 5 PM EDT August 20th Key Messages for Tropical Storm #Henri. Parts of the Hurricane Watch area has been updated to a Hurricane Warning for portions of Long Island and Connecticut.

Latest Advisory: https://t.co/e0oWvm0XQT pic.twitter.com/xQvqFJoyy8

– National Hurricane Center (@NHC_Atlantic) August 20, 2021
The last time a hurricane made landfall in this region was Hurricane Bob in 1991. But hurricanes have had significant impacts since then. Irene and Sandy brought devastating conditions with them even though they did not make landfall as a hurricane.
A direct landfall as a hurricane means that the worst winds will hit the coasts.
Forecasting models on Friday morning are more in agreement than they were two days ago, but there is still some mystery about Henri's trajectory, intensity and effects early next week.
1/3 Dangerous storm surge inundation & hurricane conditions are possible beginning Sunday due to #Henri in portions of Long Island, CT, RI, & southeastern MA, where a Storm Surge Watch & Hurricane Watch are in effect. Follow advice given by local officials. pic.twitter.com/0LFyTw9E5o

– National Weather Service (@NWS) August 20, 2021
There is a hurricane warning in effect from the south shore of Long Island from Fire Island Inlet to Montauk Point, to the north shore of Long Island from Port Jefferson Harbor to Montauk Point, and from New Haven, Connecticut, west of Watch Hill, Rhode. Island.
A hurricane warning means hurricane conditions are expected within the area. Forecasters typically issue the advisory 36 hours before the first expected tropical storm-force winds occur.
There is a tropical storm warning in effect for the port of Port Jefferson west of New Haven, Connecticut, and for the south shore of Long Island from west of Fire Island Inlet to East Rockaway Inlet.
The advisory means that tropical storm conditions are expected somewhere within the area within 36 hours.
New York City is under a tropical storm watch, the hurricane center says, meaning storm conditions are possible within the next 48 hours.
Wind shear, the change in wind speed and direction with height, has prevented Henri from strengthening in recent days. That shear is expected to end Friday night, allowing Henri to reach hurricane status on Saturday.
As the storm makes landfall, damaging winds and storm surges are the most significant threats.
"Keep in mind that the tides will be astronomically high this weekend along both coasts," according to forecasters from the National Weather Service in Boston.