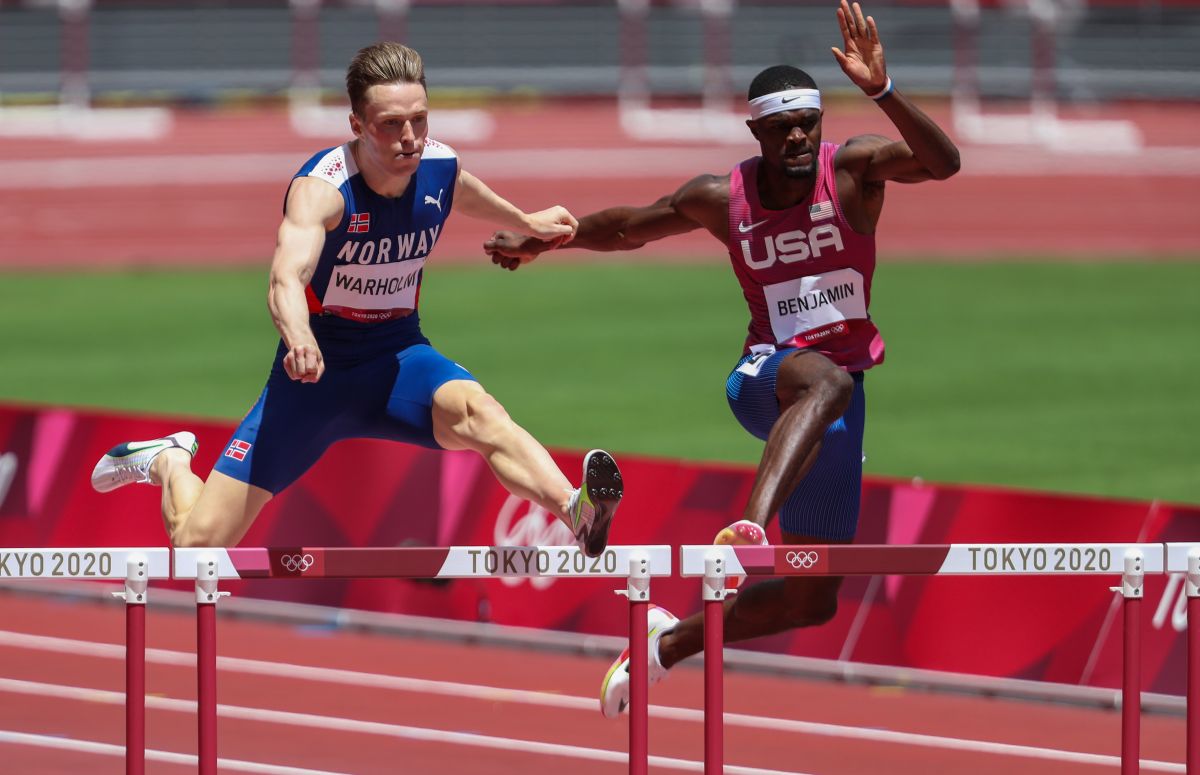 The discipline of athletics in the Tokyo Olympics broke several world records, and one of the most amazing was that of the Norwegian Karsten Warholm, who won the 400m hurdles final.
The sprinter he finished the test in just 45.94 seconds, becoming the first man to do it in less than 46 seconds.
FANCAST # TOKYO2020

Karsten Warholm as Flash

The Norwegian athlete broke the world record in 400m hurdles 🚧 He is the first man in history to drop below 46 seconds 🏃🏼‍♂️ A sprinter at the height of the greatest ⚡️#Olympic Games pic.twitter.com/ijjHlItfce

– Mr. Fancast (@mrfancast) August 4, 2021
The astonished face of one's own Warholm, which had the previous record at 46.70 since last July 1 in Oslo, illustrated the incredible magnitude of his new record. "I have dreamed of this like a maniac," he said.
However, through social networks the achievement of the athlete was disregarded, on the part of those who affirmed that his performance was helped by "Flying slippers", with a trampoline technology that helped him improve his jump.
One of the greatest athletics moments from the Olympics was Karsten Warholm's mesmerizing world record of 45.94.

This is how it went down on Norwegian TV. pic.twitter.com/Pnp2624Ppr#Athletics #Olympics

– AW (@AthleticsWeekly) August 8, 2021
Faced with the accusations, the athlete stated that although their shoes are high-tech they are not designed to alter their performance.
"If you put a trampoline there, I think it sucks. I think it takes away the credibility of our sport. I don't see why you should put something under a running shoe"Warholm assured during an interview with AFP.
CELEBRATIONS THAT ARE NOT FORGOTTEN! ❤️👏

Karsten Warholm broke world record and gave us a celebration worthy of a few #Olympic Games#VamosConTokyo pic.twitter.com/WYQx1CQIyf

– BRAND Claro (@MarcaClaro) August 8, 2021
He also said: "We are trying to make them as credible as possible. Yes, we have the carbon plate, but we have tried to make it as thin as possible because that is how I like to do it. Of course, the technology will always be there, but I also want to keep it at a level where we can compare the results. That is important".
You may be interested in:
FC Barcelona partners demand so that Messi does not sign with PSG
Santiago Naveda off the courts for 4 months after horrifying injury in the América-Puebla match
Video: German coach disqualified for hitting a horse in the Tokyo 2020 pentathlon final