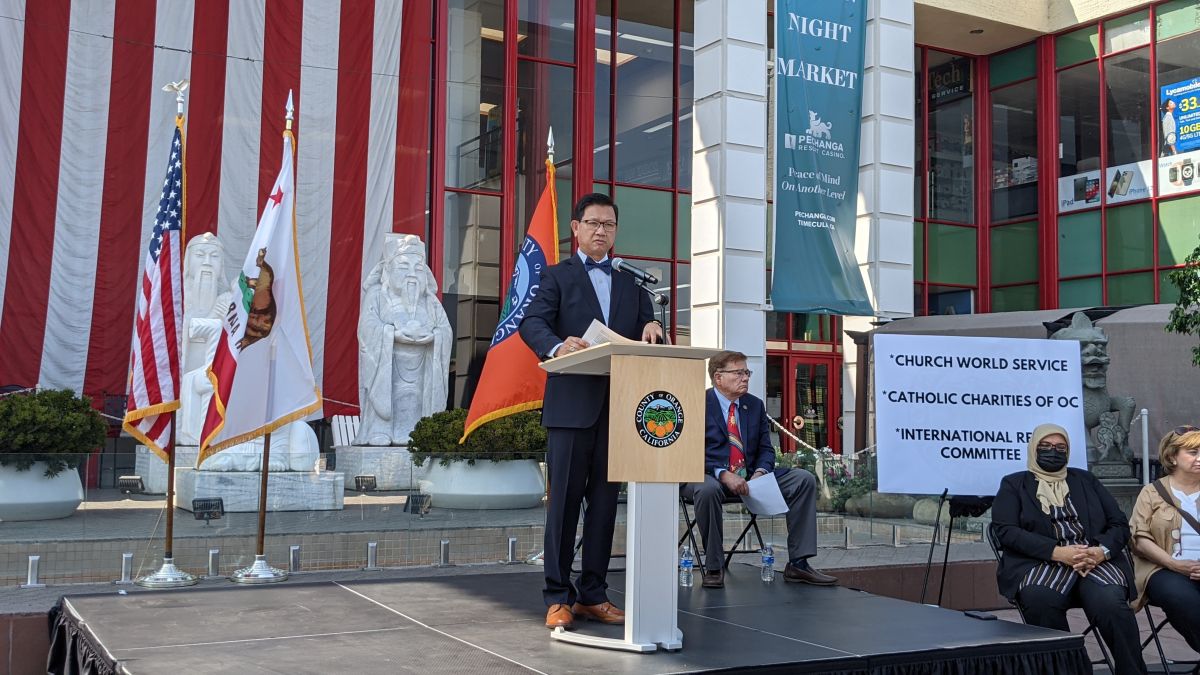 Photo: (Jacqueline García / La Opinion) / Impremedia
In a choked voice, Orange County Supervisor Andrew Do lamented this week the tragedy Afghans are facing in search of freedom and security. And he assured that the images seen in recent days have opened old wounds.
He said that in 1975, he and his family were one of thousands of Vietnamese families who had to flee their homeland after the People's Army of Vietnam (PAVN) took over Saigon, one of the largest cities south of that country. country.
"As a Vietnamese American I have relived those heartbreaking images seeing the Afghan brothers trying to flee," Do said during a press conference.
Currently Do represents the First District of Orange County, which includes Little Saigon – the largest population of Vietnamese Americans in the United States.
The also president of the board of supervisors of Orange together with the vice president of the entity, Doug Chaffee, presented a resolution of support for the resettlement of Afghan refugees. The plan was unanimously approved by the Board.
The plan, which consists of three parts, aims to:
Increase the refugee limit to 100,000 during the current year.
Call on the US Department of Justice to grant immigration probation status to Afghan refugees.
Establishes private associations to support the resettlement of refugees in host communities.
This plan has been added to the Orange County federal legislative platform and directs staff working with Orange County lobbyists to defend it against all relevant federal authorities.
Currently, the annual limit for refugee admission to the United States is 62,500, a plan established by President Joe Biden in May of this year.
Chaffee said the United States has a long history of accepting immigrants and as such should accept Afghan refugees seeking asylum.
"As the president described [de la Junta] Do, we have had many asylum seekers flee communist countries like Vietnam, Cambodia and Cuba in the last decades, "he added.
"If this situation in Afghanistan escalates, the Orange County Board of Supervisors recognizes once again that it is time for the United States to welcome the refugees."
Fayaz Nawabi, policy and advocacy supervisor for the Council on American-Islamic Relations (CAIR) in Los Angeles, said that the airport in Kabul, Afghanistan's capital, is currently in chaos.
To give an example of the situation, he commented that he has relatives there and that his father told him that an Afghan mother gave him his little girl while looking for her other son who had been lost in the crowd.
"There are thousands and thousands of people at these checkpoints at the airport. So I come here to speak in support of the three-step plan, "said Nawabi, who is Afghan-American.
He assured that it is necessary to increase the number of refugees by another 100,000 as there are currently some 88,000 Afghans in Afghanistan, who have worked closely with the US military and its allied forces to support them in various capacities.
The help ranged from interpreters to people who worked in offices, embassies and even postal employees and drivers.
"We want to make sure they get to the United States safely. They are very afraid, "Nawabi said.
"Many of them are hiding in their homes in Kabul, and we want to make sure these people are evacuated and brought safely here to the United States."
Help locally
As Orange County representatives wait for approval of the refugee surge in the United States, in partnership with other allies they are planning how to sustain the refugees arriving in Southern California.
For this reason they asked the general public to donate once possible to non-profit organizations such as Catholic World Service, Catholic Charities of OC and the International Rescue Committee, so that a private fund can be created.
Guadalupe Carrasco, spokesperson for supervisor Do, said that doing this allows refugees to obtain the necessary help without having to resort to expenses.
governmental.
"The board of supervisors sent a letter to Congress and President Biden to show their support for the Afghan community," he added.
Supervisor Do reaffirmed his commitment to this grieving community and said that as soon as the fund opens, he and his family will donate $ 1,000 per month to help.
He appealed to the solidarity of the community to cooperate no matter the amount.
"It takes about $ 30,000 to support a family of four," he said.
"If we all contribute a little to these organizations that are going to help, that will serve to supplement the expenses."