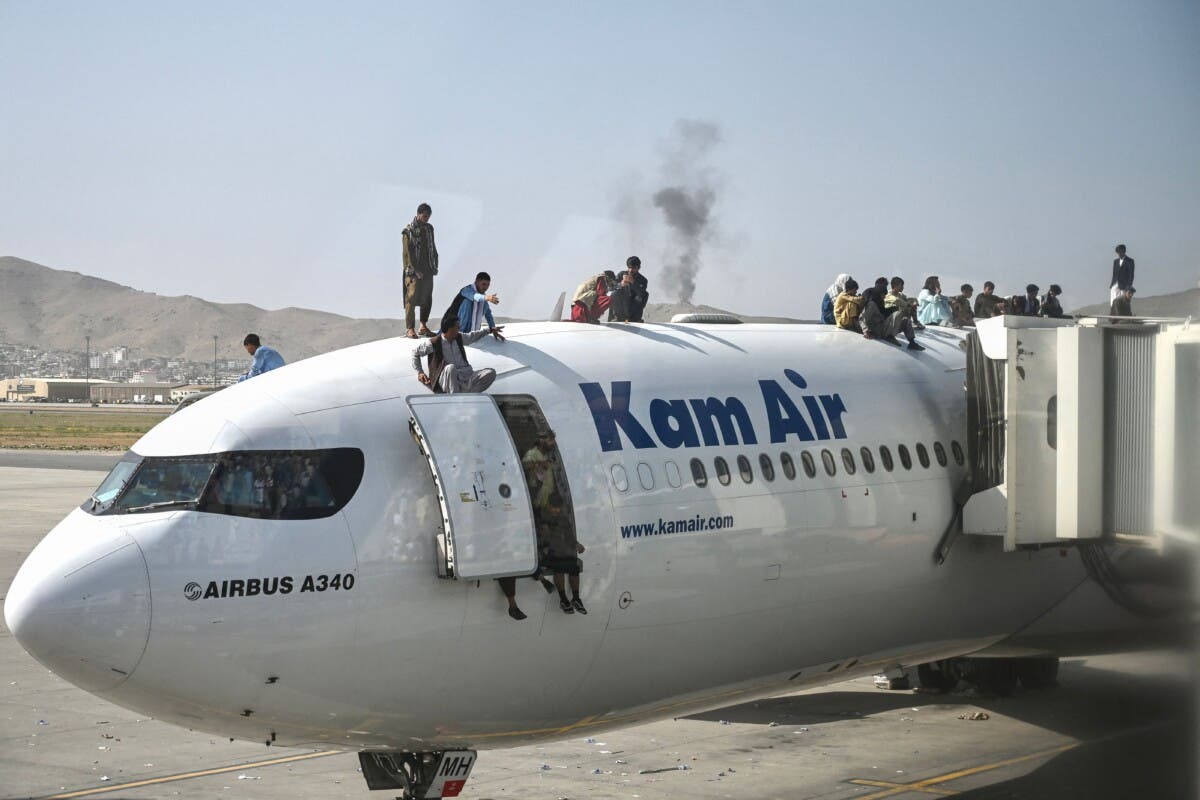 Photo: Wakil Kohsar / Getty Images
Amid the chaos that occurred in the city of Kabul, the capital of Afghanistan, the US military suspended the flights of the Hamid Karzai International Airport, due to the desperation of the Afghans to leave the territory, to the point of trying to get on a C-17 transport plane that was about to take off.
During the stampede of Afghan citizens seeking to flee the country due to the invasion of the Taliban organization, Unknown men fired their weapons against US troops at the airport, leaving two dead, Defense One reviewed.
Hours after the events, authorization was given so that air transport operations on the military side could be resumed. However, the civilian aircraft were still inoperative.
Even it was possible to portray the number of people who boarded the C-17, where it was ensured that 640 Afghans forcibly entered the airplane.
"The Crew Made the Decision to Go:" Inside Reach 871, A US C-17 Packed With 640 Afghans Trying to Escape the Taliban | @TaraCopp and @MarcusReports https://t.co/lf3LajxzzX pic.twitter.com/6wg82LtfRc

– Defense One (@DefenseOne) August 16, 2021
US Department of Defense spokesman John Kirby stated that due to the large crowds on the runway, flights could not be resumed at the airport.
He also indicated that the head of the Marine Corps of the US Central Command, General Frank McKenzie, held talks with the Taliban in Doha in order to prevent attacks inside the airport.
"He issued a very clear and unequivocal warning that any attack on our operations and our people would be met with a strong response," Kirby said.
At the same time, President Joe Biden defended the withdrawal of US troops from Afghanistan in a television appearance and warned the Taliban.
Taliban will not attack US officials
Suhail Shaheen, a Taliban spokesman, told MSNBC that they will not attack US officials who try to move to Kabul, adding that they will not prevent anyone from leaving the country, including those who helped the US and Afghan governments.
"We are committed that there will be no attack on the Americans."Shaheen emphasized.
Referring to the peace agreement, signed in 2020, he stressed that it has been respected and they have not attacked US soldiers during the time since the signature was signed.
Increase in Afghan migrants expected
The number of US troops heading to the Afghan capital to protect the departure of US personnel has risen to 6,000, Kirby said, and will include about 1,000 troops from the last of three battalions of the 82nd Air Carrier Division arriving from Kuwait.
Faced with desperation for Afghan citizens to leave the country for fear of the Taliban rise to power, Defense Secretary Lloyd Austin ordered the final battalion to be redirected to Kabul.
Furthermore, it was confirmed that 22,000 Afghans had applied for special immigration visas since June 15, 2021 to settle in the United States..
· More news on the crisis in Afghanistan.